Cardfight!! Vanguard Weekly Card Update #31
Welcome again to the weekly Vanguard update. This week we have some Royal, Shadow, and Grablue reveals, as well as some extra stuff for later sets but I'll talk about them as we go.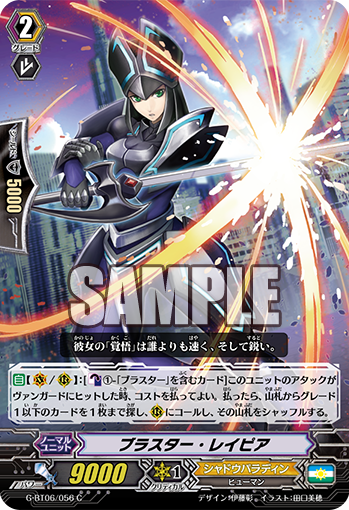 People have been waiting a long time for the Shadow Paladins to get their versions of Blaster Rapier and Blaster Axe that were shown in the manga and we finally get them along with Blaster Dagger who people have also been longing to see.
I will start with Blaster Rapier who's skill takes effect on both the Vanguard and rear-guard circles. When her attack hits a Vanguard you can Counter Blast 1 with Blaster in its name to superior call one Grade 1 or less from the deck. This is a great card to ride seeing as a lot of people tend to take the attack from your Grade 2 Vanguard to save cards in their hand for later game, so this gives you a chance to fill out your field early.
Another Grade 2 Blaster is Blaster Axe who, unfortunately, does not have a skill so he is only a 10k vanilla but it's useful to have him to have a better chance of filling up the soul with Blasters for Gust Blaster Dragon.
Lastly we have the young lad, Blaster Dagger. This 6k Grade 1 may not be the best choice if you're going for the Gust Blaster build but may be better for a Phantom Blaster build. When he boosts another Blaster you can Soul Blast a Blaster card to have the boosted unit get a total of +11000 power.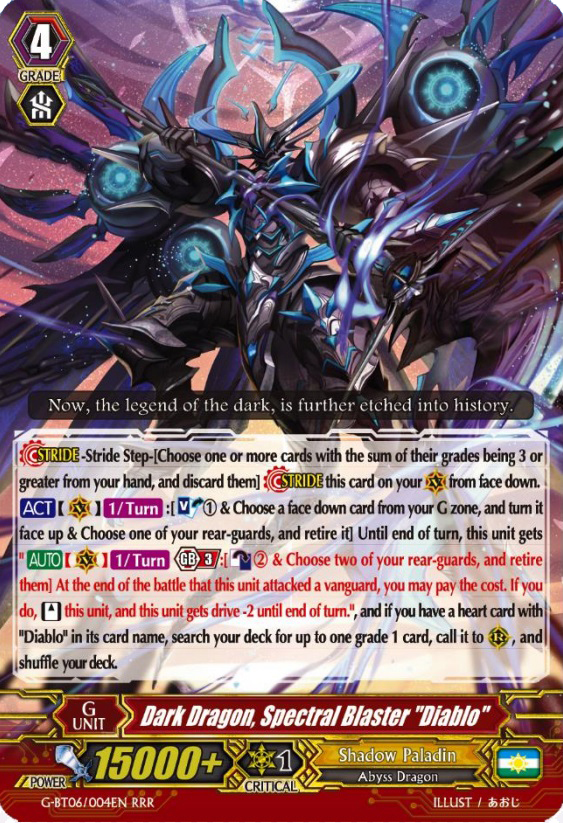 Whirlwind of Darkness, Vortimer "Diablo" had a skill that specified a certain unit, and now that unit has been revealed to us! Dark Dragon, Spectral Blaster "Diablo" is the new "Diablo" stride who, with a Soul Blast, G Blast (Flipping any G unit face-up), and retiring one of your units, gets an ability to superior call one Grade 1 from your deck if you have a "Diablo" heart and another ability that allows you to re-stand at the end of his battle if you Counter Blast 2, retire two of your rear-guards, and are on a Generation Break of 3, though he loses two drives of his Triple Drive. With Whirlwind of Darkness, Vortimer "Diablo" it shouldn't be too hard to get the cards you need to retire and with Kahedin and Hoel it continues to make the retiring and Counter Blasting much more bearable.
Blaster support and "Diablo" support.. what more could Shadow Paladins get in this set? Oh wait! There's also some Claret Sword support and with G boss support comes Glimmer Breath clones. Graymyu is most closely related to Benizel in terms of skill. When he is placed on the Vanguard or rear-guard circle, if you have a Claret Sword Vanguard, then you may Counter Blast and Soul Blast to superior call a Grade 1 from your deck, then Graymyu gets +2000 power. This may seem a little underwhelming compared to the other clones but he is only a common making him very easy to get a hold of.
The second of the Claret Sword support is Abyss Summoner, a Grade 1 who gains +3000 power every time one of your other units is retired due to an effect of one of your unit's abilities, though only if you have a Claret Sword Vanguard. His usefulness doesn't stop there. As well as the power boost, you also Counter Charge and Soul Charge 1 when those units are retired.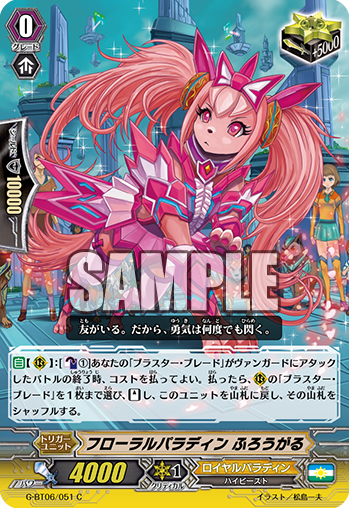 Now we go onto the path of nostalgia with some of the new Royal Paladin cards. I'll start with everyone's favourite pink dog, Flogal who, despite originally only being a stand trigger with no additional abilities, left quite an impact on many players. Her new for, Floral Paladin, Flogal, is now a critical trigger who also has the power of a stand. When Blaster Blade attacks, at the end of his battle you may Counter Blast 1 with Flogal's skill to stand up a Blaster Blade on a rear-guard circle and afterwards you must put Flogal back into the deck and shuffle.
As well as Flogal there is also a new Grade 1 version of Barcgal named Blaster Friend, Barcgal. Whenever Blaster Blade is placed in the same column as Barcgal, if you have a Blaster Vanguard then you Counter Charge 1. This will really help to nullify Flogal's cost as well as essentially being able to half Blaster Blade's on-call ability.
Favorite Disciple of Light and Darkness, Llew is the last of the nostalgic trio. When he is boosted by either the new Flogal or Barcgal then he gets an extra +3000 power for the battle. He also gets an ability to Counter Blast 1 and put him into the soul after the battle that he attacked a Vanguard to superior call a Grade 2 Blaster from the deck and that new unit gets +3000 power for the turn.
Lastly for Royal Paladin is the new Brave perfect guard, Hope Keeper. When Hope Keeper is placed on a rear-guard circle and is Brave she gains +2000 power making her an 8k booster, also at the end of the turn you can Counter Blast 1 to return her to your hand. This is a bit of an awkward card to use but it can make for a good final push and if everything goes wrong then you still have a perfect guard to use next turn.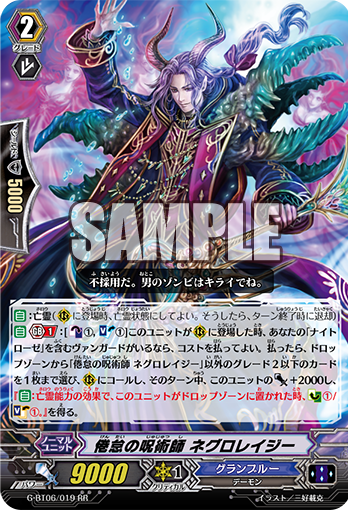 Onto Granblue we have the Glimmer Breath clone who is extremely useful for Nightrose. When Witch Doctor of Languor, Negrolazy is placed on a rear-guard circle you can Counter Blast 1 and Soul Blast 1 with a Generation Break 1 to call a Grade 2 or less from the drop zone that doesn't share the same name as Negrolazy and Negrolazy gains +2000 power. If Negrolazy is also Hollowed then when we would retire due to Hollow you can Counter Charge and Soul Charge 1, essentially nullifying the cost of the superior call.
A great unit to call with Negrolazy would be Witch Doctor of the Bone Powder, Negrobone. With a GB1 at the end of the battle that Negrobone boosted a rear-guard you can Counter Blast 1 and retire that unit to put any card with Hollow from your drop zone onto a rear-guard circle. You need a Nightrose Vanguard but having this boost Ruin Shade until you have the right cards in your drop zone can be a good way to get extra attacks and get things out like Negrolazy to bring even more units out.
We also get an upgrade from Gust Jinn with the new perfect guard G, Tornado Jinn. This is the non-Hollow version of the perfect guard G so it will give you a Counter Charge and Soul Charge as long as there is another version of him in the drop zone which can help with the new high-cost units like Mist Phantasm Pirate King, Nightrose.
As well as all of that there are (What seem to be) a couple of vanilla triggers. The critical trigger Assault Command, Carignan and the heal trigger Charming Banshee.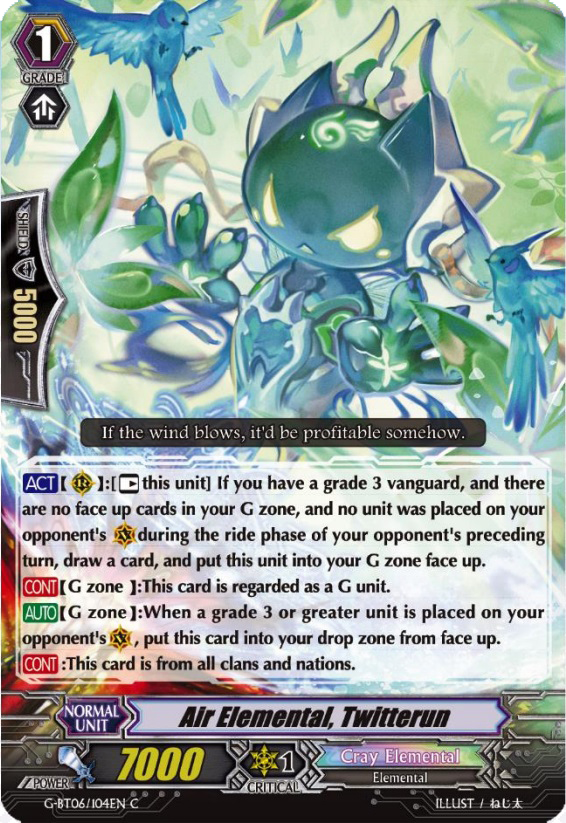 There is one last card to talk about for this set which is a little Grade 1 Cray Elemental. Due to problems G decks have had when they're against people stalling on Grade 2 (Ripples have shown to be a truly fierce threat with this kind of strategy) it leaves G decks basically a deck full on vanillas… well Air Elemental, Twittern is here to help out all those G decks. If you have no face up cards in your G zone and you are on Grade 3 with your opponent not placing any card on their Vanguard circle in their previous turn then you can rest Twitterun and put him face-up in your G zone and gives you a draw. This gives you the GB1 you need to stopping your deck from becoming a big vanilla-y mess. This won't give you a permanent GB boost because when your opponent rides a Grade 3 you must put Twitterun  into the drop zone but it won't matter at that point because you'll finally be able to stride!
A couple of the Fighter's Collection 2016 cards have already been revealed. The first one being Super Cosmic Hero, X-phoenix. When X-phoenix has 35000 power or more and his attack doesn't hit, you may Counter Blast 1 to draw a card. This doesn't seem like much but it's very easy to get him to that power level and getting card advantage on your first stride isn't bad. He's not the greatest stride in the world but it may be good to run one as a backup. It could be good if you know your opponent has a perfect guard in hand, that way you're not losing out too much when it doesn't hit.
The Narukami stride is Conquering Supreme Dragon, Voltech Zapper Dragon. When you have a Thunderstike of 3 and Voltech attacks he gains +10000 power and the ability to Counter Blast 1 at the end of the battle to force your opponent to retire one of their rear-guards for every two cards in their bind zone and bind the newly retired cards. This definitely seems to be the better stride of the two shown cards but whether their rarities are the same has yet to be shown.
That is all for this week's reveals. Hopefully there was some support that you have been eager for, perhaps the Blasters or "Diablo", or maybe you were more interested in the amazing new Granblue cards. They are shaping up to be a powerful clan indeed, but we are sure to see some more great cards next week!
Cardfight Vanguard singles are available to purchase at Big Orbit Cards: Cardfight Vanguard