Cardfight!! Vanguard Weekly Card Update #29
Welcome again to the weekly Vanguard update. The last of the Technical Booster cards have been revealed as well as some cards for G-BT05 with a nice show of the new Granblue units. Let's finish this Technical Booster off then, shall we!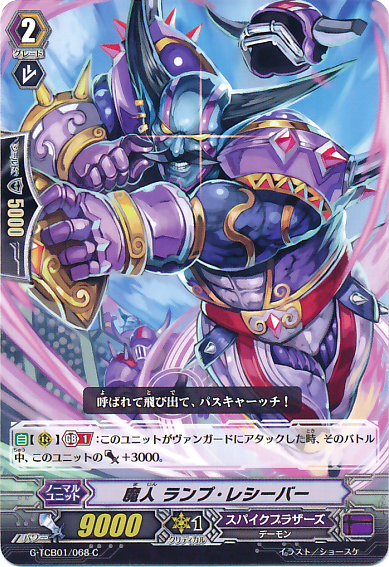 If you were worried that to get power boosts in the new Spike Brothers you'd have to be charging then you would be wrong. Spike Brothers get the generic (but useful) 12k Grade 2 on their side and all you need is a Generation Break 1. With Moodmaker Nyanrook boosting this card you can get the column up to 23k that turn. Having Nyanrook go to the bottom of the deck can also make a non-boosted Genie a 16k attacker!
Hive Maker is a new Grade 3 for Spike Brothers with a charge ability that allows you to CB1 when he goes back into the deck to choose a card from your hand and bring it onto the field, thus activating that new card's Charge. However, when Hive Maker is placed onto the Vanguard circle you can CB1 and SB1 to look at the top five cards of your deck and put one card with Charge into your hand. The first ability is where this card truly shines, allowing for additional attacks and additional Charges. I feel this will see a lot of play as a backup Grade 3 in SB decks.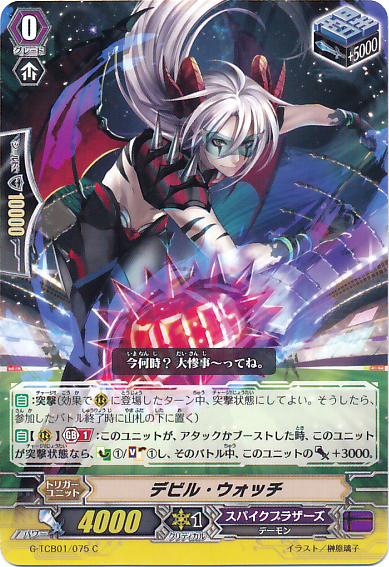 If you needed some Counter Charging and Soul Charging then this little trigger has you covered. Devil Watch is a Stand Trigger with Charge that gives him +3000 power when boosting OR attacking and allows you to Counter Charge and Soul Charge 1. This will really help with keeping up your resources with the kinda big downside of it being a Stand Trigger. Although the fact the Bushiroad are trying to give Stands some love is good, Stands aren't the best with Spike Brothers due to things going back into the deck after attacking. Still, I'm sure a fair few people will give this card a try and hopefully it works out for them. We also are getting two more vanilla triggers, Magical Manager the Heal Trigger and Mecha Advisor the Draw Trigger.
Lastly for Spike Brothers there are two forerunners. The first one is Psychic Mel with the generic ability to CB1 and search the top five cards for a Grade 3 and put it into your hand. This will work well for Bad End Dragger to ensure that you can Break Ride and maybe to have more Bad Ends in your hand so you can keep on Break Riding turn after turn. Mecha Analyzer is the second forerunner that helps out a bit more with the G decks. With a GB1 and when a rear-guard is put into the deck you can put Mecha Analyzer into your soul, if you do then you can put one of your rear-guards into the bind zone and then put it onto a rear-guard circle and it gets +3000 power. This is great, allowing to essentially stand your rear-guard back up, rearrange it on the field, and put it into charge with an additional 3k on top. I'm sure this card will see heavy play in Rising decks.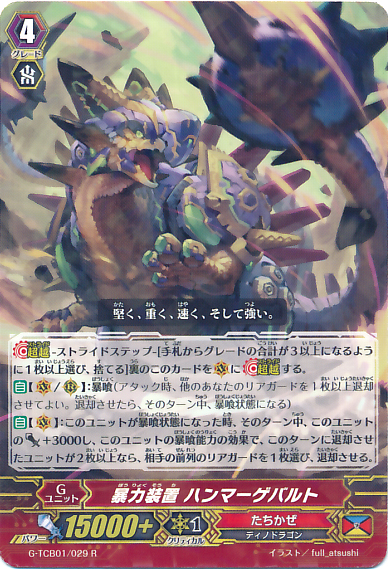 Raging Strength Equipment, Hammer Gewalt is a new G unit for Tachikaze. When Hammer Gewalt is Engorged he gains +3000 power and if you Engorged on two units then you can retire a card in your opponent's front row. This may seem like a big cost but if you stride over Gaiaemperor then you can get those two units back with just a CB1.
Ancient Dragons get more support in this set. The first one I'll talk about is the Grade 2 Ancient Dragon, Hypnohang that can stand up after attacking and giving +3000 power if you have a Vanguard with Spino in its name and you retire a rear-guard at the end of the battle that Hypnohang attacked. There are currently only two Grade 3s with Spino in their name and they are Ancient Dragon, Spinodriver and Ancient Dragon, Spinocommando. With Spinocommando bringing back the Spinos in this set hopefully we will see them in competative play. Unfortunately you can't keep on using Hypnohang's ability to stand up though due to it being a once per turn effect.
Ancient Dragon, Nodtank will help you get more of that sweet, sweet Counter Blasting. When Nodtank is put into the drop zone from a rear-guard circle you may Soul Blast 1 card with Ancient Dragon in its name to Counter Charge 1 and give another unit +4000 power. This helps so much with Tachikaze and I'm sure will be a staple in any Ancient Dragon deck. I'm sure people have been wanting something like this for a very long time but better late than never!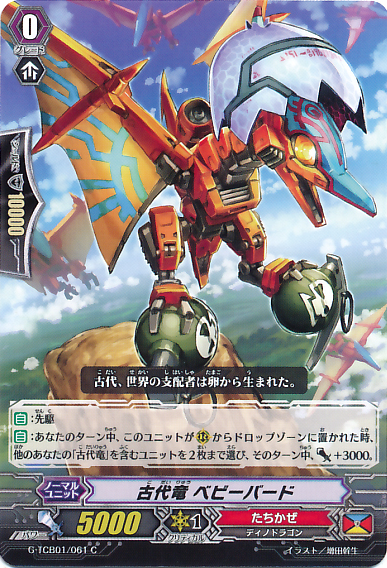 Lastly for Ancient Dragons there is a new forerunner Tiffany clone. Ancient Dragon, Babybird gives +3000 power to two of your Ancient Dragons when he is put into the drop zone. Whether people will be using this or Babyrex will all depend on how badly you need the face-up damage for later game but Babyrex definitely gives you better early game.
Tank Mammoth only has 8k attack but if he's retired and you CB1 and SB1 you can bring him back onto the field and give him +3000 power. Having to CB1 and SB1 may seem like a bit of a heavy cost and may have people struggling to find room in their deck for him but he's great for consistency with the high retiring abilities and could be great with Gluttony Dogma.
Tachikaze also get a 12k Grade 2. Accel Tiger Will help in some decks and may be chosen over Tank Mammoth just for the more consistant skill but with a GB1 you will only be getting it late game where as Tank Mammoth has the potential to give some early game pressure.
Sheer Magnum is a new Stand Trigger that can go back into the deck when it's retired and gives +5000 power to a unit as well as letting you draw a card. I have to say this is probably one of the most useful Stand Triggers yet, for Tachikaze to have this as retire fodder and getting additional power from it helps them so much. Yet again, Stands aren't the best for this clan but with the ability it really shows that it has potential and will hopefully lead people to use it in their decks.
Closing off on the Tachis we have the last two Savages. We have a very hungry lady named Savage Heroine who has the Engorge ability and for every unit she retires she then gets +3000 power when she attacks. She's a 6k Grade 1 so chances are you won't be using her very often but she could be good for a final attack. Plus it's fun to think of her eating four cyborg dinosaurs in a matter of seconds. The last Savage is Savage Healer, just a vanilla Heal Trigger with a cute girl looking non-savage.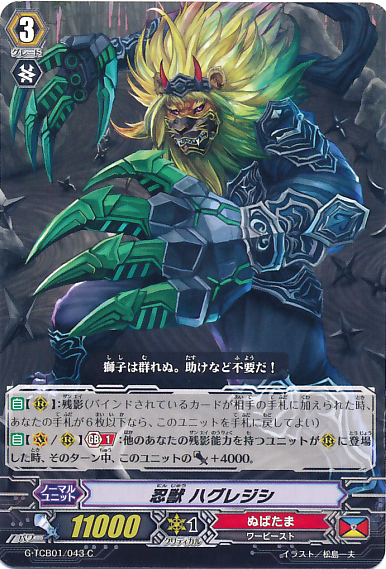 Now for the last lot of the Technical Booster gang, the Nubatama ninjas. Starting off with a Grade 3 named Stealth Beast, Hagurejishi. Hagurjishi is a good backup Grade 3 with Afterimage allowing you to attack and then putting him back into the hand if you want to stride next turn. He also gains +4000 power for each unit placed on rear-guard circle that turn. This skill works but as a Vanguard and rear-guard allowing to rack up some serious power turn after turn.
Stealth Dragon, Kegareshinmyo is another Grade 3 for Nubas who also has Afterimage. When he's placed on a rear-guard you can give another unit +3000 power. Kegareshinmyo also has a similar ability to Hive Maker for when he's placed on the Vanguard you can CB1 and SB1 to look at the top five cards of your deck and put one card with Afterimage from them into your hand.
Like the other two, Nubatama also get their 12k attacker. Stealth Beast, Kibamaru unfortunately is one of the weakest out of the three due to the clan he's a part of. He may still find play just for the consistent power.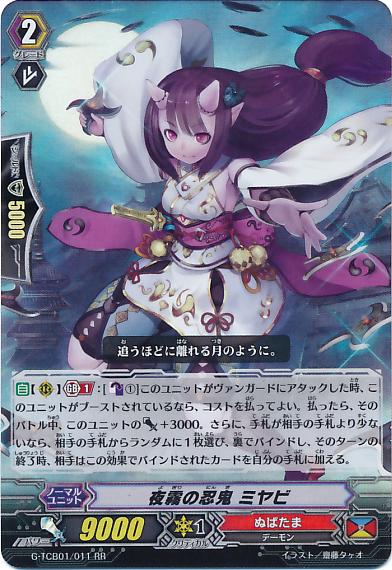 Stealth Rogue of Night Fog, Miyabi is the Amber clone of the Nubas. As Amber clones go, with a GB1 and when she's boosted you can CB1 to give her +3000 power and if you have less cards in your hand than your opponent then you bind an opponent's card from their hand and it's put back into their hand at the end of the turn. Letting you bind a random card from their hand is very risky but has the chance to deny them a 10k shield or maybe even a perfect guard, giving you a great offensive advantage.
Stealth Beast, Karasudoji is a new forerunner with the same skill as Psychic Mel to allow you to put it into the soul, Counter Blast 1, and look at the top five cards for a Grade 3 and put it into your hand.
Nubatama also get three vanilla Triggers. Living Method Stealth Rogue, Shigure the Heal Trigger, Stealth Fiend, Warashibehime the Draw Trigger, and Stealth Rogue of Piercing Death, Samidare the Critical Trigger.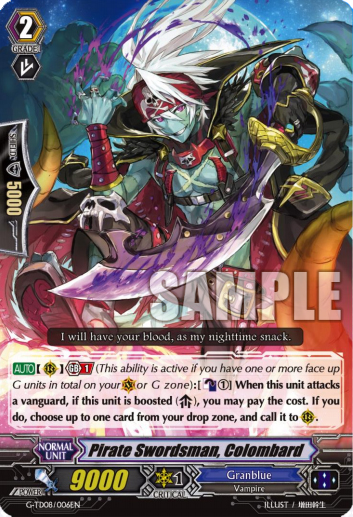 Onto the non-Technical Booster cards I will go through the new Granblue units which are very exciting. With another Amber clone we have Pirate Swordsman, Colombard who is extremely useful for the clan. When Colombard attacks and is boosted, with a GB1 and CB1, you can superior call any card from drop zone. With cards like Ruin Shade you can fill your drop zone with a great amount of different cards.
Granblue's new Grade 3 also shows the effects of the new Hollow keyword. When a card is placed on a rear-guard circle you can choose for it to become Hollowed, if you do you retire it at the end of the turn, becoming Hallowed allows you to activate all sorts of special abilities. The Grade 3 Mighty Rogue, Nightstorm has the Hollow keyword and at the end of the turn that he attacks when he is Hollowed you can CB1 to choose a card from your drop zone with a different name to him and call it to a separate rear-guard circle. He also has the Hive Maker skill for when he's placed on the Vanguard circle to CB1 and SB1 and look at the top five cards of your deck and put a Hollow from among them into your hand. I'm sure Nightstorm will make a great backup Grade 3 for a lot of Granblue decks with being able to use the drop zone so well.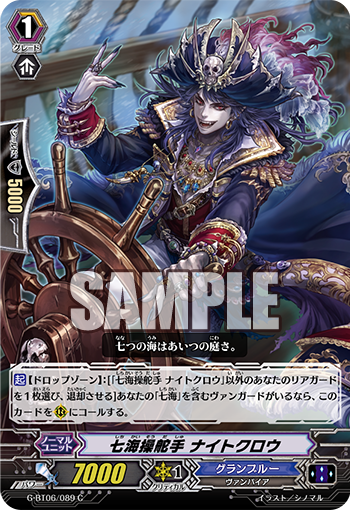 For a consistent booster we have Seven Seas Helmsman, Nightcrow. You may retire a rear-guard from your field if you have a Vanguard with Seven Seas in its name to replace the retired card with this 7k Grade 1. Combining this with Hades Steersman will allow you to bring out the Steersman when you hit Grade 3 and quickly replace it with Nightcrow for a much bigger boost. I think this card is great, whenever they had something like this before they've always had really low power but this having the usual power of a Grade 1 really helps.
Beast Deity, Horned Hulk is there to support the Beast Deities of G-BT05. You can SB1 a card with Beast Deity in its name and rest Horned Hulk to give another Beast Deity +5000 power. This helps a tremendous amount with Deadliest Beast Deity, Ethics Buster Reverse by allowing you to rest and give power then lock those rested units so you're not missing out as much on the rear-guard power.
Revenger, Dark Breath Angel is bringing back the on-retire abilities for Shadow Paladin. When she is retired due to an effect of one of your cards and you have a Grade 3 or greater Vanguard with Revenger in its name then you can CB1 to superior call a Grade 1 from the deck and put it onto the field. This is similar to Darkpride Dragon but Revenger specific which really helps with Revenger, Phantom Blaster "Abyss" and would allow you to stand him up twice in one turn.
For Neo Nectar we have the new Bloom effect shown. A card goes into Bloom if another card with the same name is placed on a rear-guard circle. Green Shot Elf has the Bloom effect and when she goes into Bloom with a GB1 you can choose up to five units named Green Shot Elf  and they get +2000 power and the ability to boost. This should be a great power up over the field with each of the already placed Green Shot Elves giving power and having cards that can gain its name.
Lastly we have a Spike Brothers promo, Devildam Chemist. He's an early Grade 2 12k with not needing a GB1 but only has 6k power with the ability to SB1 and double his power. This is a nice early aggression but using up the soul like that can be a bit of a double-edged sword.
That's all for this week. We've gone through a lot of cards in such a short amount but the Technical Booster is finally completely revealed. I'm sure next week we'll be seeing a load of new G-BT05 and G-LD02 cards so make sure to come back for next week's article!
Cardfight Vanguard singles are available to purchase at Big Orbit Cards: Cardfight Vanguard