Cardfight!! Vanguard Weekly Card Update #38
Welcome back to another weekly update of the new cards for Cardfight!! Vanguard. Yet again there aren't many cards to talk about this week but the ones we do get are very good. There are the last of the GRs and RRRs from Fighter's Collection 2016, a new stride for the Daigo set, and info about the next clan booster.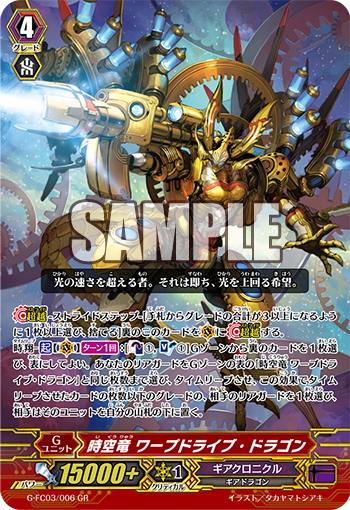 Interdimensional Dragon, Warp Drive Dragon is the GR stride for Gear Chronicle in the Fighter's Collection and boy does he make a good early game and late game stride. It has an ACT cost of CB1 and SB1 and the option to flip another card G unit face-up. If you did the Counter Blast and Soul Blast then you can Time Leap as many of your rear-guards equal to the amount of face-up Warp Drive Dragons you have in the G zone, then choose one of your opponent's rear-guards with a Grade equal to or less than the amount of cards you Time Leapt with this effect, then put that card to the bottom of their deck. There are some great cards you can select to Time Leap for early game like Steam Worker, Etana to get in some extra damage; Steam Maiden, Lasina-bel to mess with your opponent's set-up; and having Tickaway Dragon during all of this will stop you from decking out and will ensure that you have the right cards to Time Leap to.
For Aqua Force's RRR they have Marine General of Heavenly Silk, Khristos who fixes up any weaker columns. When he attacks you may Counter Blast 1 to give your front row rear-guards +2000 power and they gain the abilities to draw a card if their attacks hit on either the third or fourth battle of the turn. This will work well with Magnum Assault and Battle Siren, Adelaide to keep your units stood, ready for the third and fourth battles, though it would have been nicer if the skill was wave fourth and fifth. Still, this will put pressure on your opponent and may force them to use 10k shields on fairly weak rear-guards.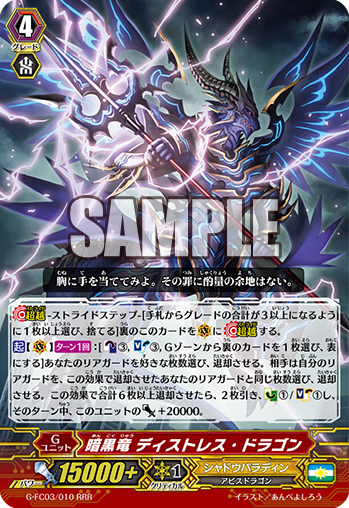 Shadow Paladin's stride is Dark Dragon, Distress Dragon and he does what you would expect him to do, mass retirement. As an ACT you can CB3, SB3, and G blast 1, then you can choose any number of your rear-guards to retire and your opponent retires the same amount. Then if the amount of units retired in total was six or more you draw two cards, Counter Charge 1, Soul Charge 1, and your Vanguard gets +20k power. Retiring Promising Knight, David; Pitch Black Sage, Charon; or Mage of the Rogue Eye, Arsur can really hurt your opponent as they would have to retire two cards for you only retiring one.
Having trouble with Grade 2 stallers? Wish you could get a stride without your opponent being at Grade 3? Well from the creators of Air Elemental, Twitterun, I have for you Air Elemental, Sebreeze! If there are no face-up cards in your G zone and you are at Grade 3 while your opponent is at Grade 2 and they didn't ride on their previous turn, then you may stride this card. Having your opponent try to guard as a Grade 2 against this card and your GB1 rear-guards is going to prove extremely difficult for them, though I'm sure a lot of people won't be using this just because they want their G zone to only have their clan in this, so you stall decks will still be safe against a few decks, though in competitive play it would always be good to have one of these in your G zone. I guess there's only one thing for it… Grade 1 stall decks!
For the Daigo set Holy Dragon, Sanctuary Guard Imperial was recently revealed. You may CB1 for it's ACT ability to give one of your Grade 1 or less rear-guards +3000 power for each of your Grade 1 or less units, including itself. Then if that unit hits a Vanguard, your Vanguard gains +10000 power and +1 crit. Though Regalie may be a better option most of the time, Imperial does work well if your opponent doesn't have many cards in their hand so you can get in as much damage as you can in one turn.
Lastly there's some exciting news for Bermuda Triangle players with the new G Clan Booster 3: Blessing of Divas.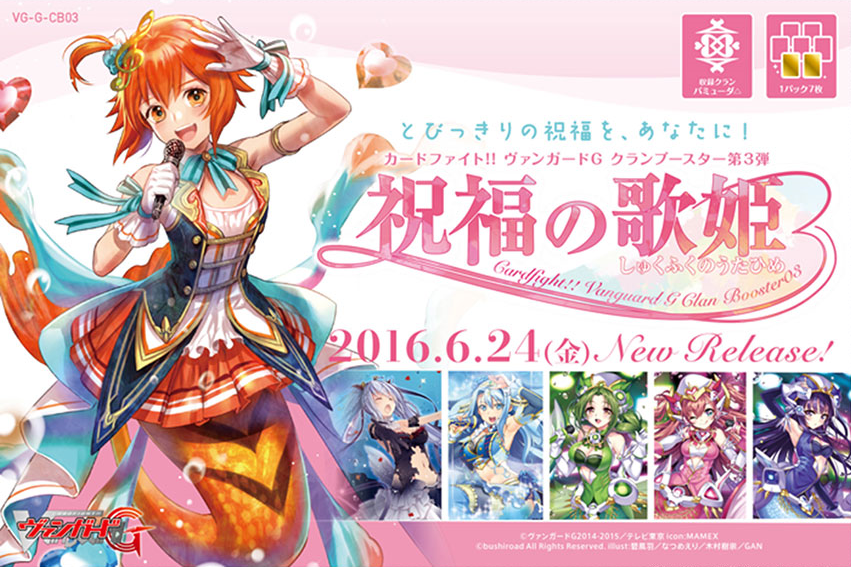 From the looks of it Lauris is our GR of this set. There also seems to be Raindear and Coral in the picture as well as the three on the end being a new PRISM trio. Not only that but we have confirmation of a new rarity for this set! If you remember the SPs from the last Bermuda set then you'll know they had alternate art with a summer theme. Well in this one we still have the SPs but also WSPs. It's expected that the SPs will just be the same art like most SPs but with the text border gone, though the "W" in WSP stands for "Wedding", meaning you'll get to see your favourite Bermuda girls in a wedding dress. Cardfight!! Vanguard has turned into a dating sim for your Bermuda waifu, I'm sure many will be pleased.
That's everything for this week. Join me again for next week for more spoilers on the latest sets, decks, and promos.
Cardfight Vanguard singles are available to purchase at Big Orbit Cards: Cardfight Vanguard