Cardfight!! Vanguard Weekly Card Update #39
Welcome back to another weekly update of the new cards for Cardfight!! Vanguard. This week is a bit of an odd one as all the new cards shown have been the new G Guardians from Fighter's Collection 2016.
If you don't know what a G Guardian is, they are a new form of G unit that have 15000 shield. They are brought out by discarding a Heal trigger in your guard step to bring them out from the G zone into the Guardian circle, then afterwards they go face-up into the G zone. You can't have more than four face-up G Guardians in your G zone at a time. You can call multiple G Guardians into the Guardian circle at once (Providing you pay all their costs) as well as bringing out cards from the hand to guard as well. From what we have seen so far most of them gain +5000 shield while meeting conditions, so more often than not they will be a 20000 shield. Another benefit to these cards is that it gets past the ruling for "Your opponent can't call cards from hand to (GC)" because you are bringing it from the G zone, this will help people a lot against things like Chronojet Dragon and  Phantom Blaster "Diablo". One last thing to note is that due to this new form of G unit the G zone has now been expanded and you can have up to sixteen cards in your G zone. Now that we've gone through the rules, let's get to the actual cards.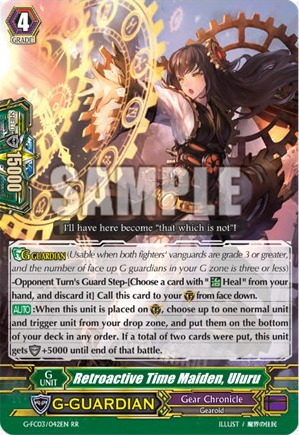 Gear Chronicle's G Guardian was originally a Heal trigger that I'm sure most Gear Chronicle players will recognise, Retroactive Time Maiden, Uluru. When Uluru is placed on the GC you may put a normal unit and trigger unit from your drop zone to the bottom of your deck. If you did put two back in your deck then she gains +5000 shield. This is a great way to get Heal triggers back into your deck, and with Time Leap you'll be able to shuffle deck, giving you a better chance to get those triggers again. Using Thunderbolt Shockwave Colossus will even allow you to turn Uluru face-down, while Uluru lets you put the heals back for even more G guarding!
Royal Paladin's G Guardian is a little less useful with Holy Dragon, Laserguard Dragon's skill just needing a Grade 2 on your field for him to get the +5000 shield, though Royal Paladin do already have some pretty good guarders with Kymbelinus, Hudiplus, and Scouting Owl. Laserguard does work well in most Royal Paladin decks but less so than most in a Sanctuary Guard deck that mostly relies on Grade 1s, though this doesn't matter too much seeing as Sanctuary Guard decks are usually very fast and aggressive. I can only assume this was meant for modern Altmile decks with all the Grade 2 love in them but works well with all sorts like Jewel Knights, Blaster, and Alfred decks.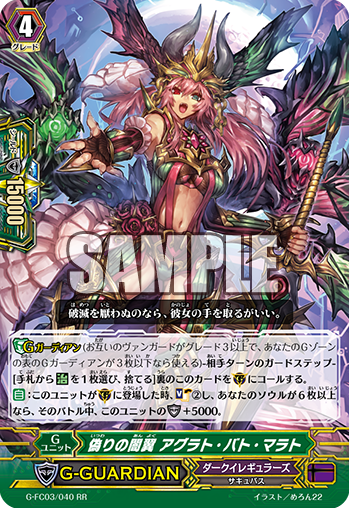 Next up we have a new Dark Irregulars succubus, Fake Dark Wings, Agrat bat Mahlat. When Agrat bat Mahlat is placed on GC you must Soul Charge 2 and if your soul has six or more cards in it then she gains her +5000 shield. Having another way to Soul Charge in a Dark Irregulars deck is always handy and works great with the Blade Wings. The only problem with a G Guardian in Dark Irregulars is with only being allowed four Heal triggers you may find yourself Soul Charging a lot of them, so you may not want to have four of this girl in your G zone. However, if you are using this a Blade Wing deck then at least you have Blade Wing Sullivan; Wings of Annihilation, Blade Wing Tibold; and soon Wings of Reincarnation, Blade Wing Reijy to get cards from your soul back into your deck.
Sacred Heaven Prayer Master, Reia is the Gold Paladin G Guardian and similar to Laserguard, her condition is a bit more simple than others. When she blocks, if you have two or more rear-guards then she gains +5000 shield. This can be a bit troublesome against Narukami, Kagero, or even Link Joker but it isn't hard for Golds to do this kind of thing against any other deck, considering you just cover your field in whatever you can with Gold Paladins. Golds will be getting more support in the next main set so let's hope they get something a bit more exciting then. GR G Guardian Gurguit please!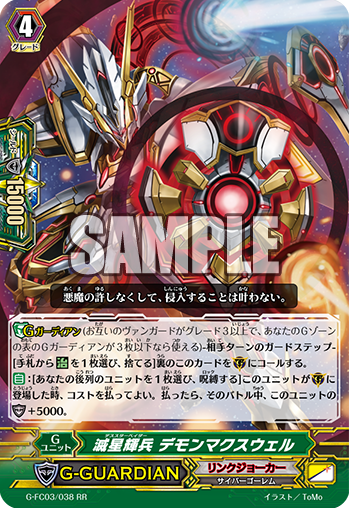 Link Joker's Death Star-vader, Demon Maxwell has a very misleading name as his skill works so much better with Messiahs than Star-vaders. When Demon Maxwell is placed on GC you can lock one of your rear-guards in the back row and gain +5000 shield. This is a very good start for Messiahs to pull off their combos but with every other Link Joker deck it's just… meh. It kind of hinders you but if you're using this in a Glendios deck then you're not really aiming for high power, just to lock your opponent down, so this may still prove useful for that.
And following the misleading name convention we have Dimension Police's Enigman Patriot who doesn't have any Enigman specific skills. It's not too bad this time around, at least you can use it properly in an Enigman deck. When your opponent is attacking with 20000 or more power than Patriot gets her +5000 shield. This means you'll always be able to pull this off if your opponent has strode on that turn. This is not as good in a Zeal deck as Zeals usually lower your opponent's power but considering her name is "Patriot" you can't expect her to work too well with the villains, and like with Gold Paladins, Dimension Police will get some more support in the next main set so we can expect some more G Guardians for them there.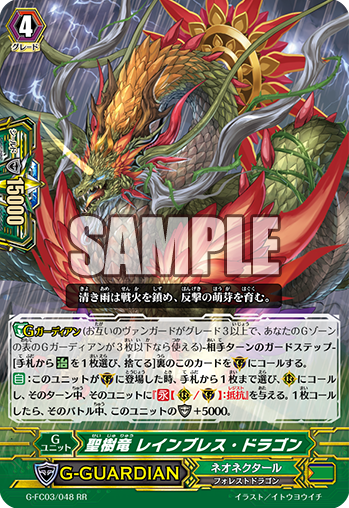 Neo Nectar's new dragon, Sacred Tree Dragon, Rain Breath Dragon, proves to be a very powerful defense. When he hits the GC you may put a card from your hand onto the field and it gains Resist, if you do place a card down then Rain Breath gets +5000 shield. If you wish, you could then intercept with the new unit (If it has intercept that is) and it wouldn't be able to be retired by cards like Super Dimensional Robo, Daikaiser thanks to the Resist, and also helps with things like Kagero and Narukami.
Lastly we have a promo G Guardian that is believed to be coming out as a box topper for Fighter's Collection 2016. This promo is a Cray Elemental, Light Element, Agleam. When Agleam guards you don't gain any more shield but you do get to draw a card, which could be a 10k shield that would allow you to guard more than the average G Guardian but it could also be a Grade 3 that doesn't have any shield. I would recommend using this when you know it's all you have to guard with because that way, even if it is a Grade 3, that's going to help you on your turn and you may be lucky enough to draw something like a Perfect guard. If you are using situational G Guardians like the Royal Paladin and Gold Paladin ones then it would be good to run at least one or two of Agleam.
Well that's everything for this week. What do you guys think of the new G Guardians? Are you glad that you can now have sixteen G units or do you think it's too much? Be sure to tell me your thoughts in the comments. Join me again for next week for more spoilers on the latest sets, decks, and promos.
Cardfight Vanguard singles are available to purchase at Big Orbit Cards: Cardfight Vanguard