Cardfight!! Vanguard Weekly Card Update #44
Welcome back to another weekly update of the new cards for Cardfight!! Vanguard. We have even more cards for G-BT07 this week and also a little something for a new set but I'll keep that a secret for now.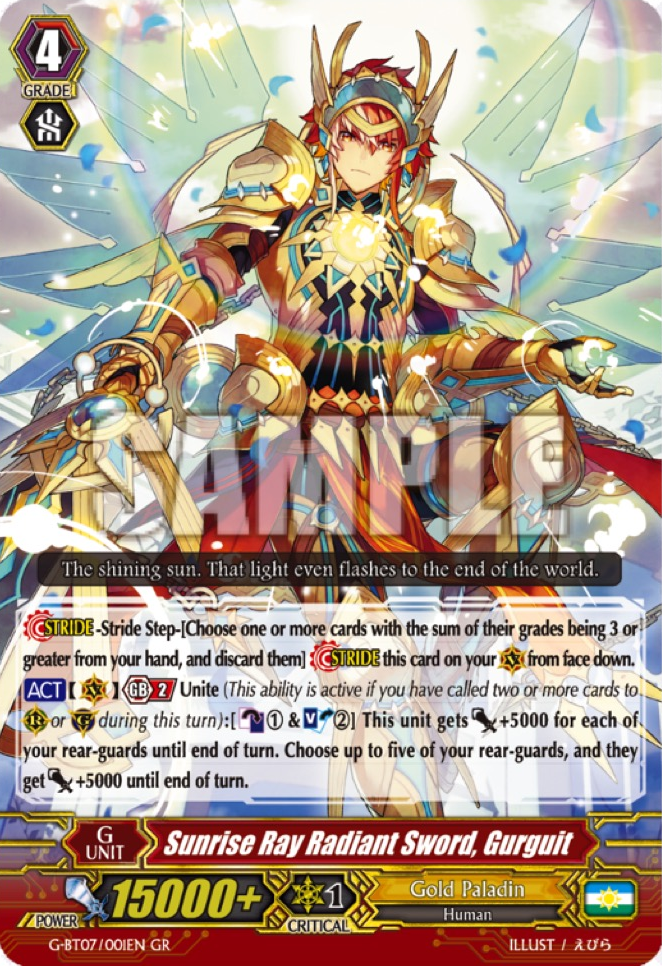 Our first GR has been confirmed for us and he is amazing for his clan. Sunrise Ray Radiant Sword, Gurguit is the GR for Gold Paladin and he has a skill that requires Generation Break 2 and Unite. Once you have met these requirements you can Counter Blast 1 and Soul Blast 2 as an ACT for Gurguit to gain +5000 power for each of your rear-guard units, then each of your rear-guards gain +5000 power until the end of turn. The great thing is you can use this skill multiple times as long as you have enough of the resources but the skill won't stay around for new units unlike Transcending the Heavens, Altmile's skill. Luckily in the next set we get a few more cards that go into the soul. So far we know we are getting Knight of Blooming Sun, Jeffry; Knight of Thin Sun, Marcia; and Scarface Lion. Coel would also be a good starter to use as he goes into the soul and superior calls. All-in-all this is a great card and an amazing finisher.
We also get some Ezel love with a younger version of himself, Wind Flame Lion, Wonder Ezel. This Grade 2 Ezel's skill is activated when he is placed on RC and you have a Grade 3 Ezel Vanguard. It then allows you to search your deck for a Grade 3 Ezel and ride it. This can help you patch up the cross ride early by riding Platina Ezel over Blond Ezel, and will let you easily get a powerful Raven Haired Ezel on the field.
Square One Dragon is an interesting card as it has a cost that some people are referring to as "Mega Blast G". His first skill is an ACT that has a Generation Break and works on either the VC or RC. When you pay its cost of Counter Blast 4 and Soul Blast 6 then you return all your opponent's rear-guards to the bottom of their deck. To help him get the soul he needs, when he's on VC or RC at the end of your turn with a GB1 you may Soul Charge 1. This skill will also help with the SB rear-guards that Gears have, such as Mudal, Mesh-he, and Gigi. His final skill activates when he is placed on a RC and lets you SB1 to reduce his Grade to Grade 0. This will give you the option to Time Leap him into a Grade 1. Just bear in mind that he's only Grade 0 once he's already on the field so you can't call him from hand until your Vanguard is Grade 3. His cost may seem high but we do have a Cray Elemental to help us…
Snow Elemental, Hjaco is said Cray Elemental and is a Grade 1. On the RC he has an ACT with GB1 that has you bind two copies of him from the field to choose one of your Vanguards and if that Vanguard has a skill which requires you to CB 4 or more AND SB 6 or more then that skill becomes free until the end of the turn. Make sure to remember that the skill must have both the CB cost and SB cost in order for this to work. So not only does this make Square One Dragon's cost free but it also does the same thing for the old Megablasters. People can now more easily use the Doppel Vampir and Stil Vampir combo to stop your opponent's Vanguard from guarding from hand, though I feel Agravain gets the most out of this card, as well as helping the Amaterasu legion out.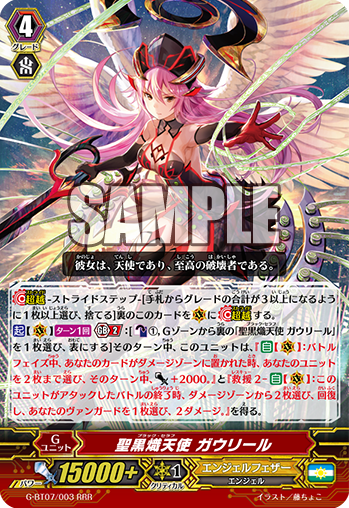 Black Seraph, Gavrail is a new stride for Angel Feather. As an ACT you can CB1 and G Persona Blast and she gets a skill that will give two units +2000 power when a card is put into your damage zone during the battle phase, and after she attacks, you Rescue two units. This in combination with Nurse of Broken Heart, Million Ray Pegasus, and Thousand Ray Pegasus will be especially deadly, and the Rescue has a fairly good chance of getting a trigger for extra power.
Gavrail also gets her Glimmer Breath clone with Black Dream, Zabaniya. With a GB1, CB1, SB1, and putting a card from your hand and put it into the damage zone. If you do then you can choose one face-up card from your damage zone and bring it onto the field, then Zabaniya gains +2000 power until the end of the turn. After that you Rescue one card. This is a pretty good buff to your Pegasi and Nurse of Broken Heart with putting two cards into your damage zone.
Laser Clutcher, Ke'el and Drill Motor Nurse are a Grade 2 and Grade 1 that have the same effect. When these units are put in the drop zone from the damage zone then you can call these units to RC and if they were put into the drop zone due to a Rescue effect then they also get +3000 power until the end of turn. This makes Zabaniya an extremely good card as you can potentially superior call two units with a CB1 and SB1.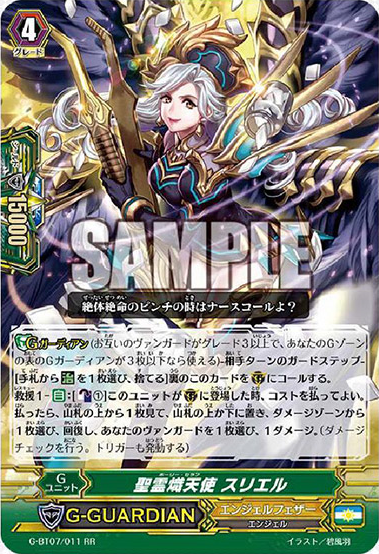 As for G Guardians, Angel Feather got a pretty sweet card in this set with Holy Seraph, Suriel. When she is placed on the Guardian circle you can CB1 to look at the top card of your deck and choose whether to put it on the top or bottom of your deck, then Rescue a card. The CB1 isn't really a cost at this points as you can just Rescue that card and the check gives you a better chance of getting a trigger from the Rescue to give your Vanguard a +5000 power until the end of turn, then the damage also activates Gavrail and Nurse of Broken Heart to increase the defence further. You could also Rescue Ke'el then use her to intercept.
Kagero also have a new G Guardian. Flame Winged Steel Beast, Denial Griffin can Counter Blast 1 to retire an attacking rear-guard when it is placed on the Guardian circle. This will help you against Silent Tom clones and Sanctuary Guard Regalie columns but more importantly Kagero will be able to fight back against Pale Moon's Magia and also be able to do something against Great Nature and Granblue as Kagero can't really do much on their own turn against these clans. If you combine this with Lizard Soldier, Bellog then you could retire the booster too, or the other front row rear-guard if they have already attacked with it.
The last card for G-BT07 this week is Supreme Heavenly Emperor Dragon, Dragonic Blademaster "Taiten". He has the Blaze keyword and as a once per turn skill, if you are on GB2 and you CB1 and G Blast, you can retire as many of your opponent's rear-guards equal to the amount of Supreme Heavenly Emperor Dragon, Dragonic Blademaster "Taiten"s in the G zone. Then, if you're Blazing he gains an extra crit. At best this card retires three and has an extra crit but at worst he is just vanilla, though the likelihood that you won't be Blazing is slim so 9 times out of 10 you will get the crit.
Now something very exciting is the next Technical Booster: The GENIUS STRATEGY. This booster will contain support of 25 cards each for Megacolony, Murakumo, and Great Nature. We have had a few cards revealed to us already which include reprints. These reprints are Coiling Duckbill; Castanet Donkey; Stealth Fiend, Lake Diver; Stealth Beast, Cat Devil; and Machining Stag Beetle. They will all also receive new artwork!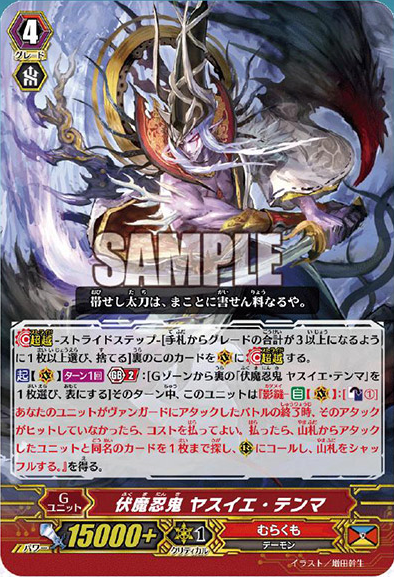 A small amount of new cards have already been revealed including the new Yasuie card. Ambush Demon Stealth Rogue, Yasuie Tenma has a new keyword called Shadowstitch which are skills that activate when an attack of one of your units did not hit. Yasuie Tenma's skill requires a GB2 and a G Persona Blast to activate his Shadowstitch ability. When one of your units attacks do not hit when they were attacking a Vanguard, then you can CB1 to search your deck for one copy of the card that attacked and call it to RC. We will need to see future rear-guard support before we can see this unit's true worth but at the moment it combos pretty well with Fujino and this skill can be used to clone the Grade 3 that is your heart. This is similar to the Catherine and Alice combo that Nightmare Dolls have and would be good to use if your opponent is on five damage.
Hammsuke get some support after all this time with a new Grade 2, Hammsuke's Schoolmate, Oil Pen Hammjiro. Hammjiro's effect works on both VC and RC and at the end of the turn, if you have a Vanguard with Hammsuke in its name, at the end of the turn Hammjiro can retire one of your rear-guard Hammsukes and you get to Counter Charge 1. This works really well with the Hammsuke's cloning effect which would usually cost CB1 but with this card it becomes free.
Another form of Hammsuke support comes in the form of Hammsuke's Schoolmate, Fountain Pen Hammkichi. As an ACT you can SB1 and choose a Hammsuke from the drop zone and put it at the bottom of the deck, if you do you can give two of your rear-guards +4000 power and then you have to retire them at the end of the turn. As well as all of that he can CB1 to gain +4000 power for every rear-guard you have with Hammsuke in its name, giving him a potential of gaining +8000 power.
Lastly we have a Megacolony stride called Dazzling Mutant Deity, Waspytail. When Wasptail's attack hits you can Soul Blast 1 and G Blast to choose one of your opponent's rear-guards, and paralyse that rear-guard as well as all rear-guards in the same row AND column, giving you a possibility to paralyse four of your opponent's units. If anything this will at least use up your opponent's hand to guard and then you can sweep in with Stun Beetle.
Just a side note, we are starting to do weekly updates on our Youtube channel now. Be sure to check it out: https://www.youtube.com/watch?v=rJ3ahU2Zw30
Join me again for next week for more spoilers on the latest sets, decks, and promos.
Cardfight Vanguard singles are available to purchase at Big Orbit Cards: Cardfight Vanguard