Cardfight!! Vanguard Weekly Card Update #43
Welcome back to another weekly update of the new cards for Cardfight!! Vanguard. Monthly Bushiroad gave us a huge amount of cards to look forward to for G-BT07 so I will try to get through every one of these as well as the cards of the week which all give us a nice idea of what to expect from the next set.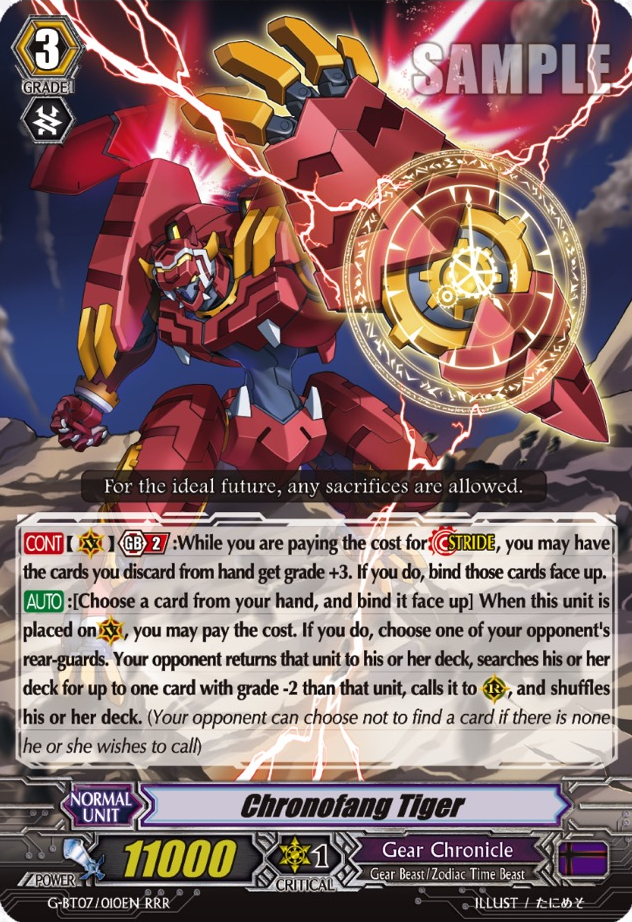 One that I know a lot of people have been looking forward too because it will create a new build for Gear Chronicle is Chronofang Tiger. Chronofang isn't a strider as some people would have assumed, though he does have a GB2 skill that gives any card in your hand Grade +3 when you are using them as stride fuel, then the cards you used to stride with are sent to your bind zone instead of the drop zone. As well as this, he also has an on-ride skill where you put one card from your hand into the bind zone, then you choose one of your opponent's rear-guards, they put it into their deck and search for up to one card with 2 less Grades than the unit put into the deck. Seeing as there is a lot of permanent binding of your cards, and although we do get some cards that can work from the bind zone, I would recommend using draw triggers in a Chronofang deck to counter the loss of cards.
Bind Time's skill has been officially revealed. He gets the extra 10k and a crit when attacking if you bind one of your units, and your opponent puts one of their units on the bottom of their deck for each card in your bind zone. Though the full skill does require a Counter Blast 2, Soul Blast 1, and a G Persona Blast but if you have a Gear Beast (race) heart then you also Counter Charge 2 and Soul Charge 2. The extra Soul Charge can help you out with rear-guard skills for units such as Steam Fighter, Mesh-he; Steam Scara, Gigi; and Steam Knight, Mudal.
Parallel Barrel Dragon is a Grade 1 Gear Chronicle who's skill works from the bind zone. You can choose one of your rear-guards to rest and if you do you can call this unit to open rear-guard circle. Your target for the rest could be something you know you will be Time Leaping later that turn making it less of a burden on your part. This card and Mudal make Chronofang's and Bind Time's costs less of a disadvantage.
A fairly decent early game Grade 2 is Safety Observing Gear Diver. Though he only has 8000 power, he has a skill with the cost of resting himself and binding a card from your drop zone you can put one of your opponent's rest rear-guards at the bottom of their deck and Gear Diver cannot stand during its next stand phase. Even with its low power and with it paralysing iteself, getting rid of one of your opponent's attackers and binding one of your drop zone units is a pretty big buff, especially with Mudal and Parallel Barrel who can come back, and Bind Time who can use your bind zone against your opponent.
Lastly for Gear Chronicle we have Tooth Edge Dracokid, a new forerunner without Generation Break. As an ACT you can put him into the soul and discard a normal unit from your hand, if you do you can look at the top card of the deck, decide to put it on the top or the bottom of your deck, and then draw a card, and give one of your units +5000 power. He could be useful if you are lacking a grade in your hand to help you ride all the way to Grade 3 but people may not use him for the fact that he only has 4000 power, though you probably won't be using him to boost for long in a match.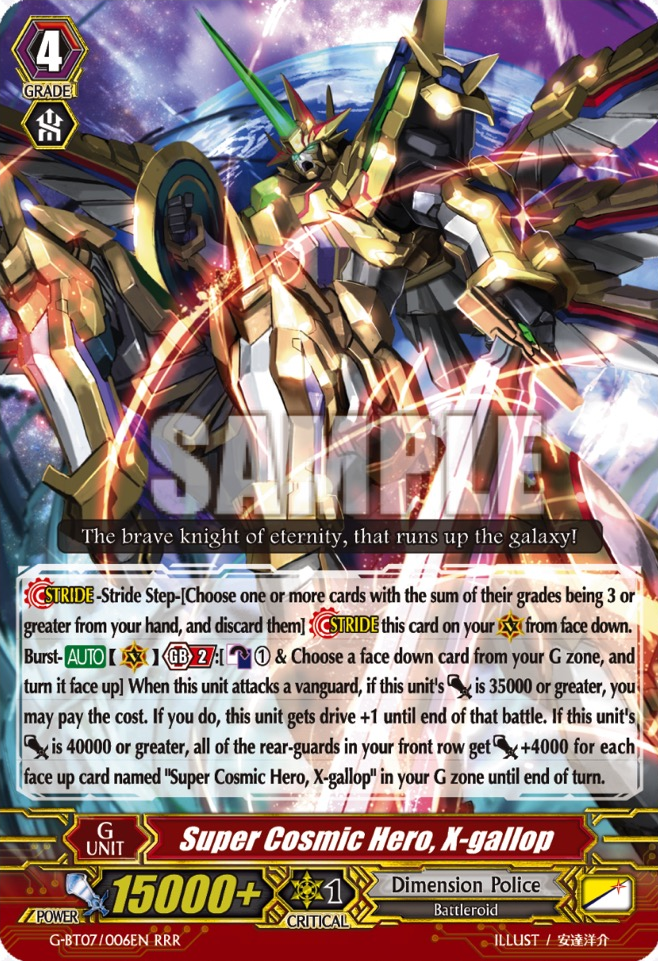 Next up is a clan we haven't seen for a while, Dimension Police. First it would be best to go over this clan's exclusive keyword which is called "Burst". Burst activates when your Vanguard has reached a certain amount of power, allowing you to unlock even more potential. Rear-guards can also have Burst, which allows them to bounce off your Vanguard's power. To start off big I'll go over their RRR stride, Super Cosmic Hero, X-gallop. When X-gallop attacks, if he has 35000 or more power, his Burst effect activates which allows you to Counter Blast 1 and G blast at Generation Break 2 to gain +1 drive check making him a quadruple drive. Then, if his power is 40000 or greater, all your rear-guards in the front row gain +4000 power for each face-up Super Cosmic Hero, X-gallop in your G zone. Getting him to 35000 power is very easy to achieve if you have a simple 5000 power or greater unit boosting him and giving a +4000 power boost from an effect of one of your units. Getting him to the 40000 will be a little trickier if you are using your forerunner to boost him, however if you were to put a 6000 power or higher booster behind him you would only need to use two power giving skill on him. For just a CB1 and G blast this card is crazy, especially considering you can use him four times. He is not Gallop restricted so I would highly recommend putting him in any power-giving deck (Aka anything that isn't Zeal).
As for forerunners, you shouldn't have any trouble replacing this new one for a Grade 1 later in the game as he does go into the soul. Cosmic Hero, Grandhop has a GB1 Burst skill where you can rest him to give your Vanguard +4000 power if your Vanguard has 25000 or more power. If your Vanguard's power is then 30000 or more, you can put Grandhop into the soul, draw a card, and Counter Charge 1. This is a fairly useful skill as Dimension Police in general don't have very many Counter Chargers and there are a few cards that only get their skills on-call so the draw will help there too. It could be wise to not put this unit behind your Vanguard and instead put him below a high-powered rear-guard and rest him every turn.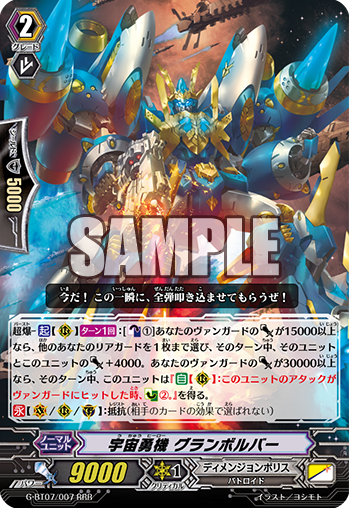 A very useful Grade 2 that Dimension Police are getting in this set is Cosmic Hero, Grandrevolver. He has a once per turn Burst ACT where you may Counter Blast 1 if your Vanguard has 15000 or more power to give one of your rear-guards +4000 power. Then, if your Vanguard has 30000 or more power Grandrevolver will Counter Charge 2 if his attack hits. He really only Counter Charges 1 as the skill itself Counter Blasts 1 but you can choose the unit behind this one to gain the extra power so this unit has a better chance of hitting, or if you had two of this card on the field you could have them give each other power so they both have a better chance of Counter Charging, and if only one hits then at least you didn't really have to spend any Counter Blasts on the two skill. On top of all of this he has Resist which will prevent him from being targeted by retires and locks.
Great Cosmic Hero, Grandmantle is a very useful backup Grade 3 for Gallop. When he is placed on the Vanguard circle you may Counter Blast 1 and Soul Blast 1 to search the top five cards of your deck for a unit with the Burst ability and add it to your hand. What really makes him good though is his second skill: As a Burst ACT you may Counter Blast 1 and if your Vanguard have 15000 power or greater then this unit gains +4000 power and if your Vanguard has 35000 power or greater, this unit then gives your Vanguard an additional 4000 power. You can only use the second skill once per turn but it does help you reach that glorious 40000 power for X-gallop and let's not forget the 45000 power needed for X-tiger.
Our inevitable Burst perfect guard is Cosmic Hero, Grandreef. His non-nullifying skill is a once per turn Soul Blast that you can use if your Vanguard is at 30000 or more power and if you do, you can return Grandreef back to your hand at the end of the turn. Then if your Vanguard has 35000 or more power, Grandreef gains +4000 power. I think this is definitely one of the best of the keyword perfect guards as soul isn't used overly much in Dimension Police and becoming a 10k booster/attack is always nice.
Lastly for Dimension Police we have poor ol' Enigmans struggling along. This one is a stride, and like the G Guardian, it doesn't really help Enigmans. Superlight Giant, Enigman Cross Ray has a fairly simple skill, at the beginning of your attack step (so before boosting) if this unit has 30000 or more power you may rest one of your rear-guards and he gains +10000 power. I guess this is used to help with Burst effects but as the Burst skills of rear-guards so far have happened in the main phase, I don't see how this unit helps much. I guess if your opponent doesn't have any perfect guards they are going to struggle against this card though.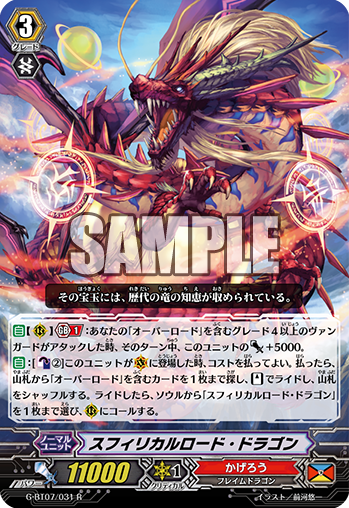 Kagero get an almost Steam Fighter, Balih clone for Overlords. When this Spherical Lord Dragon is placed on the Vanguard circle you can Counter Blast 2 to search your deck for an Overlord and ride it as stand. Then you can choose this card from the soul and bring it out to a rear-guard circle. His other skill works on the rear-guard circle and when your Grade 4 with Overlord in its name attacks, this unit gains +5000 power. So he becomes a nice little 16k attacker but the Counter Blast 2 for his ride skill may seem a bit costly for Kagero and you're probably better off just running more Overlords, though he does make for a nice budget option.
Another Kagero Grade 3 is Wyvern Strike, Garugy. He has the Blaze keyword and if he on the Vanguard circle while Blazing then he gains +3000 power until the end of turn, and when he is placed on the Vanguard circle you can CB1 and SB1 to search the top five cards for a unit with Blaze and put it into your hand. He's not very strong and I feel that Heroic Saga Dragon fills the back-up Grade 3 slot better as I feel they are both there to be the backup of Dragonic Blademaster but I would definitely go with Heroic Saga instead.
A good little trigger that Kagero got is that Stand trigger, Inspire Yell Dragon. As well as having the Blaze keyword he also has a Generation Break skill. With the cost of putting him on the bottom of the deck if your Vanguard is Blazing, you draw a card and give one of your units +5000 power, then shuffle your deck. He seems to work the best in a Dragonic Blademaster deck but as he is a nice little power up as well as a draw and stand in one then he could be fit into a few other decks.
Dragon Knight, Roya is a defensive Grade 1 unit much like Balloon Raccoon. With the Blaze keyword he is also given two skills, one of which allows you to put him in the bind zone after he attacks or boosts. Then with a GB1 skill when he's in the bind zone, you can put him into the Guardian circle at the beginning of a guard phase and he gains +5000 shield. His power is only 6000 but seeing as he's more of a defensive unit I'm sure he will still be used in a few decks. Also if you are up against Narukami you can use their binds to your advantage.
Then Dragon Knight, Nadim is our last Kagero unit this week who yet again has Blaze. When this Grade 2 attacks a Vanguard, and if your Vanguard is Blazing, he gains +2000 power, then if you are on GB1 and his attack hits you can Counter Charge 1. He's a pretty nice card for a clan that uses a lot of Counter Blasts and I can see him being used in many Kagero decks.
Dark Irregulars get some pretty strong cards, the first one being a Grade 2 called Doppel Vampir. At Generation Break 1 and if Doppel is in Darkness (Darkness is the new keyword for Dark Irregulars. It takes effect when a card has been put into the soul during that turn) this unit will gain 5000 power when attacking if you have six or more cards in the soul. Then, if you have fifteen or more cards in the soul, your opponent won't be able to guard with Grade 0s, making him a very strong Silent Tom. These are pretty easy to achieve, especially with Blade Wing Tibold who can Soul Charge 5 on your first stride and prevent you from decking out.
Enigmatic Assassin is a new Grade 0 with 5000 power but lacks the Forerunner keyword. She has a Darkness skill that works from the soul which you can activate at the beginning of your attack step. This skill allows you to bring her out onto the field from the soul if you have ten or more cards in the soul and she then gains +5000 power. Then if you have fifteen cards in your soul she gains an additional +10000 power, making her a 20000 attacker or booster. She is a very strong unit, however her power up only lasts until the end of the turn, though luckily you can use her with the original Amon to put her back into the soul and then bring her right back out again.
A very useful stride that Dark Irregulars are getting is Mask of Demonic Insanity, Elikries. When he's in Darkness and he attacks, you Soul Charge 2. Then, if you have six or more cards in your soul when his attack hits, your opponent much choose one of their rear-guards and retire it, and if you have fifteen or more cards in your soul, he gains +1000 power for every card in his soul until the end of that battle. Being able to Soul Charge on-attack is very useful. The main problem with Kisskill was that she would only Soul Charge when the attack hit, and although the draw was nice, Elikries helps a lot more with the set up.
Frosty Steeple is a good back-up Grade 3 for Scharhrot Vampir. He has the fairly common effect of Soul Blasting and Counter Blasting 1 when you ride him to look at the top five cards of the deck in search of one card with the clan's unique keyword, this one looking for one with Darkness. His other skill is a lot more useful though. When he's on the Vanguard circle and if he is in Darkness and you are at Generation Break 1, he gains +10000 power when he attacks if you have ten or more cards in your soul, and if you have fifteen or more cards in the soul he prevents your opponent from guarding with Grade 1 or higher units from their hand, making him similar to a Grade 3 version of Gilles de Rais. I would definitely use this guy as a back-up for Scharhrot as they can work together pretty well if you set up with Scharhrot first and then use this guy in the late game.
Nine Break Hustler is the last of the Dark Irregulars with her being another Grade 3 but this time only having 10000 power, yet has a useful skill, similar to the Blade Wing Grade 3s. If you call her to a rear-guard circle at Generation Break 1 you can choose up to two of your units and search for up to three copies of each of them and put those copies into your soul, then she gains +1000 power for each card put into the soul this way until the end of the turn. This is a fairly useful card and can put Dimension Creepers into your soul easily, as well as cards from the Witching Hour series. I'm not sure if she is going to be able to find a place in many Dark Irregular decks but you may choose her as your back-up Grade 3 for Scharhrot if Frosty Steeple isn't your thing. She could also work in Amon though the Grade 3 spaces are usually taken up by both of the Amons and Astaroth.
Knight of Blooming Sun, Jeffry is a fairly simple but very useful card for Gurguit decks. He's not Gurguit restricted but he has Unite and Generation Break 1 which gives him the ability to go into the soul at the end of the battle that he boosted to draw a card. Jeffry and Marcia give so much fuel for Gurguit to work with and Jeffry just adds to the defence.
Another Unite unit comes in the form of the Grade 3, Knight of Merciful Light, Bradott. As a once per turn Unite ACT you can Soul Blast 1 to reveal the top card of your deck, then Bradott gains power equal to the power of the revealed card. If the revealed card then has Unite you can call it to an open rear-guard circle. If you go first in the match, this will help you during your first ride as he isn't slowed down by a Generation Break but he isn't extremely useful. At least if you superior call Jeffry with his skill it kind of turns into a free draw.
Bururugal is a little Grade 2 powerhouse for Golds. When Bururugal attacks a Vanguard, if he is United then he gains +5000 power until the end of the battle. He's a nice attacker and I'd recommend running a couple at least as you can get to some pretty high numbers with this card.
One card I'm very interested in is a Grade 2 from Angel Feather, Drive Celestial, Armaiti. He's normally only at 8000 power but if you have a card in your damage zone with the same name as a card on your Vanguard circle AND you have no rear-guards in your front row, he gains +8000 power and can attack on the back row. As long as you don't mind not boosting your Vanguard then this card will allow you to attack four times without any abilities standing your rear-guards. You could use him with Ramiel "Reverse" because if you lock the front row rear-guards then they technically aren't there and Armaiti still gets his buff.
Angel Feather also get a new keyword named "Rescue". Rescue used when a skill involves healing one of the cards from your damage zone and taking the top card of your deck and putting it into the damage zone. What makes Rescue useful is triggers are active during this damage so you can still get extra benefits by getting Criticals, Heals, Draws, and Stands during Rescue. To give you an idea of how this works in a skill we have Treatment Nurse. Her skill is shown with a "Rescue-1" at the beginning of it, indicating that one day we will get cards that can rescue more than one, and if Treatment Nurse's attack hits at a Generation Break 1 you can heal a card and damage yourself. You'd mainly want to damage yourself during the main phase as that's when you will be able to give the power ups from the Rescuing but at least if you get a Stand trigger you can stand her right back up again. Requiem Pegasus is a Grade 3 who has the same effect but also gives another units +2000. Healing Palace is probably a better Grade 3 back-up but if you're going for a heavily Rescue deck then Requiem Pegasus is the way forward.
Doctoroid Remunon is a new Perfect Guard that activates its second skill if you have another copy of her face up in the damage zone, and if you do you can Rescue one card. It would be pretty good to put this in a Nociel deck and you can often switch cards from your hand with cards in your damage zone, making it so you can prepare for this card's effect and then get it back into your hand when you're in a pinch.
Angel Feather also get a new Forerunner. Black Report, Ridwan has a Generation Break skill that you can activate when a card is put from your damage zone into the drop zone. If this does happen then you can put Ridwan into the soul and choose one of your rear-guards and give it +4000 power. Then if that card was put into the drop zone by a Rescue ability, you may call that Rescued unit to a rear-guard circle. This a pretty nice superior caller and is a good way to promote the new keyword. Black Candle, Azrail may still seem like a good choice for some decks but Ridwan does not require a Counter Blast.
As well as all of this, Bushi also revealed all the box topper promos that we are getting in G-BT07. There are a few reprints such as Coolgal; Medical Bomber Nurse; Dragonic Burnout; and Thunderbolt Shockwave Colossus. However, there are also two new cards! The first one is for Dimension Police, Cosmic Hero, Grandlady. She is a 7000 power Grade 1 and when she is on a rear-guard circle you can rest her as an ACT to give your Vanguard +4000 power. Then if your Vanguard has the Burst keyword you can choose one of your rear-guards and give that +4000 power too. She's very nice if you want to save on Counter Blasts and you are not losing too much power if you have strode X-Gallop as you will still be able to give power to a rear-guard she may be behind.
Dark Irregulars's box topper is Eccentric Dissector. He is an extremely useful card, especially for the new Darkness keyword. At the beginning of your main phase he allows you to Soul Charge 1. You don't have to if you don't need it which helps you a little with decking out purposes but if you had more than one of the rear-guard circle it would definitely help you reach your soul goal.
And last but not least we have one card from the next Bermuda Triangle clan booster, Garland Blossom, Ayna. She has Harmony and a Generation Break 1 skill that gives all units in the same row as her Harmony if she is in Harmony. Then, as a non-Generation Break ACT you may Counter Blast 1 and rest her to give all units in the same column as her +5000 power. This does mean that she will also get the +5000 power but until we see the rest of the cards in the set it will be hard to say whether it will be easy to stand her back up or not.
Join me again for next week for more spoilers on the latest sets, decks, and promos.
Cardfight Vanguard singles are available to purchase at Big Orbit Cards: Cardfight Vanguard