Space Marine for PC, PS3 and XBox 360 now on pre-order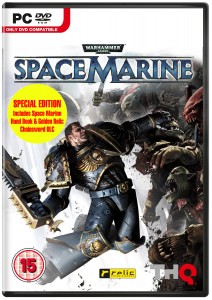 Space Marine Special Edition is now on pre-order.
The Space Marine Special Edition contains an exclusive 24 page full colour Space Marine booklet & Redeem code to download a golden version of the iconic Chainsword weapon for use in multiplayer games… be the envy of your enemies.
This edition is only available in hobby stores such as Big Orbit Games and cannot be purchased from mass market computer game stores.
Pick it up here: Space Marine
Also available Space Marine Collectors Edition at 10% discount.