Warlord Games Pike & Shotte King Charles I review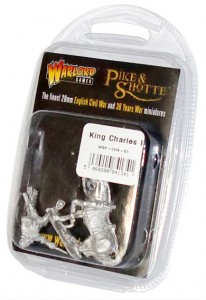 Now, I always thought that Charles the First was the cooler looking dude in that spat that happened four hundred-ish years ago. Certainly, had he been around now, I'm sure his PR team would have sold his story to a gossip magazine, got him on Oprah, and won him the all important "rule of cool", his head being saved when the facebook group reached one million members.
Fortunately for us (and obviously, somewhat unfortunately for him), things happened a touch differently back in the day.  He probably should have asked for a very heavy and very thick necklace instead of a second shirt, but I digress.  He lost the civil war, his kingdom, and his head, and we end up having a 28mm miniature, from the Pike and Shotte range by Warlord Games, released in his image.
The figure comes in a blister, so you see what you're getting: a regally aloof King Charles, sitting atop a horse directing the battle.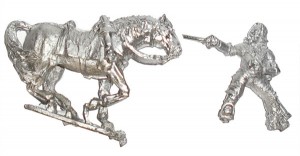 There is a little flash that needs trimming, and one of the arms needed to be gently repositioned. If you like to base your army then you should note that no extra base is provided (as is the norm for 28mm historical miniatures).  A personal bugbear of mine with metal cavalry: a bit of green stuff is needed to get the hand and stirrups in conjunction, which means that I cannot use my preferred technique of painting the rider and horse separately.
The head is firmly in place, so there is one scenario you won't be able to play out without taking a hobby saw to the figure. There is a delightful haughtiness to the face, and the sculptor has really managed to capture Charles's features, I feel as though I should use oil paints rather than acrylics to paint him.
The horse is also well sculpted, it's to scale, though it may be considered a little plain, as if it was an afterthought, this unfortunately extends to certain aspects of the rider as well. The chest plate and back also seem somewhat lacking in detail or features.
Despite its many faults, I really like this model. I'd recommend it even if you're not into historical gaming, just for the pleasure of painting it.
Not quite head and shoulders above the rest.
Overall score: 7/10.