The Army Painter Warpaints Starter Paint Set review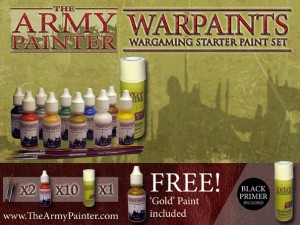 The Army Painter has just released two new starter paint sets, each set contains a can of spray primer, 10 bottles of paint and 2 brushes.
The 2 new boxed sets differ in the colour of the spray primer that is included, one comes with a can of white and the other with black, we are reviewing the black version here.
Value
The first thing that you will notice is that these paint sets represent great value for money retailing at just £22.50, to get an idea of what you get for your money we have broken things down a little here.
The spray can is only 150ml but a 400ml can costs £6.99 so we've got £2.62 worth here and the 2 brushes would have an RRP of £5.50 if sold separately. The Army painter don't sell their paints individually at the moment but Games Workshops paints retail at £2.25 each, so 10 paints would be worth £22.50 at this measure, this is not taking into account the fact that each bottle of The Army Painter paints contains 20% more paint than the Games Workshop pots. Based on these assumptions we've got £30.62 worth of product here, retailing at just £22.50, it is of course even cheaper at Big Orbit games.
Quality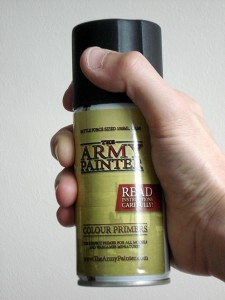 The first thing we tested was the primer, this is the usual high quality primer we have come to expect from The Army Painter, it has good coverage and dries very quickly.
Out of this little can we undercoated 1 Vehicle, 5 Heavy Cavalry, 5 Monsterous Creatures & 10 Infantry, we then we ran out of models to undercoat but there was still a small amount paint left at the bottom of the can.
We mentioned that the primer dried quickly, it's so fast you can actually watch it dry in front of your eyes. Now watching paint dry isn't the most exciting of pastimes but at least with The Army Painter you'll only be doing this for about 1 minute even if you're a bit heavy on the primer.
As for the paints themselves, they appear to have good consistency, with no lumps, it is quite thin (similar to Games Workshops Foundation Paints) which means paints can easily be used straight out of the bottle. Coverage seems good so pigment load may be high, another similarity to Games Workshops Foundation Paints.
So this set score well for value and quality, things are looking promising…
Sound's good, what's the catch?
When looking through the different paints in this set we did have concerns about the tones/shades of some of the colours included, particularly the red which seemed a little washed out.
We applied a few of the paints to the base of a vehicle and it seems that the red isn't so washed out after all, below it is compared to citadels blood red, that said the yellow doesn't fair quite so well.
This is a potential issue as a colour can be toned down through mixing but richer colours can't be created this way.

So there are some small question marks around colour intensity but there is one very significant issue…
…and that is that The Army Painter are not yet selling their paints individually (hopefully this will change in time). This means that if you run out of a colour you cannot replace it without buying a whole new paint set.
This is a big issue and might put off hobbyists that do a lot of painting and may well limit the appeal of this set.
Overall
All in all these are quality paints that represent good value for money but without being able to replace paints on an individual basis it doesn't represent a practical solution for anyone that is concerned with obtaining consistent colour across a large number of models.
That said these sets provides everything the beginner needs and could represent a good introduction to wargames miniatures painting.
Also, those that are less concerned with the painting aspect of wargaming and just want to get miniatures onto the tabletop as quickly and cheaply as possible may find these sets of interest.
Based on these different needs we're going to have to provide 2 different ratings:
Master Painters Score
For obsessive painters that want consistent results in the long term: 6/10

Beginners & Gamers Score
For beginners and people that just want to get miniatures on to the tabletop: 9/10