Warriors of Chaos Slaughterbrute review
The Slaughterbrute is the largest kit in the new Warriors of Chaos release. It is a multi-part plastic kit including 78 parts with which it is possible to build either a Slaughterbrute or a Mutalith Vortex Beast.
A Slaughterbrute is a huge vicious muscle bound monster, while the Mutalith Vortex Beast is a terrifying fusion of monster and magic, a creature mutated beyond all reason by the power of Chaos.
Looking at the box this is one cool looking beast!
Contained within the Slaughterbrute box are two sprues & a 50mm x 100mm monster base.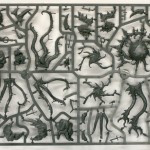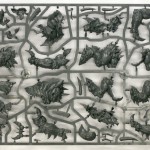 On inspecting the sprues the model initially looks quite difficult to build, a feeling that is re-enforced by the 24 page instruction booklet. After an easy start, putting the legs together, it seems this initial impression was correct. The body must be built in a very specific order, otherwise the various parts will not fit together properly. Now this is not necessarily a bad thing as it allows for a very neat looking result, no obvious ball joints or similar from some older kits, but it does mean that following the instruction booklet is highly recommended.
There are other features of the build that are also of note – the way the back ridge fits together for example, the join weaves between the spines avoiding running straight down the middle, this has the effect of concealing the join nicely. Also, the sprue join points are well placed and don't interfere with assembly, nor do they occur on delicate parts overly much. The sprues are well laid out with the body on one and the options and extras on the other .
A side effect of all this complex build is that the model is not terribly poseable – that said it does include a huge number of options (more on this later).
For all this complexity, it looks like it would be a doddle to build this model in such a way that it could be used as both monsters that can be built from this kit through magnetising the head and just slotting the alternate back mounted options in place, both can be completely built from the parts in a single kit.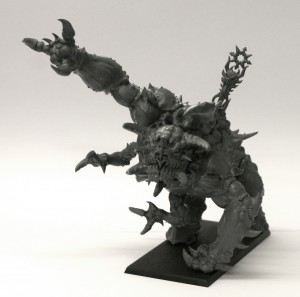 The way we have built the kit also leaves lots of tentacles left over, these make for a cool addition to any bits box.
With regard to value for money – this is a pricey kit and although there is the option of getting two kits for the price of one through the use of interchangeable parts, £50 is a lot of money for a single plastic model. Only much larger Warhammer 40,000 vehicles are of comparable price – this is the most expense individual Warhammer Fantasy Battle model available.
Summary
This is a fantastic looking model that comes supplied with a good number of extras and has the potential to be built in such a way that it can be used either a Slaughterbrute or Mutilith Vortex Beast.
The only downside is the particularly high price point…
Overall score: 7/10