Cardfight!! Vanguard Weekly Card Update #24
Welcome once again to the weekly Vanguard update! Fighter's Collection 2015 Winter and G Booster Set 6 both get some love this week with a mix of clans in both sets. Robots of justice, dragonic ninjas, steam-punk time-travelling eagles, we've get 'em all today!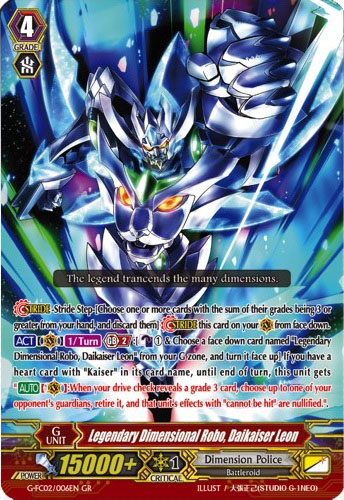 Legendary Dimensional Robo, Daikaiser Leon comes onto the battlefield to destroy your opponent's guardians to follow the Kaiser tradition. With a GB2, CB1, and G Persona Blast, if you have a "Kaiser" heart then when this card's drive check reveals a Grade 3 you retire one of your opponent's guardians, including getting rid of those pesky perfect guards.
Of course justice doesn't fight alone though! Daikaiser Leon has his trusty subordinates such as the Grade 2 Dimensional Robo, Daibazooka. When you have a "Kaiser" Vanguard Daibazooka gets +2000 power, but there's more to him than just a simple power buff! Yet again if you have a "Kaiser" Vanguard, if you trigger check Daibazooka he gets an extra Grade making him Grade 3! So much Kaiser love for screwing up your opponent's guard.. it's so wrong.. but feels so right.
Have a lovely Nightmare Doll Master, Brenda for a great addition to the Workroids of Pale Moon. You may put Brenda into the soul as an ACT to bring a Workroid unit and then you can give that new unit the effect of when it's placed into the soul you can bring Brenda back out. Nightmare Dolls have a lot of flipping and flopping out of the soul these days, I'm hoping for an Upright Lion clone for the Nightmare Dolls to give them a nice boost in power.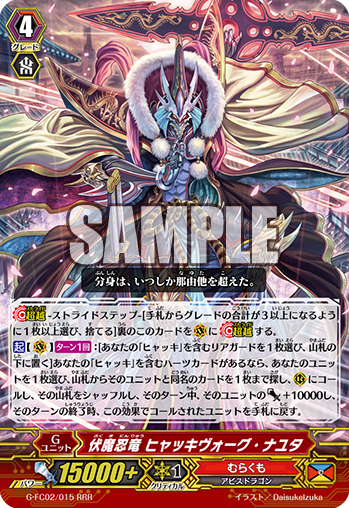 The ninjas are back in town for both Murakumo and Nubatama. Our Murakumo unit shows some support for the Hyakki cards (Well, when I say cards, I mean Hyakki Vogue "Яeverse"). Ambush Demon Stealth Dragon, Hyakki Vogue Nayuta's skill allows you to put a Hyakki rear-guard to the bottom of your deck and if you have a Hyakki heart you can clone one of your rear-guards and give the clone +10000 power and then put the clone into your hand at the end of the turn. You could even use this to have a 16k perfect guard guard that goes into you hand at the end of your turn, then rinse and repeat.
The Nubatama is in support of Shura Stealth Dragon, Steel Blade Shura Stealth Dragon, Hayakujirakan. If you have a Shura Stealth Dragon heart and you CB1, you choose a card at random from your opponent's hand and bind it face down. Then if the number of cards in you opponent's hand is three or less your opponent binds all of their rear-guards face-up. This can disrupt your opponent's plans of intercepting and with Stealth Beast, Kuroko you can kick your opponent when they're down by retiring two cards from the bind zone if the attack hits.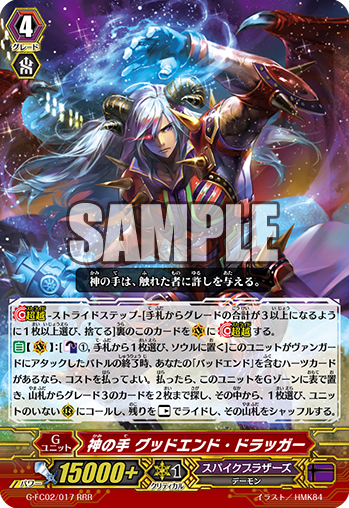 There's something very exciting regarding Spike Brothers in this Fighter's Collection. Hand of Deity, Good End Dragger allows for some great support towards what many would say to be the best card in Spike Brothers. You may CB1 and put a card from your hand into your soul, if you do then at the end of the battle that this unit attacked and you have a heart with "Bad End" in it's name (Currently only Bad End Dragger) you can search your deck for two Grade 3s and call one to rear-guard and ride the other as rest. This compliments Bad End Dragger's skill to give your rear guards huge buffs and allows you to use Bad End Dragger's skill several times in a game with ease.
For Gear Chronicle we have a new Grade 3 that works wonders on the rear-guard and supports Chronoscommand (A nice break from all the Chronojet support). When Calling For Revolution Gear Eagle's attack hits a Vanguard and you have a Vanguard with "Chronoscommand" in it's name then you can Time Leap one of your rear-guards. Also, when you would stride with a Chronoscommand card you may put a rear-guard to the bottom of your deck and look at the top ten cards of your deck to put two cards with Time Leap from among them and put them into your hand. There is some seriously heavy support for the new Time Leap keyword so let's hope that the other clans keywords get just as much of a good treatment.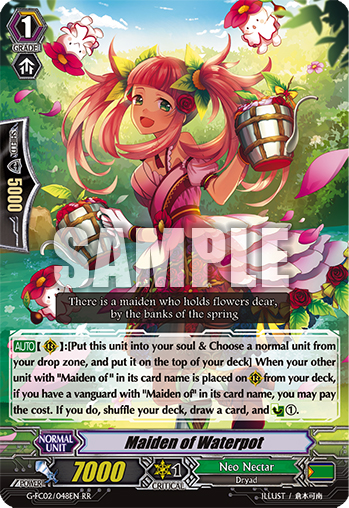 Now let's quickly head to the Zoo nation for the last of the Fighter's Collection cards for this week. Starting off we have Maiden of Waterpot who is a Grade 1. She can put herself into the soul and put a normal unit from your drop zone onto the top of your deck when a card with "Maiden of" in it's name is placed on the rear-guard. If you do and your Vanguard has "Maiden of" in the name you may shuffle your deck, draw one and Counter Charge. This has a very broad use compared to the other cards in this set and without a GB1 or 2 this card can be used very early in the game.
Finally for Fighter's Collection we have the Great Nature Grade 1, Honorary Assistant, Mikesaburo. When this little kitty is placed on the rear-guard circle you can choose one of your other rear-guards. It gives that unit the skill to search your deck for a Grade 3 when it is sent to the drop zone from the rear-guard circle. This is believed to be support for a Chatnoir stride but we will still have to wait for the reveal of the Great Nature stride.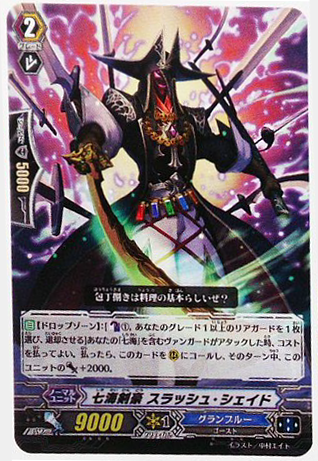 Now it's time for some sneaky G-BT06 reveals. The first one I will talk about is a new Granblue Grade 2 unit. Seven Seas Master Swordsman, Slash Shade gives Granblue a bit more of an aggressive angle by working from the drop zone to retire one of your Grade 1 or greater rear-guards if you have a Vanguard with "Seven Seas" in its name to then call himself to rear-guard. This has no Generation Break so if he's in the drop zone you can call him if you have another copy of him on the Vanguard circle.
Some more exciting Granblue news comes in the form of a simple reprint. Every Granblue player's beloved Ruin Shade will be partaking in the new G-BT06 set with all new artwork. She has always been an amazing Grade 2 for Granblue and highly sought after for years and now that she's being reprinted as an R, everyone's dreams have come true. Allowing you to put the top three cards in the drop zone and gaining power on top of that to make her an 11k Grade 2 will let you beat your opponent with no mercy.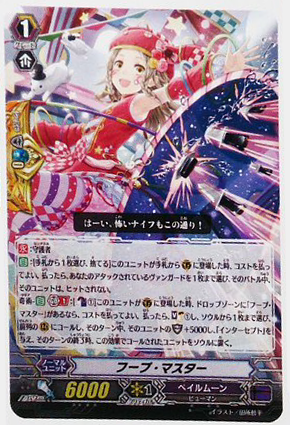 Who would have thought that they would see the EB01 Pale Moon stand trigger, Hoop Magician, all grown up. Meet Hoop Master, an interesting new perfect guard for Pale Moon who's first skill works like the old perfect guards with not being able to Counter Charge but she does have one trick up her sleeve. Her second skill has GB1 and when she is placed on the guardian circle you may CB1 to Soul Charge 1 and choose a card from the soul and place it on a rear-guard circle in the front row. This is Magia so the card has to go back into the soul at the end of turn but the new unit is given +5000 shield and the ability to intercept so you could bring out a Grade 0 and be intercepting for 15000 for a future attack on that turn.
The Royal Paladin keyword has been revealed through Knight of Backwind, Selim. If you have a Vanguard with Altmile in its name he gains +3000 power so long as the conditions of GB1 and "Brave" are met. This new Brave keyword takes effect when you have three or less cards in your hand. This is an odd choice of skill to have for Royal Paladins and will make draw triggers a lot less used and can be a big hindrance, hopefully their skills will be worth it though. Selim's second skill is very useful though, when he is in the deck he gets +1 Grade making him a Grade 2 allowing him to be easily searched by lots of G era cards.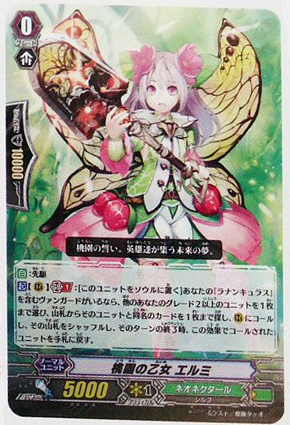 Ranunculus gets a new Forerunner with yet another little Neo Nectar cutie. You may put Peach Orchard Maiden, Erumi into the soul if you have a Vanguard with Ranunculus as your Vanguard and if you do you choose one of your Grade 2 or greater rear-guards and clone it. At the end of the turn you put the new clone into your hand. This is Counter Blast free which makes her cheaper to use than Spring-Heralding Maiden, Ozu though with Ozu you had a wider range of cards to choose from with her letting you clone a Grade 2 or less but also not letting you put it back into your hand afterwards.
Beast Deity, Jackal Lord is a new Grade 2 and great support for the Beast Deities of Nova Grappler. When he is placed on a rear-guard circle you may CB1 and until the end of turn Jackal Lord allows you to stand another unit when he attacks and gives it +3000. You can perform nice combos with this and Beast Deity, Dragotwist providing you can spare the Counter Blasts.
Last of all we have a Grade 2 Shadow Paladin, Darksaga Painter, who supports the Abyss build. With a GB1, when this unit is placed on the rear-guard, if you have an Abyss Vanguard you may draw a card and then discard a card. Also, when he is in the deck he gets a similar effect to Selim but in reverse, he loses 1 Grade allowing him to be easily called out with the new Shadow Paladin builds.
That's all for this weekly update of Fighter's Collection and G-BT06 cards. Be sure to check back next week for the next one!
Cardfight Vanguard singles are available to purchase at Big Orbit Cards: Cardfight Vanguard