Cardfight!! Vanguard Weekly Card Update #25
Welcome back to the weekly Vanguard update! All the Fighter's Collection cards are almost completely spoiled. We received some great spoils this week including some support I'm especially looking forward to!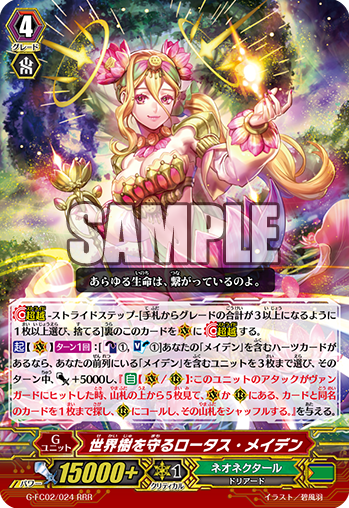 First we have the Neo Nectar stride for the "Maiden of" support. Yggdrasil Protection Maiden of Lotus is almost like a quicker version of Dream-spinning Ranunculus, Ahsha. If you have a heart with "Maiden of" in it's name and with a Counter Blast and Soul Blast of 1 you can give up to three units with "Maiden of" in their name in the front row +5000 power. If their attacks hit a Vanguard then you search the top five cards of the deck for a card with the same name as a card on your Vanguard circle or rear-guard circle and call it to rear-guard. This works great for Maiden of Trailing Rose and Maiden of Rambling Rose with their goal of cloning themselves on the rear-guard circles, allowing for the easy power boost. It may be useful if you only have one Hollyhock Knight on the field to get a good chance of cloning him for your turns when you can't stride.
Next we have Omniscience Dragon, Cath Palug, the Great Nature stride supporting "Honorary Professor" (AKA Chatnoir). Whenever a rear-guard attacks and you have a heart with "Honorary Professor" in the name, you may CB1 to give one unit +4000 power. At the end of that turn draw a card and retire that unit. This stacks really nicely if you keep giving the power to one unit and being able to stand that unit back up to allow you to draw multiple cards for one retire. This is where Crayon Tiger will help you to stand other units and let you draw even more! The downside to this is that those Counter Blasts are going to rack up quickly, though luckily Great Nature are quite good at Counter Charging.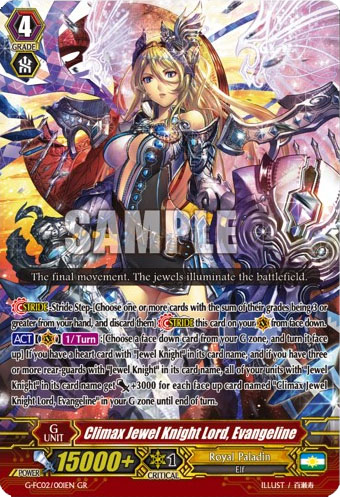 Okay, it's time for the cards I'm really looking forward to… Jewel Knight support! Climax Jewel Knight Lord, Evangeline does wonders for Jewel Knights by letting you turn any G unit face up if you have a Jewel Knight heart and giving every card with Jewel Knight in its name +3000 power for every face up Climax Jewel Knight Lord, Evangeline in the G zone. If you're using a pure Jewel Knight deck like my own then you can easily see how the power of this will rack up. Many Jewel Knight cards allow you to superior call other units granting you the chance to easily have a powerful full field. With a drawn out game against a defensive deck you will be able to use this lady up to three times, first giving everything +3000, next +6000, and after that +9000 to all of your units! Making +18000 power columns!
A Grade 1 for Jewel Knights was also revealed. Bringing Calling Jewel Knight, Christine onto the field when there are three or more other rear-guards with "Jewel Knight" in their name allows you to Counter Blast 1 and reveal a Grade 3 from your hand to search your deck for a Grade 3 Jewel Knight and call it to a rear-guard circle. At the end of the turn that you use this skill you put the newly called Grade 3 into your hand and then discard a card. You can use this to ensure you can continue to break ride with Pure Heart Jewel Knight, Ashlei or you may want to do it just to have something to use to stride next turn. With no Generation Break you can use this before you've even hit Grade 3 to guarantee you ride the card you want.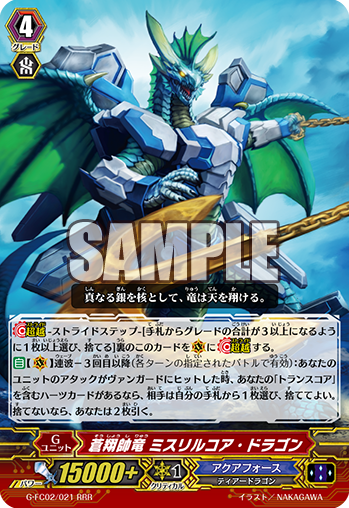 With the new Aqua Force Clan Booster you may have been worried because Trans-core didn't get a new card. Luckily the Fighter's Collection come bearing merciful gifts. Blue Flight Marshal Dragon, Mithril-core Dragon works only if you have a "Trans-core" heart (Currently only Blue Flight Dragon, Trans-core Dragon). When any of your unit's attacks hit a Vanguard on the third wave or more your opponent must choose between discarding a card or having you draw a card. This can get pretty intense with the amount of times Aqua Force can stand up and have enough power to land a hit.
Stealth Rogue of Night Fog, Agitomaru is a Grade 2 for Nubatama with no specific support (Probably because the support for Nubatama in general is very slim) but his skill can prove to be very useful. When Agitomaru's attack hits a Vanguard, retire a card in your opponent's bind zone. Sweet and simple. This will work well in many Nubatama builds but what they really need now is a way to power up this guy to make sure that attack hits. This is the second rear-guard ability that allows you to retire from the bind zone but I feel Nubas deserve more so here's hoping to more bind zone retiring in the Technical Booster!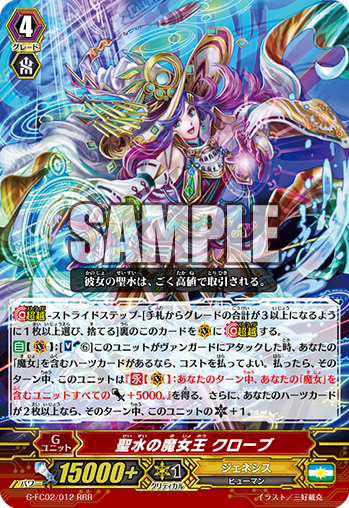 In this set there has been OTT Witch support, Shadow Witch support, and now we have Genesis Witch support. Sacred Water Witch Queen, Clove is just what you'd expect from a Genesis Witch, by Soul Blasting 6 you can give all units with "Witch" in their name +5000 power, and if you have two or more hearts she gains an extra crit. Like Evangeline, you can get some seriously strong columns with this. Not as big as Evangeline's potential but with Clove you get the higher power quicker, you can use her four times in total, and she gets the extra critical.
For the "Bad End" Spike Brothers rear-guard support we get the Grade 1 Death Flag Dragger.  If he is placed on a rear-guard circle during your battle step then you may reveal a Grade 3 from your hand, and then search your deck for a "Bad End" card (Bad End Dragger) and put it into your hand. This will be good for getting the initial Bad End Dragger but with Hand of Deity, Good End Dragger you won't be using Death Flag Dragger's skill much late game.
Love Sniper, Nociel is the Grade 3 that the "Nociel"s deserve. You may CB1 when a card with "Nociel" in its name is put into the damage zone, if the card that was put in the damage zone is still face up then you can put it into you hand and put the top card of your deck into your damage zone. She also has a second ability that allows you to put a card from the damage zone into the hand when she's placed on Vanguard circle if you put a card from your hand into the damage zone. This is really the kind of thing you would expect from a Nociel card and now that she's got a form in every Grade you can finally make a proper deck around her.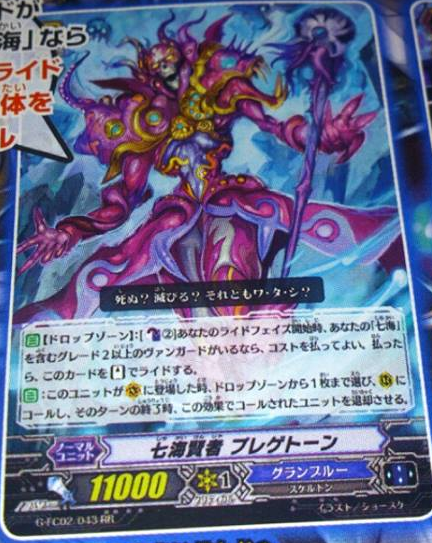 Lastly for Fighter's Collection we have the Granblue Grade 3 for "Seven Seas". Seven Seas Sage, Purgeton has your classic Granblue skill of Riding from the drop zone. At the beginning of the ride phase, if you have a Grade 2 or greater Vanguard with "Seven Seas" in its name you can CB2 to bring this guy from the drop zone onto the Vanguard circle. Also, when he is placed on the Vanguard circle you can bring another card from your drop zone and put it on the rear-guard circle. This may be good to bring out King Serpent to essentially make the Ride and call a CB1 but using things like Sea Strolling Banshee for hand advantage may also be a good idea.
That is all for Fighter's Collection for this week however there are a few more cards to go over.
Cheer Girl, Lucy is a new promo for Spike Brothers. We're not sure how it will be distributed in the west yet but it has a neat ability to give a boosted unit with the "Charge" keyword +5000 power on top of the boosted power already given by her and then at the end of the battle that the boosted unit attacks you put them on the bottom of your deck.
Lastly we have been shown the three stride fodders for the Technical Booster. Prism Bird (Tachikaze), Acrobat Verdi (Spike Brothers), and Stealth Beast, Katarigitsune (Nubatama). The only one that we know the Grade 3s name for is Katarigitsune who helps you find a card with "Shiranui" in its name.
That's all for this weekly update of Fighter's Collection, promo, and Technical Booster cards. Be sure to check back next week for the next one!
Cardfight Vanguard singles are available to purchase at Big Orbit Cards: Cardfight Vanguard