Cardfight!! Vanguard Weekly Card Update #26
Welcome back to the weekly Vanguard update! All the Fighter's Collection cards have finally been revealed! I will go over the last bits of the Fighter's Collection as well as some awesome new cards for Reckless Rampage.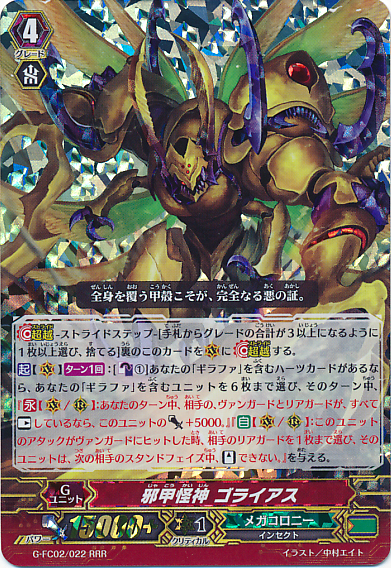 Believe it or not, Giraffa finally got the support people have been asking for. With a Counter Blast 1 Evil Armor Mutant Deity, Goliath gives +5000 power up to six of your units with Giraffa in their names. With this it could be wise to have four of every unit in the ride chain, maybe even 3-4 of the Grade 0, if Goliath then hits the opponent's Vanguard you paralyse one of their rear-guards. This card partners up really well with the Grade 1, Elite Mutant, Trighoul. At the beginning of the opponent's ride phase, if they have a paralysed unit, you look at the top five cards for a Giraffa card and put it into your hand. This can ensure that you can pull the ride chain off and that you have a lot of rear-guards for Goliath's skill. The only two downsides to this is that he doesn't have Giraffa in his name and it can be hard to paralyse units with Giraffa units so having a couple of Sweet Cocktails may not hurt.
Another card that helps you get the cards you want is Amphibian Dragon for Aqua Force. When Amphibian Dragon attacks a Vanguard on the third turn or more then you search your deck for a card with Trans-core in it's name and bind it. This will allow you to always ride Trans-core with Amphibian's second ability to Counter Blast 1 at the beginning of your ride phase to ride with a Trans-core from your bind zone, allowing you to break ride easily four times in a game. You may need a bit of Counter Charging but if the break rides are going to be your main strategy then it may be good to save your face-up damage for this card.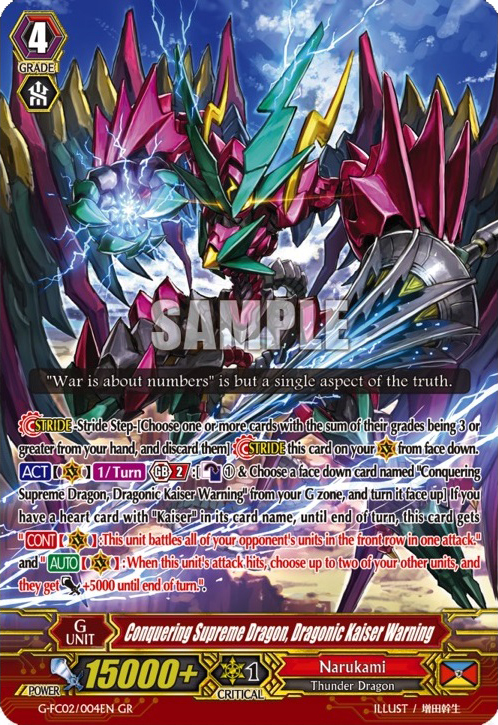 Conquering Supreme Dragon, Dragonic Kaiser Warning is a stride for the old Kaisers of Narukami. With a GB2, CB1, and a G Persona Blast with a heart of "Kaiser" he attacks the whole front row and when his attack hits you give two rear-guards +5000 power. Because he's attacking three units he has the potential to hit all three and give two units +15000 power! The power can get even higher with the Grade 1 Crown Holder Dragon. When your Vanguard with "Kaiser" in its name hits with an attack then you can give another unit +2000 power, making +6000 if your Vanguard hits all three. Having two or three of these on the back row will really stack up the power quickly and make a big difference late game.
Witch of Quill Pen, Onion is a Grade 1 version of the recent Witch of White Rabbits, Cardamon. If you have a Vanguard with "Witch" in its name and Onion is Soul Blasted then you can Counter Blast 1 to bring her onto the field with +2000 power. With all the powering up Genesis Witches do to the rear-guards it makes it extremely useful to have a consistent field.
The last card for Fighter's Collection is the Murakumo Grade 2, Stealth Dragon, Oboro Keeper. At the end of your turn you may choose two units names Stealth Dragon, Oboro Keeper and put them on the top of your deck to search your deck for a Grade 3 to put in your hand. I'm glad that this is another Fighter's Collection card that can work in everything but it works especially well for Shirayuki to get Persona Blast fuel.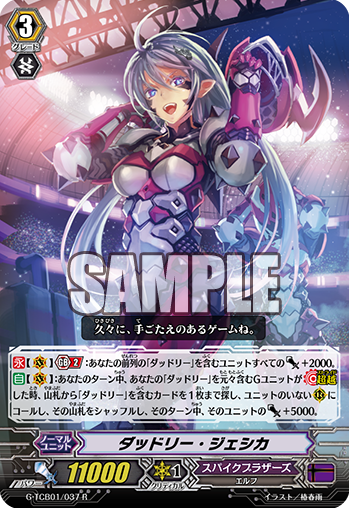 Onto the Reckless Rampage cards Dudley get a new Grade 3 with Dudley Jessica. Jessica is a very defensive unit for Spike Brothers with the GB2 to give the front row +2000 power at all times, allowing her to have the defence of a cross ride. When a unit with "Dudley" strides over this unit you search your deck for a card with "Dudley" in its name and you call it to a rear-guard circle with +5000 power. It's good to finally have a solid Grade 3 for Dudleys so Geronimo will hopefully see more use.
Assault Dragon, Assault Rex gets +2000 power when there is a "Rex" in the bind zone and when a unit with "Rex" in its name is put into the drop zone then you draw a card. This is hopefully a sign that there will be more Rex Grade 2 and 1 support in the Reckless Rampage to help pull off the draw ability. The ability to gain power should already be easy for Rexes and with Dark Rex you can start to pull off some powerful combos.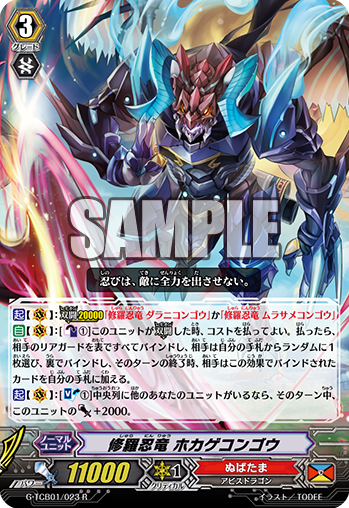 We have a new legion with Shura Stealth Dragon, Hokagecongo who legions with Shura Stealth Dragon, Murasamecongo. When these two units perform legion you can Counter Blast 1 to bind all of your opponent's rear-guards face up and your opponent binds a card from their hand face-down. At the end of the turn all the cards go back into your opponent's hand. He also has the power up ability to Soul Blast 1 to gain +2000 power. With Murasamecongo's skill you will be able to search your deck for the Hokagecongo and put it into your hand as long as you discard a card, if you do all pay the cost your opponent is also forced to retire a card in their bind zone and Murasamecongo gets +2000 power.
A new keyword for Nubatama has been revealed, firstly shown with the new card Stealth Dragon, Hashiribi. The new keyword is Afterimage and allows you to put a unit with this keyword back into hand after the turn if your opponent has a bound card and you have six or less cards in hand. This will allow you to pull off all the low hand abilities for the turn while still being able to defend next turn. Hashiribi also drop and draw when he's called if your opponent has a card in the bind zone.
Lastly we have the Nubatama Grade 2, Stealth Dragon, Nibikatabira. He also has Afterimage and another ability with GB1, CB1, and SB1 when he's placed on rear-guard to give another rear-guard +3000 power and Afterimage. This only works if you have a Vanguard with Shiranui in its name but it is still an extremely useful card for Nubatama to have.
That's all for this weekly update of Fighter's Collection and Technical Booster cards. Be sure to check back next week for the next one!
Cardfight Vanguard singles are available to purchase at Big Orbit Cards: Cardfight Vanguard