Cardfight!! Vanguard Weekly Card Update #27
Welcome once again to the weekly Vanguard update. This week we get to see some Technical Booster fun along with a bunch of promos so be prepared for a lot of Technical goodness.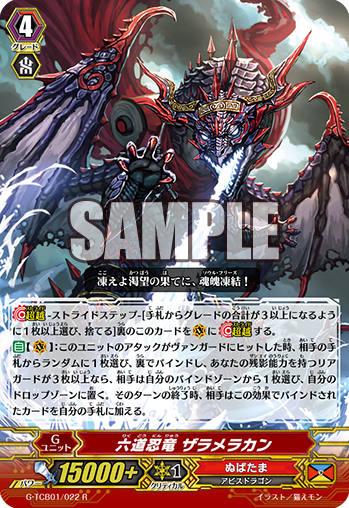 I'll start off with the newly shown R stride for Nubatama. Rikudo Stealth Dragon, Zaramerakan seems to be a rather more complex version of Rikudo Stealth Dragon, Gedatsurakan that works more with the new Afterimage keyword. When Zaramerakan's attack hits you choose one card from your opponent's hand and bind it and if you have three or more rear-guards with the Afterimage keyword then your opponent chooses a card from their bind zone and retires it. Not being able to choose which card to retire is a bummer but it at least allows you to put a card in the bind zone beforehand which Gedatsurakan didn't let you do. Gedatsurakan would still be best for older Nuba builds though Zaramerkan works great in the new G decks.
Speaking of units with Afterimage, Stealth Rogue of the Mirror Moon, Tsubakuro is a new unit that specialises in defending though thanks to the Afterimage skill you can attack with him and then defend next turn. His skill is simple and with a GB1 that gives him +5000 shield making him a 10k guarder. The downside is that he's a 6k Grade 1 so even when on the offence he won't be doing much damage.
Another Afterimage unit is Stealth Dragon, Onibidoushi, a stand trigger that can either go back into your deck or into your hand. When he is placed on a rear-guard circle with a GB1 you can draw a card and put him back onto the top of your deck and give another unit +3000 power until the end of turn. It's nice for the extra card though getting rid of a 10k shield like that can be risky. This card id yet another way for people to screw over my SP Witches…
With some Shiranui support we have the Heart Thump Worker clone, Stealth Dragon, Noroi. So as you may know with the Heart Thump Worker clones, when your G boss (In this case Shiranui) attacks you may put Noroi into your soul to draw a card and give Shiranui +5000 power. Along with this clone we also get the LB Enabler Stealth Beast, Kurosakazuki who can really help with the old bosses from BT13, Shura Stealth Dragon, Kujikiricongo and  Shura Stealth Dragon, Kabukicongo.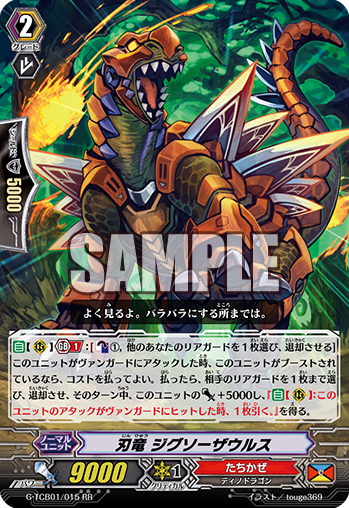 On to Tachikaze we have the Amber clone Blade Dragon, Jigsawsaurus. There is a slight difference compared to most Amber clones and that is as well as the GB1 and CB1 you also have to retire one of your own units, if you do you can also retire one of your opponent's and this unit gets +5000 power, as well as that he also allows you to draw a card if his attack hits a Vanguard. Thanks to the new Grade 3 Emperor Dragon, Gaiaemperor you can easily get that retired card back onto the field, reactivating on-call abilities and allowing you to rearrange your field.
You could combine Jigsawsaurus with the new Freeze Dragon, Freezernics who makes the best use of being retired. When he is retired, if you have a Gaia Vanguard, you can Counter Charge 1 and Soul Charge 1 and give another unit +2000 power.
When Beam Dragon, Apatomaser  is placed on rear-guard circle you may CB1 and SB1 if you have a Vanguard with Gaia in the name and Apatomaser gets +2000 and when he attacks, if he is engorged, he gets +5000 power and you draw an extra card. There seems to be a lot of drawing considering you can easily get these units back as soon as they're put in the drop zone. This may eliminate any need for Draw triggers in G Tachikaze.
Savage Guardian is the new G Perfect Guard. It's nice to see the Savages again and the Counter Charge will really help Tachikaze. Along with the new Perfect Guard we also get the Heart Thump Worker clone Cannon Fire Dragon, Parasalauncher who works with Gaia.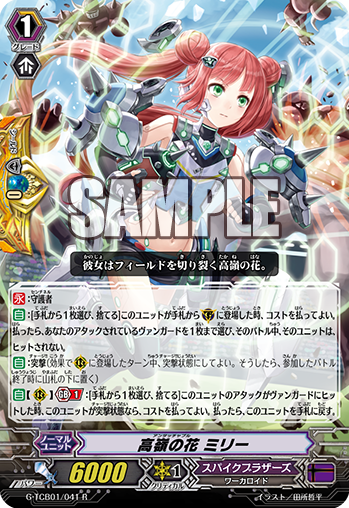 Spike Brothers have been shown to have two Perfect Guards, the standard G Perfect Guard, Kissmark, Alma and one without the Counter Charge but with additional skills, Untouchable, Milly. Milly has the charge ability to put into the hand from your rear-guard circle if her attack hits a Vanguard. This works great alongside the new Grade 3, Exceptional Expertise, Rising Nova, who will allow you to bring her out from the deck and give her +5000 power for an 11k attack without boost.
When Axe Diver is placed on rear-guard you may CB1 and SB1 and when you have a Vanguard with Rising in the name you bind one of your own rear-guards and then call it back onto a rear-guard circle. This is great for getting your units to charge and if your unit is then charging it gets +5000 power until the end of turn. This can be superior called by units like Rising Nova in the middle of the battle phase to then essentially stand another unit back up and allow it to charge.
The Heart Thump Worker clone for Spike Brothers is Liar Lip who helps out with your Rising Vanguard and the Limit Break Enabler is Cheer Girl, Elza which is a lot of help for Bad End Dragger.
For promos there's a big mix of things including a few much needed reprints. Whether these cards are going to be released in English or not is not yet known.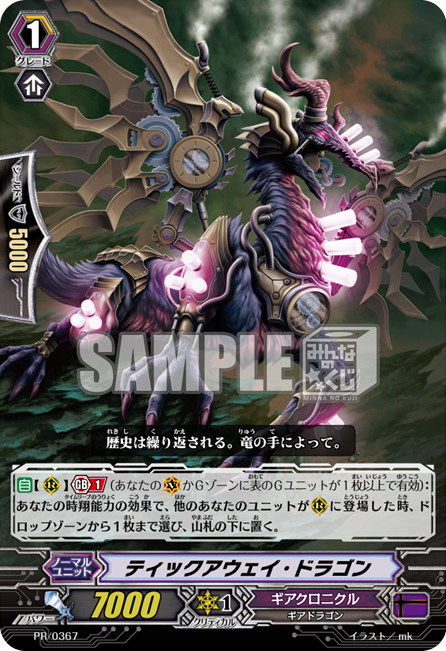 The first new promo is Tickaway Dragon for Gear Chronicle. This is a very interesting Grade 1 that puts a card from your drop zone on the bottom of your deck when one of your other rear-guards in placed on the rear-guard circle due to a Time Leap effect. This will prevent you from decking out and allows you to put those all-important triggers and Perfect Guards back into your deck.
Tachikaze get a very simple booster with Savage Foxy. When she boosts if you have less rear-guards than your opponent, she boosts for an extra 2000 power, making her a 9k booster. Along with this Nubatama also get a booster that is a 6k Grade 1 that gets +4000 power when boosting a Vanguard with a GB1.
The last new promo is Chocolatier Ronne, a Bermuda Triangle Grade 1 who has a very Bermuda-y effect. When she is bounced back into the hand you can CB1 and SB1 to draw a card.
For reprints we have many but they are all very wanted cards. For Pale Moon we have Purple Trapezist, for Dark Irregulars Flying Librarian, Link Joker get Dark Metal Chameleon, Libergal for Royal Paladin, Dandelion Musketeer, Mirkka will get her non-chibi form for Neo Nectar, and finally King Serpent for Granblue.
That's all for this weekly update of the Technical Booster and promo cards. Be sure to check back next week for the next one!
Cardfight Vanguard singles are available to purchase at Big Orbit Cards: Cardfight Vanguard