Cardfight!! Vanguard Weekly Card Update #33
Welcome back to another weekly update of the new cards for Cardfight!! Vanguard. With the G-BT06 spoils out the way things have mellowed down a little and this week we have some Legend Deck cards and Fighter's Collection 2016 cards, as well as a few promos!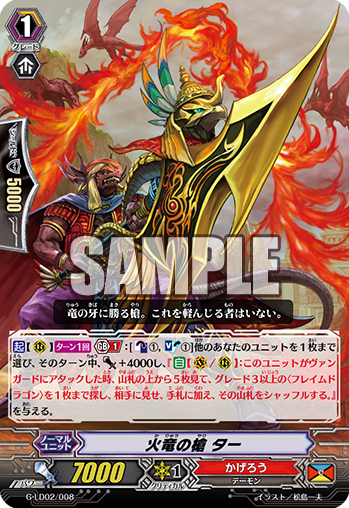 First of all let's start off with some familiar faces, well, these not-so-familiar faces because they've become dragons, because Bushi. Tahr is one of these newly turned dragons with his new form being Spear of Flame Dragon, Tahr. As an ACT on the rear-guard circle you can CB1 and SB1 to give another unit +4000 power and when that unit attacks a vanguard it lets you look at the top five cards from the top of your deck to search for a Grade 3 or higher Flame Dragon from among them and puts it into your hand. Also having a GB1 means you can't rely on this card if you get Grade Locked but does help Dragonic Overlord "The X" and Supreme Heavenly Emperor Dragon, Dragonic Overlord "the Ace" drop from hand extra Dragonic Overlords to fulfill their skills. Due to you being able to search for a Grade higher than 3 you can also use this skill to have a better chance of getting Transcendence Dragon, Dragonic Nouvelle Vague though you may not be using Nouvelle Vague in a stride-heavy deck so the GB1 may cause a problem.
Next we have another oldy with Armor of Flame Dragon, Bahr (The race of Bahr and Tahr is still 'Demon' so why are they dragons!?). With another GB1 unit, Bahr can intercept for 15k shield with the cost of putting a Flame Dragon from your drop zone to the bottom of you deck. This is another great card to have with the previously mentioned Overlords, allowing to recycle the cards you dropped for the skill.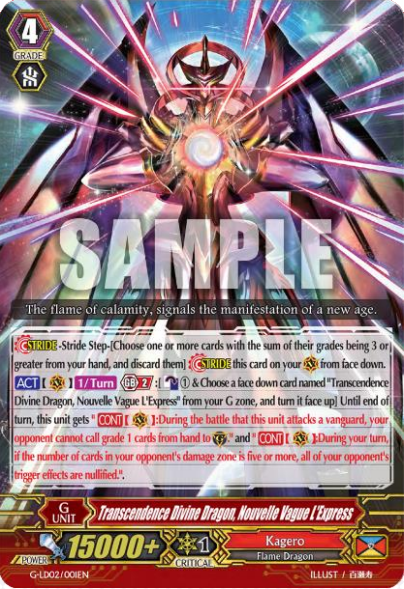 Nouvelle Vague gets a new form, still Grade 4 but this time as a stride! Transcendence Divine Dragon, Nouvelle Vague L'Express has a GB2, CB1, and a G Persona Unit to get the Glory skill of not allowing your opponent to guard with Grade 1s or higher, preventing your opponent from perfect guarding. The second part of the skill stops your opponent's sixth card's trigger from activating, eliminating all hope of getting the miracle heal. This a truly amazing card as long as you don't value friendship.
To get L'Express to even higher power to make that Glory skill more important we have Dragon Partner, Monica who is a 7000 power Grade 1 who gains 3000 power when boosting a Flame Dragon and if you are at GB1. At first this may not seem like much but it will put L'Express to 36000 power and that will make a lot of difference when your opponent can only guard with Grade 0s.
So in this deck we have the teacher (Overlord), the bully (Nouvelle Vague), and of course we have to have the weird kid in the corner that no one talks about (Amber Dragon). Yes Amber Dragons are back and the new card, Amber Dragon, Midnight, lacks actual Amber Dragon support (Sorry guys), instead he will just be used as a supporting Grade 3. With a GB1 and CB1 when Midnight is placed on a rear-guard circle you can retire a Grade 1 or less your opponent controls. This is a little underwhelming and will most likely be replaced by one of the Overlords but it's a nice little backup for budget decks.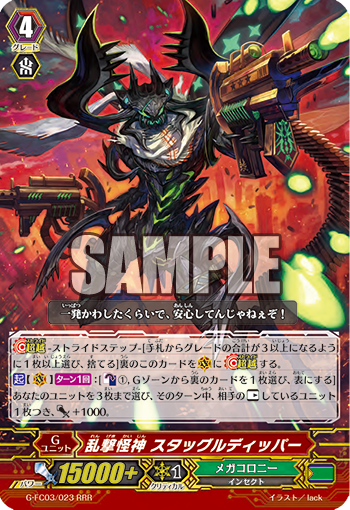 Now on to Fighter's Collection with so Mega love… I mean Colony love… not sure which one sounds worse… Anyway! Wild Strike Mutant Deity, Struggle Dipper is a great new Megacolony stride who gives three of your units +1000 power for each of your opponent's rested units with a CB1 and a G Blast. This is a nice first stride and will even give you the GB2 you need for Darkface's skill and with being able to put three units up by +6000 power turns your units into nice early beat sticks. Still not quite Regalie's kind of power and you have to rely more on how your opponent sets things up but it may scare your opponent into using less attacks then they can actually use.
Spike Bros get an extremely useful stride with Superheavy Tank, Tiger Centurion that allows all your units to go into the Charging state with just a simple CB1! As well as putting as many as your Charge units into the Charging state as you like you can also give any units without Charge +2000 power until the end of the turn making it good in both new and old decks.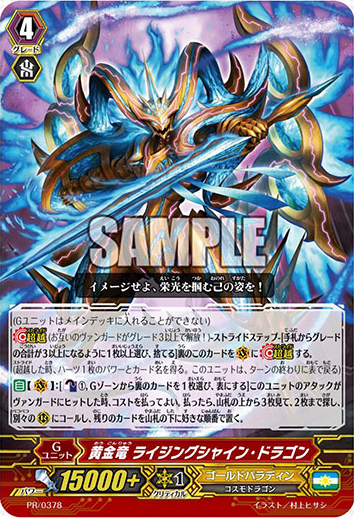 Gold Paladins get a couple of new promos, a stride and a forerunner. The stride is Golden Dragon, Rising Shine Dragon (Rise 'n' Shine.. I see what you did there, Bushi! Get it? Because Golds have morning related names now. I'll leave..) which gives you the option to CB1 and G Blast on-hit to look at the top three cards and put up to two of them onto the rear-guard circles. This really helps with the new Gold Paladin keyword but I'll go into that in a minute. The G Blast makes the cost seem a bit steep for an on-hit ability like his but it will put Gurguit at his GB2 which is a really good skill so it at least helps with that.
So with Knight of Early Morning, Koel we get our first glimpse at Gold's new keyword, Unite. So Unite takes effect when two or more of your units were called to rear-guard circle or guardian circle in the same turn. When Koel is United, as an ACT and with a GB1 he can go into the soul which allows you to look at the top three cards of the deck and you put up to one of those three onto the rear-guard circle and that unit gets +2000 power. This seems like a better option to Rising Lionet but there is a chance that the extra power Lionet gives you would benefit you a lot.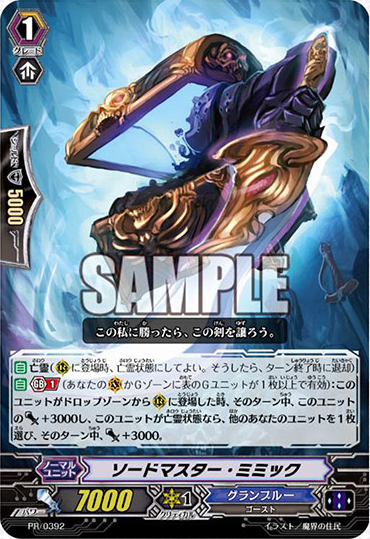 Lastly we have a couple more promos. The first one is Sword Master Mimic for Granblue. When Sword Master is placed on a rear-guard circle from the drop zone he gets +3000 power until the end of turn, and if he's Hollowed then you can give another unit +3000 power. This works great with Raceruler for being able to give both side columns a nice boost all around.
The second promo is the Royal Paladin, Sonicgal. This little pup has a GB1 and Brave ability. At the end of the turn, if he is Brave, then you can retire him to Counter Charge 2 and draw a card. This works well for Hope Keeper seeing as she could get to be using up a lot of your Counter Blasts but I'm not sure how strict Brave deck's Grade 1 line up will be so the usefulness of this card is hard to say at this point.
That's all for this week. I'm enjoying that the Fighter's Collection cards are a little more flexible this time around though I do think it was also good with supporting older decks so hopefully we will see a little of both. The Kagero deck is shaping up to be something truly nasty and I can imagine that a lot of the cards in it will be very popular with tournaments and hopefully new players too. I hope there was something revealed this week that interested you and be sure to check in again next week for the next weekly update.
Cardfight Vanguard singles are available to purchase at Big Orbit Cards: Cardfight Vanguar