Cardfight!! Vanguard Weekly Card Update #34
Welcome back to another weekly update of the new cards for Cardfight!! Vanguard. This week we get a better look at what the new Fighter's Collection has to offer so let's dive right in a see if there are any cards that can help your clan.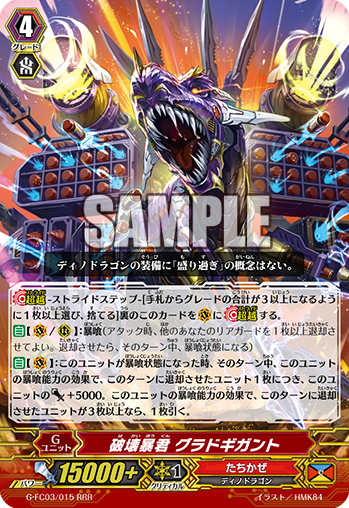 First off is Tachikaze with their new stride, Destruction Tyrant, Grado Gigant. When this unit attacks you can activate its Engorge ability which will give it +5000 power for each unit it consumes and if the number of units is three or more then you get to draw a card. This works especially well with Gaia Emperor allowing you to attack once again with two of the retired units and the draw will help you defend next turn just by getting rid of something minor like a draw trigger in your hand. This generally makes for a great first stride for Tachis and I would highly recommend having at least one of these in a Gaia Emperor deck.
Next up we have a Genesis stride who acts like a mini Vanargandr. This new unit, Vanquishing Beast War Deity, Tyr, has an ACT that has you Soul Blast 3 to check the top card of your deck and choose whether to put it on the top or bottom of your deck. The Soul Blast gives you an additional skill where every time you are to reveal a Grade 1 or greater in your drive check then you Soul Charge 3. With this high amount of Soul Charging you will want to be careful on how many times you use this guy, I'd say using him once for your first stride would be good for a game but you may want a second one as backup. This is also a nice way to give cards like Mythic Beast, Hati and Mythic Snake, Jormungand a good power boost early, though Doom Brace can be an equally good unit to use for your first stride.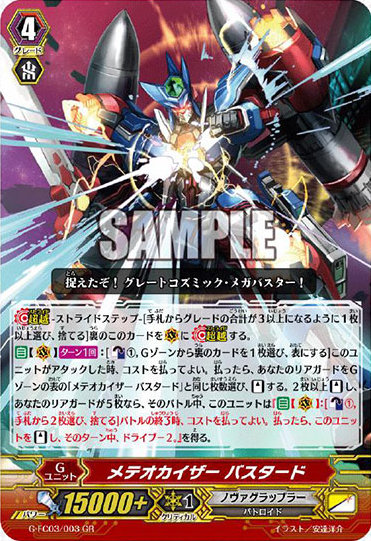 Time for Nova Grapplers and they finally get the stride people were waiting for with Meteokaiser, Bustered. People are saying that this new card is a replacement for Victoplasma and I can see why. When Bustered attacks you can Counter Blast 1 and G Blast one G unit and you can restand an amount of rear-guards equal to the amount of face-up Meteokaiser, Bustereds in your G zone. If you do this then at the end of the battle, if you have five rear-guards, you can Counter Blast 1 again and drop two cards from your hand to restand Bustered but he only gets one drive check. Being to stand up himself and up to four rear-guards will be devastating for your opponent, especially with the new Rush skills but I've also heard that this works great for Beast Deities by them just constantly standing, forcing your opponent further and further back. There certainly seems to be a wide gap between GRs and RRRs in this set.
As tradition with Neo Nectar our all-powerful stride is a cute little animal, and of course it looks like a cat with wings but apparently that makes it a dragon, this being Omniscience Dragon, Hrimthurs. At the end of the battle that this unit attacked a Vanguard you may Soul Blast 1 to give a rear-guard +4000 power, you may give them a second +4000 power and if you do they are retired at the end of the turn, if that unit had 20000 power or more when it was retired then you also get to draw a card. Combine this guy with Bigbelly and Crayon Tiger for more drawing and better chances of getting that 20000 power and luckily Hrimthurs doesn't use and Counter Blasts which will help out the deck a lot. I'd recommend aiming the power boost at Guru Wolf and you can defend yourself for days with the amount of cards you'll have in your hand.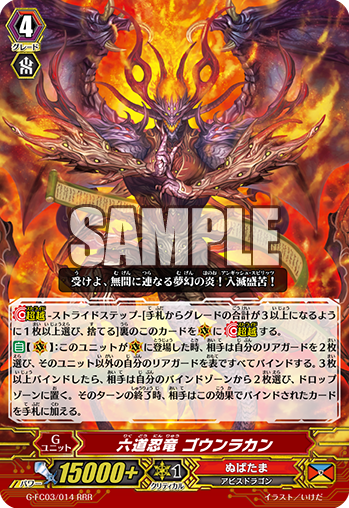 Rikudo Stealth Dragon, Gonrakan is a new stride for Nubatama that forces your opponent to choose two of their rear-guards when he hits the Vanguard circle and they have to put all other rear-guards in their bind zone. If three cards were put into the bind zone through this then your opponent chooses two cards in their bind zone and puts them into the drop zone and puts anything that wasn't put into the drop zone into their hand at the end of the turn. To weed away their rear-guards further you can use Shiranui's on-stride ability to stop those intercepts.
Lastly for this week's Fighter's Collection cards is Lucky Rise, Elprina the Bermuda Triangle stride who simple but so, so effective. With the ACT to Soul Blast 1 you can bounce two units back to your hand. You can only use this once per turn but it is crazy to let you sort out your field and then get amazing bounce benefits and will let you re-establish your Harmony skills. This can also be used to refuel yourself by bouncing units that will give you Soul Charges and Counter Charges.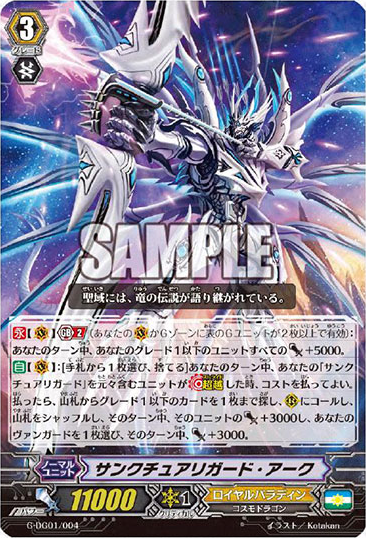 So for the new DAIGO deck coming out, along with Sanctuary Guard Dragon and Sanctuary Guard Guarantee we were promised a new Sanctuary Guard Grade 3, Sanctuary Guard Arc, and his skills have finally been revealed. Firstly his GB2 skill gives all Grade 1 and lower units +5000 power. So unlike Sanctuary Guard tradition of Grade 1s giving power, the power is given to the Grade 1s. He also gets an on-stride ability to discard one card and search your deck for one Grade 1 or less and bring it onto the field, on top of that, the newly called unit and your Vanguard get +3000 power. As you can probably tell, this works amazingly well with Sanctuary Guard Regalie and we have yet to see what the skill of the new Sanctuary Guard Imperial stride but we can only guess that it will most likely word with having a large amount of Grade 1s as is Sanctuary Guard tradition.
Daigo himself even gets a promo stride for Entrager. Sanctuary Guard DAIGO is just a vanilla stride unfortunately but due to him being Entrager the chances of us actually getting him in English is extremely slim.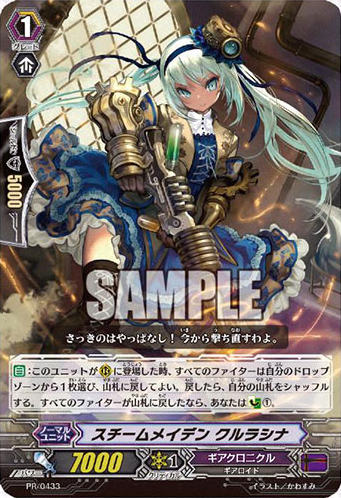 Continuing with the promo cards we have a Gear Chronicle card, Steam Maiden, Kuluracina. When she is placed on the rear-guard circle each player may put a card from their drop zone into their deck. If both players do put a card away then the player controlling Kuluracina gets to Counter Charge 1. Having to rely on your opponent to put one back into the deck is very risky. They may want to put their triggers or perfect guards back but they will probably think it's not worth it if you'll be able to pull off more deadly skills.
For Kagero we have Dragon Knight, Pharrell, a 15k booster for Blazing units. He's usually a 5k Grade 1 but if he's boosting a unit with Blaze he boosts 10k and if that unit is Blazing then he gives 15k! This can lead to some very strong columns but we'll have to see what kind of cards will have Blaze in the future.
Lastly we have a Blaster Dark promo which has alternate art similar to the Blaster Blade promo recently. Blaster Blade's art showed him with Thing Saver in the background where the new Blaster Dark has Phantom Blaster in the background.
That's everything for this week. Join me again for next week where there will most likely be more showing for Kagero's new cards as well as more Fighter's Collection cards and perhaps even some G-BT07 spoilers.
Cardfight Vanguard singles are available to purchase at Big Orbit Cards: Cardfight Vanguard.