Cardfight!! Vanguard Weekly Card Update #40
Welcome back to another weekly update of the new cards for Cardfight!! Vanguard. This week we have a bunch more G Guardians for several clans with two being Cray Elementals.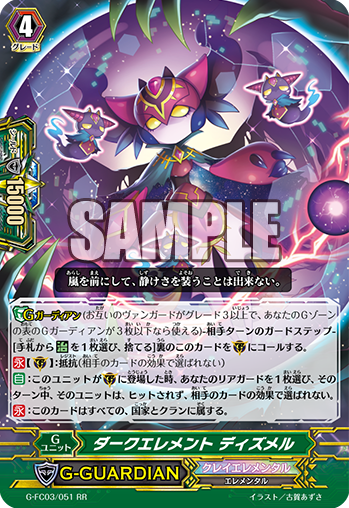 Dark Element, Dysmel is one of the Cray Elemental G Guardians. She has Resist which makes her a strong unit against Dimension Police, as well as that, when she guards you can choose one of your rear-guards and that unit cannot be hit and they gain the effects of resist, which will help you against Kagero, Narukami, and Link Joker. This can help out Royal Paladins if you play on G Guarding more than once in a turn because you will be able to use this to protect a Grade 2 for Laserguard Dragon's skill to give you a bigger shield. Another little trick with her, this time if you're using a Glendios deck, is if your opponent is coming in for a crazy amount of power and crits, use Dysmel to stop one of your Reverse units from getting hit, then use Taboo Star-vader, Rubidium's effect to make the attack go to that Reverse unit and the attack becomes nullified.
The other Cray Elemental is Metal Element, Scryew. When this unit is placed on GC you can discard a card from your hand and Scryew will gain +10000 shield. This will prove useful for decks that use many draw triggers as you can discard a 10k shield and a 5k shield to gain a 25k shield. Even if you discard another 10k shield that can help if you are against cards that will prevent you guarding from your hand like Dark Dragon, Phantom Blaster "Diablo" and Blue Storm Marine General, Despina.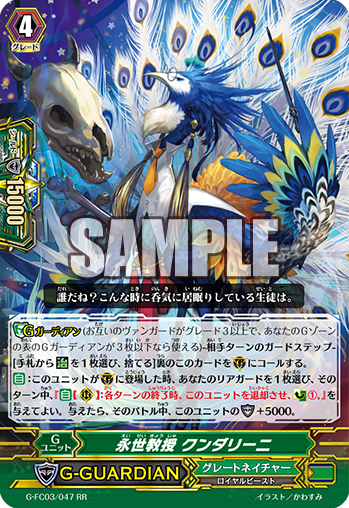 For Great Nature we have Immortality Professor, Kundalini. When he is placed on the GC you can choose one of your rear-guards to gain an ability that has them retired at the end of the turn to Counter Charge 1. If you give the rear-guard this skill then Kundalini gains +5000 shield. The great thing is you can then intercept with the chosen unit as it doesn't need to be retired to get the extra shield. You could also use Stamp Sea Otter to avoid any of your rear-guards being retired from the effect, though then you wouldn't get the Counter Charge. Or you could use Balloon Raccoon to ensure having a big shield the next turn too.
Tachikaze get Iron Armor Chancellor, Dimor Phalanx. If you have less rear-guards than your opponent then this unit gains +5000 shield. This won't do so well if you are using Ancient Dragons as they have a bit of a habit to bring their guys back from the drop zone but with the new G deck it works very well. There are some decks that this may fall a bit short against, such as Shadow Paladins, Murakumo, and G Pale Moon. Though against most match-ups this card should be able to get his extra shield.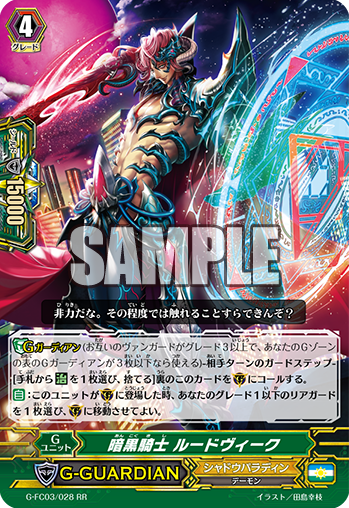 Shadow Paladin's Dark Knight, Ludwik allows for your rear-guards that wouldn't normally be able to intercept to go into the GC. When he is placed on the GC you may choose one of your Grade 1 or less rear-guards and put it into the GC along with it. Ludwik does not gain any extra shield but can get you an additional 5000 shield, 10000 shield, or perfect guard (As long as you are using the old PGs) from his skill. This doesn't really help with Witches apart from to use it with Goewin if you superior call her with Lir, but apart from that Witches would do better with the Cray Elementals for now.
Continuing through the United Sanctuary we have the Angel Feather unit, Holy Seraph, Orifiel. She is a sort of limit break G Guardian that only gets the +5000 shield if you have four or more damage. It's simple but you may want some Cray Elementals in there for early game or if you're using Holy Seraph, Raphael and Dreamlight Unicorn.
Finally Narukami with their very G-themed G Guardian, Lightning King Spirit Emperor, Vritra. He has a Thunderstrike 1 (Your opponent must have one card in their bind zone) that you must fulfill in order to get his +5000 shield. Luckily you can use this in many decks thanks to Voltage Horn but if you don't have room for that then you probably won't be using this in a non-G deck.
Join me again for next week for more spoilers on the latest sets, decks, and promos.
Cardfight Vanguard singles are available to purchase at Big Orbit Cards: Cardfight Vanguard