Cardfight!! Vanguard Weekly Card Update #41
Welcome back to another weekly update of the new cards for Cardfight!! Vanguard. The Fighter's Collection 2016 cards are almost at an end and we only have five G Guardians to have revealed to us after today. We have also had a trickle of G-BT07 Gold Paladin units units spoiled this week.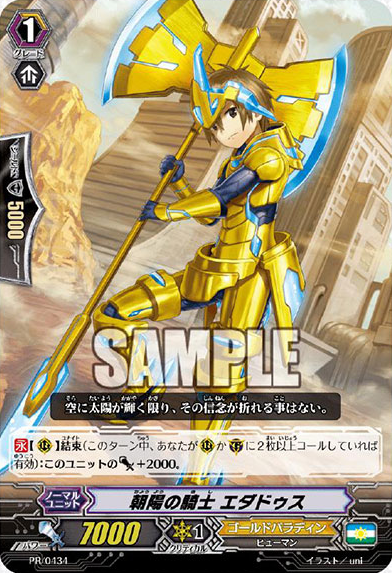 Before I go into the G-BT07 Gold Paladins, there is one promo Gold Paladin to show. Knight of Morning Day, Edadus is a Grade 1 who gains +2000 power when he is United. He is actually surprisingly useful as he doesn't need to attack for the +2000, so he is a possible 9k booster. Along with Knight of New Sun, Catillus you can make a 21k column. Not only that, but unlike Catillus, Edadus does not have GB1 so you could rush your opponent early game and get in some extra damage.
One of the new G-BT07 Gold Paladins is Dawngal, a pretty interesting Grade 3. He only has 10000 power but when he's placed on rear-guard circle he gains the ability to boost until the end of that turn. This would work well for cards like Wolf Fang Liberator, Garmore who has the potential to call five units from the top of your deck. I've seen this version Garmore used a few times and the person using him usually calls more Grade 2s and Grade 3s than necessary who would usually not be able to boost, but at least you could throw Dawngal behind one of the Grade 2s now, and if you have an 11k Grade 3 or 2 in from of him then your opponent will need to start using 15k shields to block that column. Dawngal also has a GB1 Unite skill where he gains +5000 shield and intercept. Using him up like this is a good way to keep a rear-guard space free for other units and free from lock, and when against heavy retiring clans like Kagero this at least lets you retire him for a purpose that helps you.
Holy Mage, Connor is another units with good defensive capabilities. He's a Grade 1 with 6000 power and when he is placed on the guardian circle you can Soul Blast 1 to give him +5000 shield, or when he's placed on the rear-guard circle you can pay the same cost to give him +5000 power until the end of the turn. The blocking skill helps when using Gurguit's GB2 skill but the Soul Blast becomes a bit costly with Gurguit's SB1 and CB1. So long as Golds get a lot of Soul Charging in the next set this card will be fine, but for now it can seem costly in the long run.
The only other Gold Paladin so far shown for G-BT07 is Scarface Lion, a Critical trigger. This unit has the usual effect of working with the G boss of the clan. When your unit with Gurguit in its name attacks, Scarface goes into the soul and you give Gurguit +5000 power and draw a card.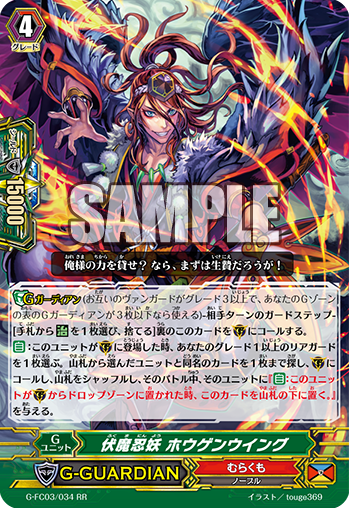 Onto the Fighter's Collection cards we have Murakumo's Ambush Demon Stealth Fiend, Hogen Wing. When he is placed on the guardian circle you can choose one of your Grade 1 or greater rear-guards and find another copy of it from your deck and place it on the guardian circle. Then at the end of the battle phase when the cloned card would be put into the drop zone, you put it on the bottom of your deck instead. You can use the standard perfect guards with this skill, though to do so you would need to already have a perfect guard in the rear-guard which isn't usually advisable. Even if you did put a perfect guard on the rear-guard circle, you could always get it back into your deck by cloning it with Yasuie's skill and then using Homura Raider to put all three copies into the deck. This could be foretelling the future of Murakumo's defensive skills as we may get more units like Emissary Crow that have cloning abilities that activate on the guardian circle.
Carrying on with the Japanese-theme, Jinx Stealth Hermit, Abudataishi is the G Guardian for Nubatama. If your opponent has six or less cards in their hand then Abudataishi gains +5000 shield. This kind of condition is not hard to achieve with Nubatama if using cards like Shiranui, Dreadmaster, and Gedatsurakan. Brave decks will suffer a lot against this unit unless they get a lot of end-of-turn drawing in the future.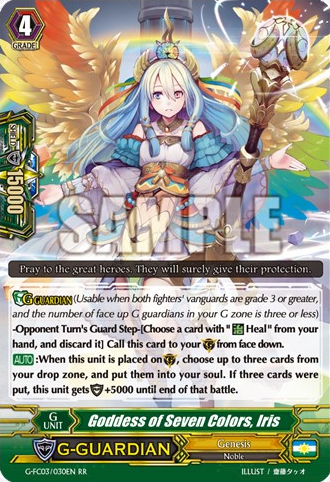 Goddess of Seven Colors, Iris is the G Guardian who's skill will be a huge help to any Genesis deck. When she is placed on the GC you can choose three cards from your drop zone and put them into your soul, if you do, she gains +5000 shield. With this in a Regalia deck you can recycle Mirror Regalia, Achlis and Regalia of Fate, Norn into the soul to continue to give your opponent extra power on Soul Blast. With Witches you can guard with Witch of White Rabbits, Cardamon and Witch of Quill Pens, Oneon and still have a way to get them onto the field.
Nova Grappler's Righteous Superhuman, Blue Prison gets  +5000 shield when you have more or equal damage to your opponent. It doesn't seem very Nova Grappler-ish and I'm sure if you told someone about this ability they would think it was just some Cray Elemental, but with the new Rush keyword they definitely focus more on offence than defence. This will probably seem like an "okay" card to use in any of the older Nova Grappler decks but it's generally an easy condition to meet so it shouldn't cause too much of a problem.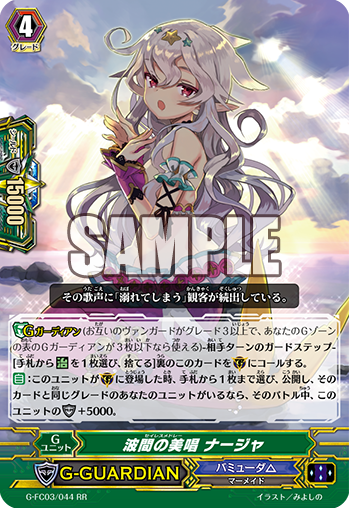 Another G Guardian that is easy to beef up to 20k is Selene Medley, Nadja, a Bermuda Triangle unit. When she hits the GC you can reveal a card from your hand and if you have a unit on your field with the same grade as the revealed card then she gets +5000 shield. Duos help a lot with this skill, especially with cards like Duo Gorgeous Lady, Kazuha, Duo Lovely Devil, Vepar, and Duo Mini Heart, Rhone who have the potential to search your deck for cards and put them into your hand.
Kagero get Flame Emperor Dragon King, Asile Orb Dragon who gets his +5000 shield when your opponent has four or less rear-guards. This works great against Shadow Paladin, Tachikaze, Murakumo, Nubatama, Magia, Hollow, and many other decks, though doesn't do so well against Kagero's natural enemy, Royal Paladin.
Lastly we have a promo for Bermuda Triangle, Wonder Frill, Nanoka. Nanoka is a Grade 2 with 9000 power and Harmony and if her attack hits and she is in Harmony then you can Counter Charge 1, and if you do you may bounce her into your hand. This unit would make a nice rear-guard for a Riviere deck or a Lauris deck as both Riviere and Lauris can give +10000 power to a column, giving this unit a better chance at hitting, and as Riviere has a high Counter Blast, the Counter Charge this card gives will prove especially useful.
Join me again for next week for more spoilers on the latest sets, decks, and promos.
Cardfight Vanguard singles are available to purchase at Big Orbit Cards: Cardfight Vanguard