The KR Multicase, by Kaiser Rushforth, is a range of figure cases that include everything from cases for small skirmish games to huge aluminium/re-enforced polyester cases that can hold up to 640 miniatures.
In this review we are mainly looking at 2 products, the KaiserOne (and by extension also the KaiserTwo & KaiserFour high capacity cases) and what could be considered Kaiser Rushforth's core product the Card KR Multicase.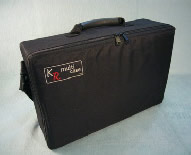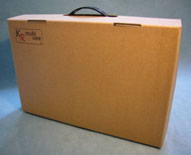 Storage and transport
The KR Multicase makes organising your miniatures easy by separating transport from storage. Storage is mainly handled by the Card KR Multicase, a gamer can store each army they own in a separate Card KR Multicase. When they need to head off for a game, they simply pick the Card KR Multicase that contains the army they wish to use and put it inside the KaiserOne polyester carry case (More card cases can be transported if using the KaiserTwo or KaiserFour). This means less fiddling about, loading and unloading individual trays.
The Card KR Multicase is also flat meaning that it stacks or sits on shelving very nicely.
The way storage and transport has been made so easy is probably the most impressive thing about the range, the people at KR have taken some pretty unconventional ideas (I fought hard against the temptation to say "they thought outside of the box"), and have made a product that just works.
What's inside the box? KR foam trays

The KR Multicase uses a different tray/insert format than most cases, their trays are longer but narrow than Games Workshops' foam trays. Playing around with tray layout and thinkness has also allowed Kaiser Rushforth to fit up to 40 models per tray and up to 4 trays in a case compared to Games Workshops similarly sized case which holds 108 miniatures.
Additionally the KR trays come in 4 differently laid out types. Two  infantry trays, one holding 40 miniatures the other 36, and two vehicle/monster "Pick&Pluck" trays that can be adapted to hold large or oddly shaped miniatures, all come in 5 different depths, 23mm, 32mm, 51mm, 70mm & 110mm. Add to this half size trays that sit side by side in a single layer and you've got an incredibly flexible system.
Finally the foam used in the KR range is slightly less dense than most of it's competitors, this foam means less wear and tear on your lovingly painted miniatures.
Value for money
The basic Card KR Multicase retails at just £21.99, that's significantly less than similar Citadel & Feldherr offerings, the Card KR also carries more miniatures.
At £38.99 the KaiserOne is slighly more expensive than these other cases (at £35 & £32) but you get a card case and separate waterproof outer and it still has about 50% extra potential storage capacity.
As far as I'm concerned this represents good value for money, especially when you factor in that you only need to buy one KaiserOne and then just keep adding card cases to your collection, this modular aspect doesn't form part of other case ranges.
So it's all looking really good for the KR range, is there anything else we need to cover…
But it's made out of card!
Now, a lot of people will be concerned by the fact that the core storage component of this range is made out of cardboard, even if it is tough dense card.
Well we've done a couple of tests that show that this really shouldn't be a problem.
No miniatures were harmed during filming…
The Drop/Shock Test
This first test is probably the most important, how does the case deal with a significant fall onto concrete…
The case survived with minimal damage, just scuffed on a couple of corners, also most importantly it stayed closed.
I'm not so sure that a hard case with catches would have stayed closed as I imagine there is a risk that the shock would pop them open. Also the impact absorbency of the KR card case means that less risk of the case splitting open completely.
The Weight/Load Test
This is less of a test of something that could happen in the real world and more of a demonstration of the general strength of the card the case is made from.
I'm not the heaviest chap on the planet, far from it, but that is still a substantial load for a card case.
The Water Proofing Test
This is a test of the polyester KaiserOne to see if it can properly protect the Card KR Multicase.
Hosing a case down for 30 seconds must be equivalent to at least 5-10 mins worth of rainfall that most wargamers would be willing to endure before they sought shelter.
The KaiserOne passed with flying colours, pretty much the only dampness on the card case were my fingerprints from opening the soaking wet outer case.
A second test was also undertaken (but not recorded as it would be as interesting as watching paint dry) where we left the case 5 minutes before opening, the card case was equally dry.
Summary
The KR Multicase range takes a novel approach to miniatures transport and storage.
I have to say that I will be toting a KR around in future, the KaiserOne is a stylish looking case and the card inner case makes storage easy.
After a whole day using (and abusing) the KR I'm hooked.
Overall score: 9/10