Puppet Wars from Wyrd Miniatures available from Wednesday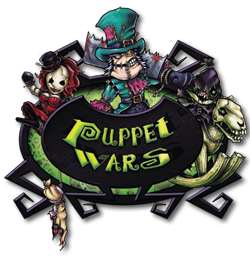 Puppet Wars gives you insight into the lives of Puppets when no one is around to watch. It's simple, just find the other army's leader, and rip him. If he's more frayed thread than stuffing, you've won. Start by wielding Pins and Needles to go on the offensive, or Hide Under the Bed if your enemy approaches. Animate all your friends from your Toy Box or yell Mine! to take over your opponent's Toy Box so he has nowhere left to sew up the wounded.
Puppet Wars is a board game from Wyrd Miniatures the guys behind steampunk skirmish game Malifaux. Many of Malifaux's characters find there way into the Puppet Wars board game including  Lady Justice, Seamus & Pandora.
The game contains:
The starter box for the Puppet Wars game. This box includes:
Game Board
2 Puppet Decks
Rulebook
Pattern Book
18 Metal Game Pieces
Several Game Tokens
Pre-order now and get 15% off: Puppet Wars Board Game