The Army Painter Mega Paint Set review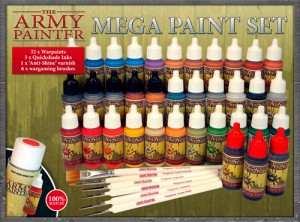 The Army Painter have, for a long time, been saving wargamers time and effort with their range of colour primers and quick shade dips. Previously only a limited range of brush-on acrylic paints have been available from The Army Painter in the form of their Wargamer Starter Paint Sets.
The release of The Army Painter Mega Paint Set changes things, introducing a fuller range of paints, brush-on inks, and a brush-on matt varnish. The set also comes with a broad selection of brushes.
The Army Painter Mega Paint Set includes:
27 colours
5 metallics
3 Quickshade Inks
1 Matt Varnish
Insane Detail brush
Detail brush
Character brush
Regiment brush
Small Drybrush
Vehicle brush
The boxed set also contains The Army Painter's 24 page 'Wargamers Army Painting guide' which contains a wide range of guides and articles.
The Army Painter Mega Paint Set Review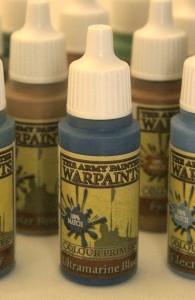 At Big Orbit Games, we have been eagerly awaiting the release of a range of brush-on paints from The Army Painter for some time, being big fans of their range of colour spray primers. The Army Painter have taken account of the popularity of their sprays when forming their brush on paint range with an exact match of each of their spray paints represented in their brush-on range. To my mind this represents one of the best reasons to use army painter paints as it makes touching up any over-painted areas a doddle.
On to the paints themselves, The Army Painter have cherry-picked suppliers of each type of paint types, acrylics, metallics & ink washes, this results in a unique range of paints with heavy focus on quality.
The acrylics (colours) have a good consistency if well shaken, flowing well and proving a good degree of coverage due to a high concentration of colour pigment. The range of colours available is broad and will meet most hobbyists needs.
The inks are not your classic shiny inks, more akin to Games Workshop's range of washes, these settle into the recesses nicely producing a nice level of graduation.
Finally the metallics are produce a convincing metal effect without looking grainy.
All in all the quality of the paints speak for themselves.
On to the brushes, these are comparable in quality to other mainstream hobby brushes, except the small dry brush which, although easy to use due to the 45 degree angle on the bristles does tend to wear quite quickly. One feature of the army painter brushes that I have always found quite useful is the triangular grip, this makes the brush much easier to control, improving painting results.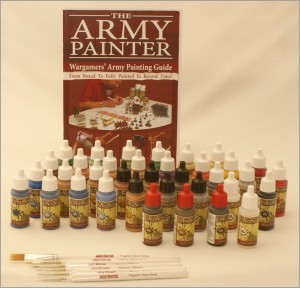 On to price, I think most of us slightly begrudge spending money on paints and brushes etc, it means less money to spend on models and the £85 RRP of The Army Painter Mega Paint Set seems like quite an investment (although it is only £72.25 – Ed). That said you do get a lot for your money, the brushes alone have an RRP of £21, meaning you get 37 paints, inks & varnishes for the remaining £64, £1.77 each (or £1.51 – Ed), this represents real value for money.
Conclusion
The Army Painter's Mega Paint Set contains a broad selection of quality paints that has the advantage of working seamlessly with The Army Painter's range of spray paints.
It comes with a wide enough range of brushes for most wargamers needs.
The Mega Paint Set represents great value for money working out at just £1.77 each, or £1.51 from Big Orbit Games.
The Mega Paint Set scores…
Overall score: 9/10