Using magnets in wargaming
Magnets, the magic little objects that stop gravity spoiling all our hobby fun. They come in a variety of shapes and sizes from flexible sheets, to 3mm diameter disks. Never used them before? well maybe you should read this!
MOVEMENT TRAYS
Have you got a banner bearer? Holding out his arm in a heroic fashion… sun glinting on his battle standard…. and then falling on his face for the 10th time today, because the model is so horribly unbalanced. Well magnets can fix that.
I use Blue Demon Basing Kits, it comes with a flexible magnetic matt that you can cut to size, you can stick this inside your movement tray.
Also included are a set of small magnets, these can be attached to the underside of a models base.
Now its going to take a lot more to knock your banner bearer over, infact you can turn the whole unit upside down with no casualties.
REPLACEABLE PARTS
Putting a plastic kit together? Stressing over what parts to use? Well why not use all of them! An increasing amount of kits are including many additional parts for all the options the model can carry in game. Make the most out of your model and magnetize the snot outa him!
The basics here are to attach one magnet to the static piece, and another to any interchangeable piece so they attract each other holding the model together instead of using glue. You can even place magnets inside plastic components, they will still attract other magnets through the plastic! Just make sure you get the magnets the right way around to attract each other otherwise they'll repel each other and that could be embarrassing!
Heres a conversion on the SANGUINARY GUARD kit for detachable arms, I used really small magnets here.
This is a gun from the DREADKNIGHT kit, allowing detachable barrels. notice one magnet is completely inside the gun body, the other is held in the barrel by green stuff.
Finally my Ork DEFF DREAD, loadsa weapon options, all magnetized. Very killy!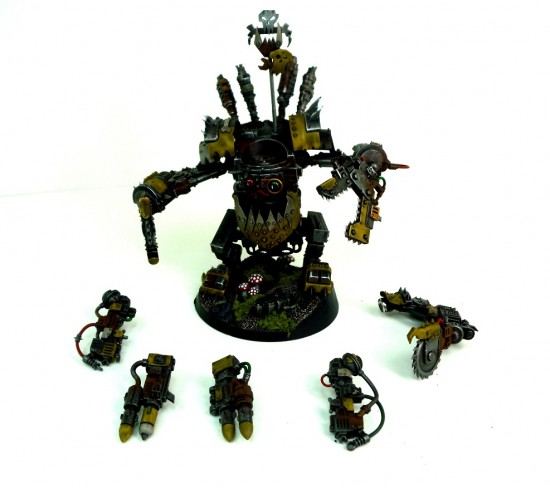 This guide was written by Owen from Painted Legions, visit his blog for more great guides: Painted Legions