Warhammer 8th Edition Rulebook (2010) review
Well the much anticipated Warhammer 8th Edition Rulebook has landed at Big Orbit games and we've spent about a week pouring over it.
This book is absolutely huge and even after a week with it we haven't read it cover to cover but if we waited to write a review until we'd finished going through the thing you wouldn't be reading this until after release.
The Book
The 8th edition rule book is almost twice the length of the previous edition, running to 528 pages, all rendered in glorious techni-colour.
The rules themselves only make up 150 pages of this. The remainder comprises of 115 pages of background information, a 100 page miniatures showcase, just under 100 pages of battle types & scenarios and is capped off by a comprehensive reference section.
After an initial look through the book it seems that the layout is much better than the previous version. Some of the extra pages in this huge tome have been used to space out the contents more and allows the use of increased "white space" on the page, to my mind this makes browsing through the rules section of the book much easier.
Finally there are coloured tabs on the edge of the pages making it easy to find the section you are looking for and a handy bookmark to help you keep your place.
The Rules
Below is a run down of some of the main changes to the rules in Warhammer 8th Edition.
Though core principles such as unit statistics and the basic turn sequence remain the same, there are some significant changes; fortunately the game remains recognisably (and distictly) Warhammer Fantasy Battle.
Rules – Army Selection
Army selection is more flexible than before, an army must have at least 3 non-character usnits and then follow the rules below.
Lords up to 25% of army points value
Heroes up to 25% of army points value
Core at least 25% of army points value
Special up to 50% Max 3 (6 if 3000pts +) of army points value
Rare up to 25% Max 2 (4 if 3000pts +) of army points value
Rules – Movement
Charges are no longer declared and moved separately and chargers now move first.
Charge distance is now decided by rolling 2d6 and adding unit move distance rather than simply doubling move distance, this means charges are much, much longer than before, especially for dwarfs which can now potentially charge 15" where before they could charge a maxium of 6".
Rules – Magic
The number of power dice and dispel dice are now determined by the rolling of 2D6 whereas previously this was dictated by the number of wizards present in an army.
When rolling to see if a spell has been cast successfully a roll of 2 6's now means the spell is cast with irresistible force but that the caster must roll on the miscast table.
Talking of the miscast table, the new table is evil! Everything from detonation (S10 hits around the wizard) to dimensional cascades (S10 hits within a large template around the wizard, plus the chance to lose the wizard to the realm of chaos) are now possible.
Rules – Shooting phase
The main change here is that models in the second rank can always fire now as opposed to only if they are on raised terrain in the previous edition of the rules.
Rules – Combat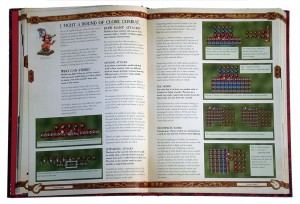 Close combat is one of the areas that have been changed the most in this version, particularly with regard to which models are able to fight.
In 8th Edition the 2nd rank gets one bonus attack  per model, this is called a supporting attack.
Additionally models in the 3rd rank also get a supporting attack in units with a frontage that is 10 models or more wide (6 models for monstrous creatures), these units units are now known as hordes.
Spears can add another rank of supporting attacks, meaning that up to 4 ranks can attack. Although units equipped with spears could always attack with an extra rank but this was of course limited to the second rank.
Ranks also improve unit moral, if your unit has more ranks than your opponent your unit becomes steadfast.
All I can say is expect everyone to field larger units to get rank and horde bonuses.
Finally, monstrous creatures have a new stomp or thunderstomp attack that is used at the end of a combat.
The Battlefield
In 8th Edition, rather than just restricting movement or being categorised as generically dangerous, terrain becomes much more interactive, all in all al lot more fun, a few examples follow.
Temple of Skulls: A character or champion on this piece of terrain may choose to "Embrace the favour of the Chaos Gods" and has the chance to increase one of it's stats, if the model is unlucky however it may be destroyed… The Temple of Skulls is available from Big Orbit games.
River of Blood: A unit charging through the River of Blood causes fear until the end of the following player turn.
Magic Circle: Units within 6″ gain magical resistance .
The Warhammer World – Background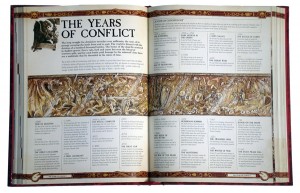 There are 15 pages of history and an average of about 6 pages of background per army.
The history section has a great illustrated time-line running through it and each dedicated army section us crammed with illustrations of their warriors and maps of their lands.
With regard to the present (in Warhammer terms) the background now emphasises the fact that the world is in constant conflict more.
Miniatures Showcase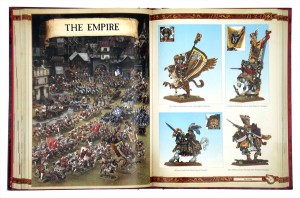 This section is pretty self explanatory, we have a brief introduction followed by 74 pages crammed full of beautifully painted miniatures.
Following this is 18 pages of hobby advice, giving useful advice on building Citadel miniatures to those new to the hobby. I use the word Citadel intentionally here as a couple of the pages are essentially adverts for Games Workshops hobby range…
The rest of this section comprises of some nicely modelled battlefields and some showcase armies, including Dwarfs, Orcs & Goblins, Wood Elves & Skaven.
Warhammer Battles
Narrative Battles
This was the section that caught our attention most here at Big Orbit games and it represents by far the biggest change compared to the previous edition.
There are 13 Narrative Battles detailed in the book, 10 unique and 3 themed variations. This is in addition to the 6 pitched battles detailed in the rules section of the book.
2 of the examples that stand out are River of Death and Heroic Last Stand.
The first sees a river running across the middle of the board with 2 crossing points, create strategically interesting bottlenecks, and the objective is to attempt to control more of these than your opponent.
The second sees one army deploy in the middle of the board with just 33% the points value of the opposition. Victory is decided by how long the underdog survives.
In this section there is also guidance on creating your own scenario, linked battles, campaigns & legendary battles.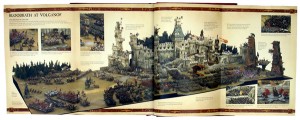 It is also interesting to see the re-introduction of the Games Master (GM). In recent years GMs have been sidelined to some extent as Warhammer became more of a straight head-to-head game generally with less of a scenario based element. Although the GM never truly went away we now see GMing being much more actively encouraged, which to my mind is a very good thing. Games of Warhammer can once again become much more story driven, with unexpected elements adding an extra dimension to proceedings and all in all Games Mastered games are a lot of fun.
Our Opinion

The book is great to look at and well presented, it makes looking up rules much easier through coloured tabs on the side and improved layout.
It is much more than a rulebook however, cynics may say that some of the extra sections are an extended advertisement for Games Workshop, particularly the hobby section, but Games Workshop is a business after all and it isn't too obtrusive, so I don't see it as a problem.
You definitely get your £45 worth and Games Workshop have produced something that is much more than a rulebook. But that is part of the problem, this volume covers the rules, game background and various aspects of the hobby where many would be happy with just a copy of the rules, which could retail at say £20.
This isn't a new issue as most editions of the Warhammer Rulebook have been mainly background and hobby information but this new book takes this to extremes where the rules section makes up just 28% of the book. Maybe Games Workshop need to look at breaking their rulebooks down into multiple books as is the case with Dungeons & Dragons, the manufacturer, Wizards of the Coast, produce a Players Handbook, Dungeon Master Guide & Monsters Manual.
Finally some may want to wait until The Isle of Blood Starter Set has been released to get a pocket sized rule book along with a whole host of High Elf and Skaven models for an as yet unknown sum.
Summary
So how do we rate the new Warhammer Rulebook…
…Well for content it's full marks, 10 out of 10, no problem.
As for the rules, they seem sound and are to some degree down to personal taste.
The only downside is the price, the book is well worth what Games Workshop are asking for it but the question remains should all this content form part of a single tome or should a cheaper "rules only" book be made available.
It isn't the end of the world but does stop us being able to award a full 10 stars, therefore the Warhammer 8th Edition rulebook gets…
Overall score: 9/10