Warhammer Tomb Kings Khemrian Warsphinx / Necrosphinx review
The Warsphinx/Necroshinx kit (hereafter referred to as the 'sphinx') was the worst kept secret of the recent Tomb Kings overhaul. To bring the TK's up to standard they were always going to get a 'big guy' and the sphinx was the logical choice. The fact that they were never mentioned in any previous literature didn't mean a thing! This review will deal mostly with the sphinx's aesthetics and how it will play in games rather than its build (dealt with better here).
On opening the box it was immediately apparent that this was not a complex kit. All of the components were contained on just two, albeit dense, sprues. This was accompanied by a much clearer instruction sheet than many of those of late, which included a number of well thought out, logically progressive graphics.
When looking at the preview pictures, it was clear to see that, regardless of your choice of build, the model was replete with beautiful detailing that kept its flavour distinctly 'Tomb King'. Looking at the pictures when the kit was first announced I felt that it would not be possible to build both a Necrosphinx and a Warsphinx  from one box, in this I was thankfully proved wrong,  see our guide here: Magnetising the Tomb Kings Warphinx/Necrosphinx. An (un)intentional masterstroke on the part of GW?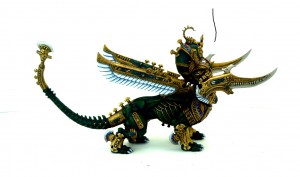 I also freely admit that looking at the images of this kit I was initially disappointed. I don't know why, or what I had been expecting, but it wasn't what I was looking at! I have since changed my opinion. Both sphinxs are elegant in their simplicity (but, then as a stone statue, shouldn't it be?). The model enhances every TK army it graces, not just with enviable battlefield performance, but with its towering stature fitting in amongst the armies' low profile masses. If they had to have their 'big guy' then, better this than the grotesque Carmen Miranda Bone Giant?…… Every time!
Regarding in game performance: this is where the Sphinx really comes into its own. With the highest toughness of anything available (8) this fella is not to be trifled with! It has three uses within any TK list.
1) Using the Warsphinx as a mount for any Tomb King or Prince. At additional cost to the character and adding a whopping 210 points to the Heroes/Lords allocation I can't see this as the optimal choice, even though it would make either rider extremely hard to take out!
2) As a rare choice in the 'Necro' build mode. This is a 'toughie' as the ability to kill absolutely ANYTHING in the game with a lucky dice roll (decapitating strike) and flight, are hard to balance with the fact it's up against four other very good rare options (I still luuurve those catapults at only 90 points each!) and the fact you might want to keep more points for your 'special' choices. This brings us on nicely on to our third and final option…..
3) As a plain, common or garden, Warsphinx. With a howdah full of very 'killy' Tomb Guard, Terror, toughness 8, the options for a fiery roar or envenomed sting upgrade and weighing in at a very 'compact and bijou' 210 points. At this rate why not take 2 or 3? They come in at well under 50% of your allocation (assuming your playing 2000pts or more) and your opponent will be laying enough bricks to build his own pyramid just thinking of how to deal with them!
So, all in all, an overdue but most welcome addition to the Tomb Kings list. Simple, elegant, hard as nails.
The sphinx gets a ripping 8/10!

Also checkout out other Warsphinx/Necrosphinx articles:
*Price correct as of 3rd May 2011.