Tomb Kings Khemri Warsphinx painting guide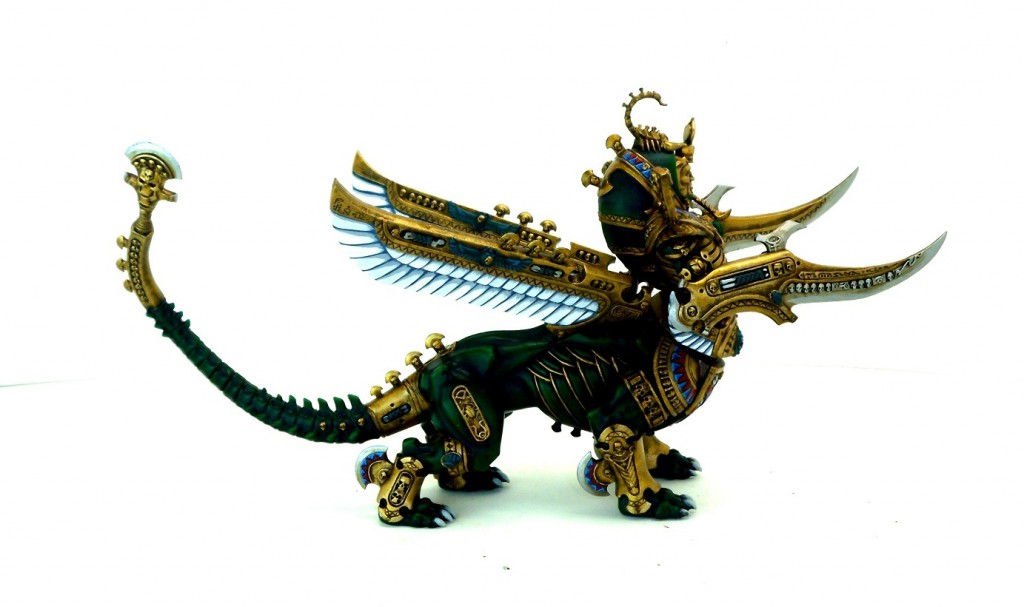 Another awesome model here from GAMES WORKSHOP, the Warhammer Tomb Kings Khemri Warsphinx. A long awaited model first introduced in another GW game WARMASTER. And we'r not disappointed!
On to the painting, I went for a colour scheme as close to the box as possible, only a few minor changes i thought looked better. Hope you like painting GOLD!
1 – Undercoat! Always undercoat your model, I use spray paint as it gives a smoother finish. The Warsphix was under-coated using GAMES WORKSHOP CHAOS BLACK SPRAYPAINT
SKIN
I went for a more shaded look, as the marble effect on the box takes soooo long to do properly, I'm sure I'll do that effect in another guide.
1 – Start by painting all the skin an a 50/50 DARK ANGELS GREEN/CHAOS BLACK mix
2 – Paint over this with pure DARK ANGELS GREEN, leaving only the recesses unpainted.
3 – Highlight this with a 50/50 DARK ANGELS GREEN/SNOT GREEN mix
4 – Extreme highlight of SNOT GREEN
GOLD
I went for an antique gold effect here, highlighting all the way to a faded silvery gold.
1 – Paint all the gold areas TIN BITZ
2 – Wetbrush (a damper drydrush) over with SHINING GOLD, Leaving TIN BITS showing in the recesses
3 – Highlight with a 75/25 mix of SHINING GOLD/MITHRIL SILVER
WINGS
I think the plain gold wings look a little dull on the original, so I decided to do them white!
1 – Paint the wings SHADOW GREY
2 – Highlight this with FORTRESS GREY
3 – Add an extreme highlight of pure SKULL WHITE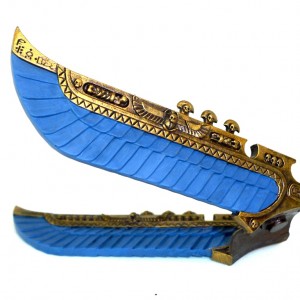 SILVER
Again I went for an antique effect, i think it suits the model. also a slightly goldy tint to help it fit in with the huge amounts of gold already on the model.
1 – Paint with CHAINMAIL
2 – Wash over this with GRYPHONNE SEPIA
3 – Finally Highlight again with CHAINMAIL
DETAILS
The final stages of the model, some little details you might want to change some of these to fit your army's colour scheme.
SCARABS – there are a few scarabs dotted around the model, i painted these 50/50 CHAOS BLACK/HAWK TERQUOISE and highlighted with pure HAWK TERQUOISE
BLUE TRIANGLES – ENCHANTED BLUE highlighted with ICE BLUE
RED TRIANGLES – RED GORE highlighted with BLOOD RED
BONES – DHENEB STONE washed with DEVLAN MUD
BANDAGES – ADEPTUS BATTLEGREY washed with BADAB BLACK
You can pick up the Tomb Kings Khemrian Warsphinx / Necrosphinx on Big Orbit Games, along with all the paints in this article.
This guide was written by Owen from Painted Legions, visit his blog for more great guides: Painted Legions