Cardfight!! Vanguard Weekly Card Update #20
Welcome once again to the weekly Vanguard update! We have a huge amount of cards to get through this week from the Monthly Bushiroad reveals cards from all the different clans and even showing cards from the new G Technical Booster: The RECKLESS RAMPAGE, which gives support to the very unsupported Tachikaze, Spike Brothers, and Nubatama!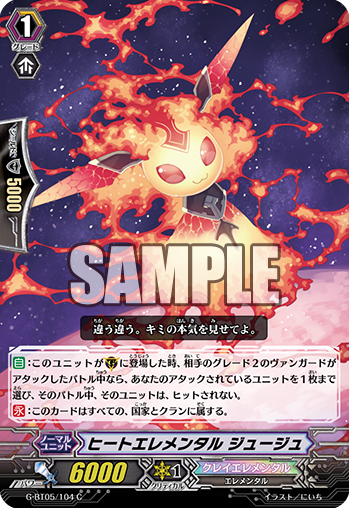 To start off we have a card that every deck can use. Remember Miss Mist? That one card that was essentially a perfect guard against Legions with Grade 2 mates? Well thanks to this new little Cray Elemental everyone can have that power within their hands! If you use this little guy to guard and your opponent has a Grade 2 Vanguard then he completely nullifies the attack. Unlike Miss Mist, Heat Elemental, Juju can't use this card to perfect guard anything below Grade 2 but being able to perfect guard most Legions is what will really draw people to the card.
History-maker Dragon, who has been shown a lot in the anime, has been revealed to come in Trial Deck 6. With a Generation Break 1 when he attacks a Vanguard you can Counter Blast 1 to Time Leap one of your other rear-guards (Place it in the Bind Zone and search your deck for a card with one Grade higher then that card and place it on a rear-guard circle. Then at the end of the turn put the newly called unit at the bottom of your deck and call the bound unit back to a rear-guard circle.). This is a great card for a Trial Deck and doesn't need to be boosted unlike Amber. Another Trial Deck card is an 11k Grade 3, Classic Gun Dragon. When he is placed on Vanguard or rear-guard circle you can give a rear-guard the Time Leap ability when that unit hits a Vanguard to then choose another of your rear-guards and Time Leap it. It seems that even with just the Trial Deck cards you'll be able to flop all your cards around the field and reap the benefits of on-call abilities and on-bind abilities.
Now for the clans that everyone has forgotten about! For the Technical Booster I'll start with Tachikaze's Destruction Tyrant, Twin Tempest. With a Generation Break 2, Counter Blast 2, Soul Blast 2, AND retiring three of your rear-guards, this Stride unit retires all rear-guards on the field. Luckily this effect happens when he attacks, giving your rear-guards a chance to attack first. Make sure not to forgot Tachikaze's abilities of coming back after being retired, allowing for even more attacks and an easy fill of your field. It's a very heavy cost but I'm expecting a Grade 3 with an on-stride skill of Counter Blast 1 to call two units you retired back to rear-guard, as well as perhaps some units that are free to call back but have a Generation Break 1.
An odd but cool Grade 3 that Tachikaze gets is Ancient Dragon, Spinocommando. He has a good ol' Limit Break 4 which allows him to retire one of his "Ancient Dragon" rear-guards at the end of the turn to choose a Grade 3 from your Soul, Ride it, then put Spinocommando from your Soul into your hand and then draw an extra card. On the turn that he is placed on the Vanguard Circle he can also call an "Ancient Dragon" that was put into the Drop Zone to a open rear-guard circle with a Counter Blast 1 with "Ancient Dragon" in it's name. Getting Spinocommando back in your hand can either be used to Stride, help to activate his second skill every turn, or even just for for extra rear-guard power, the draw is always nice too. A great card to use this with would be the Break Ride, Ancient Dragon, Spinodriver, to give you +10000 power and +1 Crit every turn!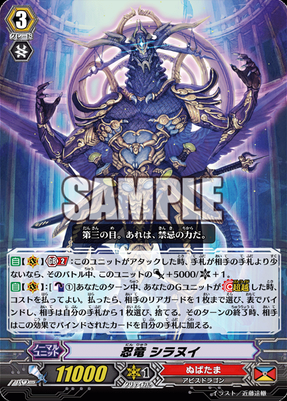 The strider for Nubatama is Stealth Dragon, Shiranui, and as always with Nubatama this guy will be messing with your opponent completely. With a Counter Blast 1 when you Stride over this guy you choose one of your opponent's rear-guards and bind it, then your opponent has to discard a card from their hand. With a hit from Rikudo Stealth Dragon, Gedatsurakan you will be able to discard two cards from your opponent's hand which can easily make a big difference for what your opponent can do on their turn. If your opponent manages to get their hand size up again then that can still work in your favour. With Shiranui's GB2, if the number of cards in your hand is less than your opponent's, then he gets +5000 power and +1 Crit! From this card I have a lot of hope for the future of these demon-dragon-ninjas.
The Spike Brothers card that has been shown, Bulldozer Daub, has also shown off Spike Brothers's new keyword, "Charge". A unit goes into the Charge state when they are placed onto a rear-guard circle due to an effect, then at the end of the turn it goes to the bottom of the deck. In exchange for them going back to the deck they are gifted with powerful abilities which Bulldozer Daub will be showing off. He's a Grade 3 with a GB1 that, when he's in Charge state, gains +10000 power until the end of the turn. This is an amazing back-up Grade 3 and may finally be the one to replace Juggernaut Maximum. I'm sorry, Juggernaut Maximum, though I'm sure many players would thank you for helping them since the very beginning.
The new Susanoo Stride, Destroyer Dragon Battle Deity, Kamususanoo, has caused a fair bit of disappointment to the fans of Oracle Think Tanks. With a G Persona Blast he gains the ability that, when his attack hits, look at the top two cards of your deck and choose one to put in your hand and then put the other at the bottom of your deck. He also gains a GB3 which gives all the rear-guards +2000 power. The main issue people have is that the first part of his skill needs his attack to hit and you have to pay the cost before he's hit. Only drawing one extra card is a bit small for a RRR Oracle Think Tank  Stride but I feel the second part really helps OTT. Giving +2000 power to all rear-guards will make Silent Tom that much better and with a boost from the new Imperial Shrine Guard, Sumiyoshi you can get Silent Tom to 21k power! More support for Susanoo comes in the form of Imperial Shrine Guard, Akagi which is the Glimmer Breath clone. When he's placed on rear-guard circle with a GB1, CB1, and SB1, with a Susanoo Vanguard, you can look at the top two cards of your deck, choose one to put in your hand, and then he gains 2k power. Some people may still want to use Diviner, Kuroikazuchi instead but this guy can by nice for the extra power and getting a choice between two instead of just drawing one from the top of your deck.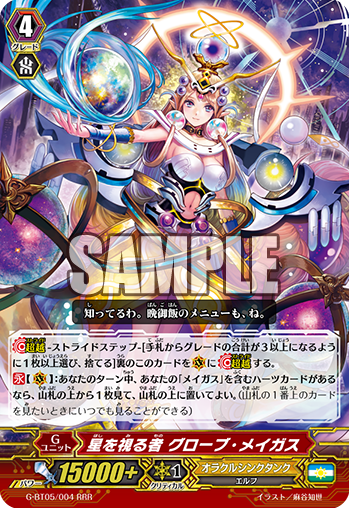 People may be disappointed with Susanoo but when it comes to the Magus's it's completely the opposite! One Who Sees the Stars, Globe Magus is the Stride unit for the Magus sub-clan and does what they do best on a much larger scale than ever before. If you have a heart with "Magus" in it's name Globe Magus gains a Continuous ability that allows it to look at the top card of your deck at any time as many times as you like while she's the Vanguard. This will be great for Stellar Magus to easily be able to draw extra cards when she attacks, and it's always nice to see if you'll be getting triggers. You can use this effect just before she goes back to the G Zone to see what card you would be getting if you were to take damage on your opponent's turn.
Flip Crooney is a nice little generic Grade 3 back-up for Oracle Think Tank. With a GB1 and Oracle (Having five or more cards in hand) if his attack hits you may look at the top two cards of your deck and put one into you hand. With no cost this a sweet ability and having Susanoo's power boost you can make a pretty easy 21k column with him. Beam Shower Turtle Allows for the strong power to be accompanied with strong defence. When he is placed on the guardian circle you may Soul Blast 2 to give him an extra 10k shield, making him a 15k defender. It is likely that there will be a few cards in your Soul that you don't need so the cost of this card doesn't seem too bad. The last of the Oracle Think Tank is Magical Calico. He is a new Forerunner with GB1 and Oracle and the ability to go into the Soul and drop one card to search for three cards in your deck, reveal them to your opponent, your opponent then chooses two of the three cards to put into the drop zone and the last one goes to your hand. This may be useful for Legion decks but the GB1 kinda makes it a little harder to use.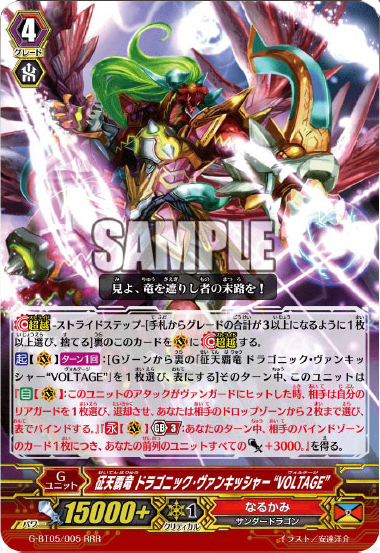 Like Susanoo, Dragonic Vanquisher has had his Stride Fusion revealed. Conquering Supreme Dragon, Dragonic Vanquisher "VOLTAGE" can be a great alternative for Conquest Dragon depending on how your deck works. With a G Persona Blast he gains two abilities, the first one being an on-hit ability where your opponent must retire one of their rear-guards and then you choose two of their units in the drop zone and bind them. The second one is a GB3 that gives your front row +3000 power for each card in your opponent's bind zone. This can add up for some ridiculously strong units in the front row but does require some good preparation first.
As well as having Rockclimb Dragoon and Voltage Horn Dragon, there is also a forerunner that binds. Wildrun Dragoon has a GB1 that allows him to go into the soul to let your opponent choose a card from their drop zone to bind and then if you have a Thunder Break 2 you can give a rear-guard +5000 power. Dragon Dancer, Bernadette is a 6k Grade 1 with a Thunder Strike 2 that allows for a  Soul Blast 1 to give the boosted unit +3000 power and if the attack hits you can Counter Blast 1 to have your opponent retire one of their units and then binds it. All this power and binding will rack up to help for a final push with "VOLTAGE".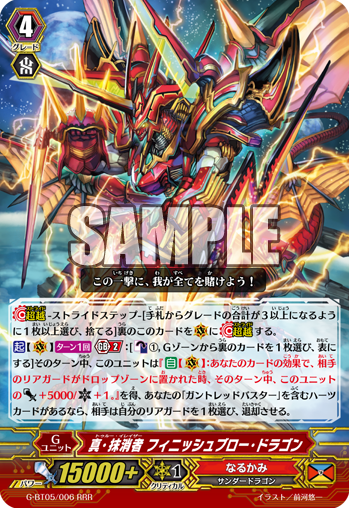 The new Eradicator Stride seems like a powered up version of Gauntlet Buster Dragon which is most likely why they work together. True Eradicator, Finish Blow Dragon gets the fairly cheap cost of Counter Blast 1 and G Persona Blast to gain the ability where he gains +5000 power and +1 Crit for everyone of your opponent's rear-guards that are retired on that turn. As a bonus, if you have Gauntlet Buster as a heart, he gets to retire a unit when you pay for this skill. This can be used with so many different cards to maximise the effectiveness such as Cho-Ou, Voltage Horn,  Koenshak, Cho-Jun, Saucer Cannon Wyvern, and more.
Eradicator, Angercharge Dragon can also help give a power boost to Finish Blow. When Angercharge is placed on a rear-guard circle you may Counter Blast 1 with "Eradicator" in its name to take the top card of your deck and put it into your damage zone. If that card have "Eradicator" in it's name then your opponent must retire one of their cards. At the end of the turn you heal a card in the damage zone, meaning you can heal the card you Counter Blasted. This is a good back up but risky and if you're at five damage he becomes useless unless you want to lose.
Clown Demonic Dragon, Lunatech Dragon allows for a strong first Stride for Pale Moon. You may G Persona Blast when he is placed to give him the effect where every card that comes out from your Soul onto a rear-guard circle gains +2000 power. Considering your units will be coming in and out of the Soul like nobody's business this extra power will really help, especially when you can only bring a couple out so your front row will be able to hit without needing a boost. If you then have a GB3 he gains an extra critical just like that! This is a pretty solid card but we'll have to see what the new Harri Stride can do before we can really judge Lunatech.
Darkside Princess is a Grade 2 Pale Moon unit allows you to give it +5000 power and if you do then she is sent to the Soul after the battle. This card works really well with Moonlight Melody Tamer, Betty, allowing you to call a new unit with Magia where Darkside Princess once stood. Through Betty you can then call Flying Peryton who has Magia and GB1 for when he is placed on a rear-guard circle you have Soul Charge 1 and then you are able to choose a card from your Soul to call to the rear-guard space in the same column as this card. It would retire Betty used in this way but it will give you a fresh new stood column to attack with.
Another way to get Flying Peryton could be through Burst Rough Dragon. with a GB1 you may SB1 at the beginning of your main phase to call a card from your Soul to a rear-guard circle and then put it back at the end of the turn. Also when he is placed on the Vanguard circle you may CB1 and SB1 to choose a Grade 2 from your Soul and place it on a rear-guard circle. The second ability isn't Magia so it stays there and you are able to Stride the same turn.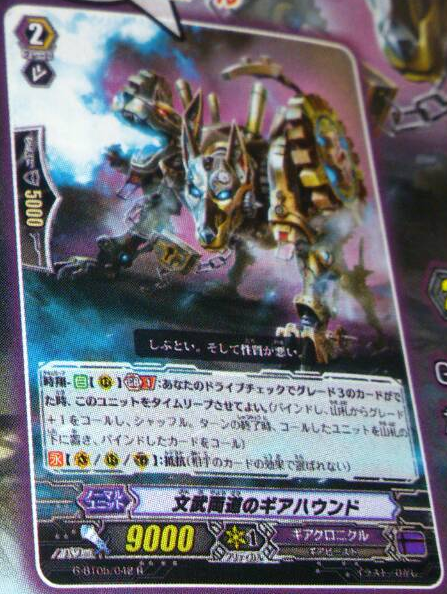 Accomplished Pen and Sword Gear Hound Continues with Gear Chronicle's Time Leap abilities. When your drive check reveals a Grade 3 and you are at GB1 you may Time Leap this unit. Making this a Grade 3 will allow for a continuous attack force on your side and if you have two of these then your opponent will be using up a lot of their hand to defend your front row. There is also a Grade 1 version of this called Becoming Cornerstone Gear Turtle.
Steam Battler, Ku-bau is a Grade 3 that takes advantage of being Time Leapt (Time Leap-ed? I dunno..). When he is placed on rear-guard circle from the Bind Zone you may Counter Charge 1. He also has a Vanguard ability for when he is placed on the Vanguard circle you may CB1 and SB1 to give another unit the Time Leap ability so at the end of the battle that that unit attacked, you may Time Leap it. Just to make sure every Grade gets Time Leap Tick Tock Worker was shown to be able to Time Leap another rear-guard by going into the Soul. Hopefully they'll make more cards that take effect in the Bind Zone so all this Time Leaping will be even more effective.
Messiah has gained even more forms! Her new forms are Sacrifice Messiah who locks herself when another of your rear-guards are locked. If you do you may Counter Charge 1 and you can choose a rear-guard to give +3000 power. Being able to lock itself when something else has been locked is great for Amnesty Messiah and Excelics Messiah to gain those power boosts. Blink Messiah is the second new Messiah who is a Heart Thump Worker clone. When your Vanguard with "Messiah" in its name attacks, you may put this into your Soul and your Vanguard gains +5000 power and you draw a card.
Well, this concludes this rather large update. I have to say the thing I find the most exciting out of all of this is the new Technical Booster which is released on February 19th. I just really enjoy seeing not very supported clans getting a big boost. It's also nice to see all these Keywords being used in the cards, it makes every clan just that little bit more different. Thank you for joining us this week and don't forget to join us again next week for the cards revealed in the next seven days.
Cardfight Vanguard singles are available to purchase at Big Orbit Cards: Cardfight Vanguard