Cardfight!! Vanguard Weekly Card Update #35
Welcome back to another weekly update of the new cards for Cardfight!! Vanguard. We have quite the variation this week with Legend Deck 2 cards, Start Deck 2 cards, G-BT07, and promo cards!
The first thing we were shown for G-BT07 is the new forms of Gurguit, Gavrail, and Gallop. This makes the new Start Deck even more desirable knowing that Gurguit will be getting a new form. It will most likely be the GR of the set but luckily instead of four GRs per case, as of G-BT07 we will be getting ten GRs per case! I'm sure this is a change that many people have been waiting for and are excited about.
More exciting news about this set is that a highly sought after card is finally getting the reprint she deserves. If you don't know about Doreen the Thruster she is a card from the original BT03 and proved to be a powerful asset in any Dark Irregulars deck. With her skill of getting +3000 power until the end of turn every time something goes into the soul combined with her being a Grade 1 has allowed her to remain powerful even in new G decks. Most people who use Gilles de Rais want this card because of Gille de Rais' skill of preventing your opponent from using a Grade 1 or higher to guard, it's already hard enough guard a G unit in the first place.
To accompany Doreen in this set we have Wings of Reincarnation, Blade Wing Reijy, another familiar face. This new form of Reijy is still a Grade 3 with two skills, his first one works from the soul and gives you the option to Counter Blast 1 and drop three cards from your hand, if you do when your Grade 3 Blade Wing Vanguard's attack didn't hit then you can ride Wings of Reincarnation, Blade Wing Reijy stood. His second skill would have you Soul Blast 15 when he is on the Vanguard circle if you have the original Blade Wing Reijy in the soul to give you +15000 power and +2 critical! Though it is a lot of power, it can be easily nullified with a perfect guard so it's more of a final push, all or nothing. On the bright side, if everything does go wrong then your attack then you can at least use the new Blade Wing Tibold stride to put all those Soul Blast'd cards back into your deck, preventing you from decking out and getting all those triggers back into your deck.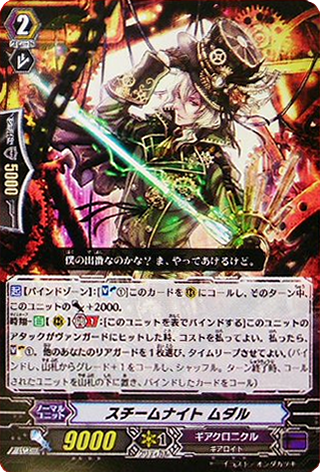 Gear Chronicle get a new useful Time Leaper Grade 2, Steam Knight, Mudal. When Mudal's attack hits a Vanguard, if you are at GB1,  you can bind Mudal to Soul Blast 1 and Time Leap another unit. He doesn't come back at the end of the turn but as an ACT you can Soul Blast 1 to bring him onto a rear-guard circle with +2000 power. Being able to pick and choose when to bring him back out with him safe in the bind zone against most clans makes him a nice little unit to bring into your deck. You may even want to use his Soul Charge to fuel something other than himself like Steam Fighter, Mesh-he to replenish your Counter Blasts.
Kimnara is back with his new form, Mighty Dragon Mage, Kimnara. First off he has the Blaze keyword that will make your Vanguard "Blazing" if at the beginning of your first attack you have more rear-guards than your opponent. Next, if your Vanguard is Blazing then at the end of the battle that Kimnara attacked you can Counter Blast 1 and put him into the soul to retire one of your opponent's rear-guards. He can be useful thanks to the lack of Generation Break but he's a Grade 2 with only 8k power so unfortunately he probably won't be seen in many Kagero decks.
We get a nice little Grade 1 for Angel Feathers in the next Booster. Nurse of Smash Heart only has 5000 power but each time a unit is put from the damage zone into the drop zone you may Soul Blast 1 to draw a card. With the benefit of it not having a Generation Break means even the early heal triggers can give you more benefits. In the late game, using things like Holy Seraph, Raphael and Dreamlight Unicorn will help to pull off her effect and you'll suddenly have hardly any damage and a load of cards in your hand to defend with.
Dimension Police also get some love with Cosmic Hero, Grandrifter. He is one of the Glimmer Breath clones but I feel he is one of the more useful ones of the lot. When Grandrifter is placed on a rear-guard circle, you have a Gallop Vanguard, and you are at GB1 then you may Counter Blast and Soul Blast 1 to give Grandrifter +4000 power and to give your Vanguard +4000 power with the added skill that if your Vanguard attacks with 40000 or more power then you draw a card.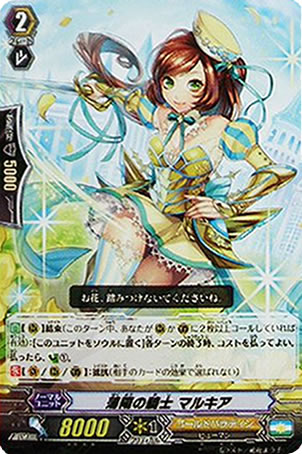 Finally for G-BT07 is the Gold Paladin, Knight of Thin Sun, Marcia. She is another 8k Grade 2 lacking in any Generation Break but she does get the Resist skill to make the 8k more worth it as well as one other ability. She has the Unite keyword that means when two or more units are placed on the rear-guard circle or guardian circle in one turn then her Unite conditions have been met and if she is United, at the end of the turn you can put her into the soul to Counter Charge 1, essentially making you get rid of her for a Soul Charge and Counter Charge. This is a nice little trick to be able to Unite your other units every turn without losing too much and she could also work well in some of the older Gold Paladin decks with her not needing to rely on Generation Break.
Continuing with the Gold Paladins it's time to go through the Start Deck 2 cards. First of all is Knight of New Sun, Catillus, another Unite card. When he is United he gains +3000 power. This may seem like your usual 12k Grade 2 at first but thanks to Unite working for the guardian circle too then he can become a 12k on your opponent's turn too, hopefully stopping your opponent from trying to kill your rear-guards.
There is also a Grade 3 version of Catillus coming in this deck, Divinity Lancer Dragon, with it becoming a 14k Grade 3 on either your's or your opponent's turn. He will make a nice backup Grade 3 for Gurguit and even if you don't stride you can still get some power in thanks to Lancer Dragon.
Holy Mage, Elio will be the one to superior call the units from the top of the deck. When this Grade 2's attack hits you can Counter Blast 1 and put him into the soul to look at the top three cards of your deck and put one of them onto the rear-guard circle. He is another card that can be used in early game which makes him seem a lot better and easy to use in all Gold Paladin decks.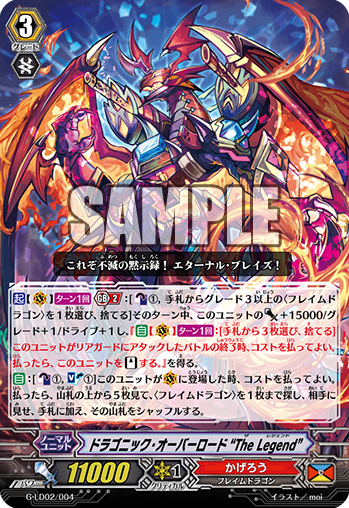 Onto the Legend Deck and we finally have the boss card shown, Dragonic Overlord "The Legend"! When this unit is placed on the Vanguard circle you can Soul Blast 1 and Counter Blast 1 to look at the top five cards and search for a Flame Dragon race Grade 3 to put in your hand. Then with a GB2, CB1, and dropping a Flame Dragon Grade 3 from your hand, Dragonic Overlord "The Legend" gains +15000 power and an extra Drive check AND once per turn, if he attacked a rear-guard, you can drop three cards from your hand and re-stand Dragonic Overlord and he keeps his new triple drive. This is a extremely strong Grade 3 and getting four of these in the Legend Deck as well as four L'Express just continues to add to the immense power of this deck.
For the perfect guard of the deck we have Aermo back as clone of the PGG Nemain. When Flame of Peace, Aermo is used to guard then you may nullify the attack if you drop another card from your hand. If you have another Flame of Peace, Aermo in the drop zone then you can draw a card and drop a card. Chances are most people will still be using Protect Orb Dragon but Aermo will help you get the Flame Dragons in your hand for "The Legend"'s skill.
People have been waiting for Conroe, and yes, his new form is just as good as his old one. Lizard General, Conroe at first seems pretty standard, when he is placed on a rear-guard circle you can reveal a Grade 3 from your hand and search your deck for a card with "Overlord" in the name and put it into your hand, then drop any card from your hand. A lot of clans have had this kind of card but it works great for Overlord decks because of things like Dragonic Overlord "The X", The End, and "The Ace" which involve dropping Dragonic Overlords from your hand and the new "The Legend" for dropping Flame Dragons. His second ability is an ACT which would have him retire himself to give your Overlord Vanguard the ability that lets you Counter Charge 2 everytime it attacks. Considering Dragonic Overlord cards tend to attack 2 – 3 times a turn this second skill basically resets your damage zone for Counter Blasts which means you can activate all your crazy abilities all over again.
All that's left of the Legend Deck are the triggers, which are all vanilla. The crit, Tenpou Master, Hakkai. A second crit, Seiten Master, Goku (That's quite the down-grade… it's a little embarrassing.). Kenren Master, Gojo the draw trigger. Finally Sanzou Master, Genjo the heal trigger.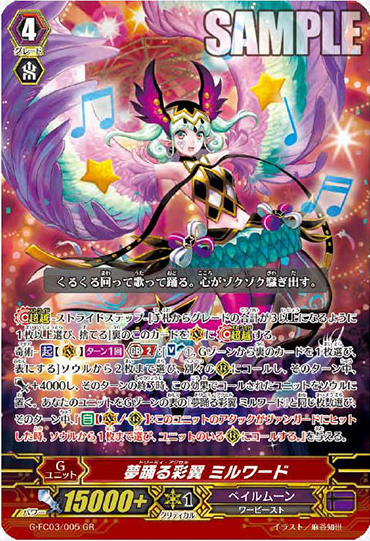 For Fighter's Collection Pale Moon will have a GR stride, Dreamy Axel, Milward. With a GB2 you can Soul Blast 1 and G Blast to Magia out two units with an added 4000 power. Then choose as many of your rear-guards equal to the amount of Dreamy Axel, Milwards face-up in your G zone, and when those units' attacks hit a Vanguard you can choose a card from your soul and call it over another card. Using Darkside Princess will add to this power boost putting her at 17000 power on her own and with her going into the soul anyway you may as well bring something out on top of her.
Kagero get a RRR stride, Flame Emperor Dragon King, Iresist Dragon, who is useful as the first and potential back-up if things go wrong. When this unit's attack hits you can Soul Blast 1 to retire one of your opponent's rear-guards and also retire the other rear-guard sharing the column. The second part of this effect gets past resist and will give you a better chance to put your Vanguard in the Blazing state next turn.
Now onto some promos, starting off with the Gear Chronicle promo, Crunching Worker. When Crunching Worker is placed on a rear-guard circle you can either have him lose one grade or gain one grade which will allow you to Time Leap him to anything from Grade 1 to Grade 3, making him an extremely flexible unit. I hear that the space for Grade 1s in Gear Chronicle is a little tight so this poor guy might struggle to see some play but I think he's a very useful and interesting card.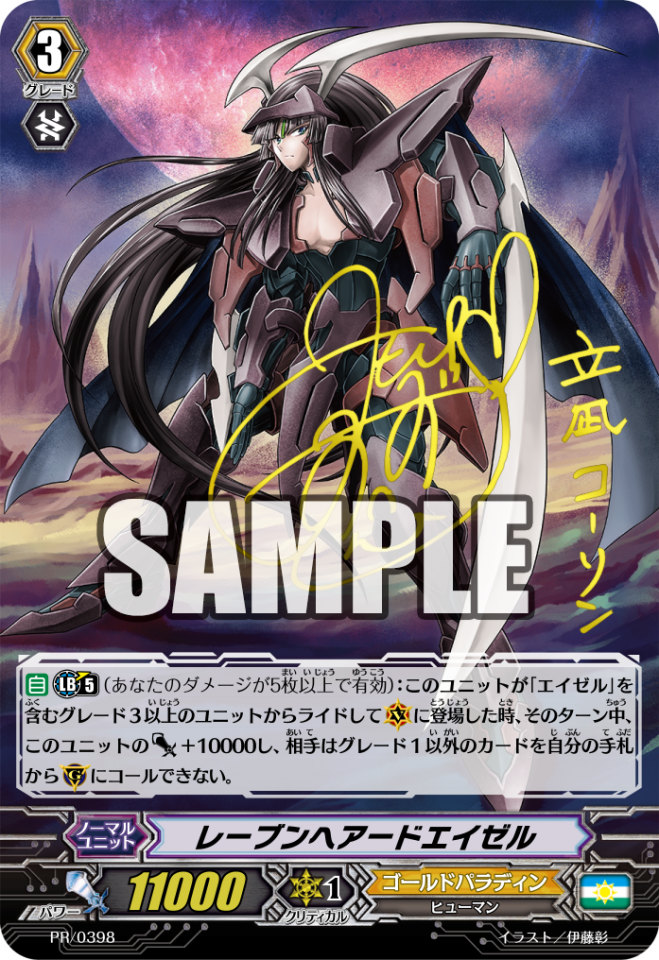 Next we have a couple of promos that were originally only shown in the manga. The first one is Raven Hair Ezel. He is the first of his kind with having a Break Ride-like ability but needing an Ultimate Break (Limit Break 5) to activate it, leading people to dub it Ultimate Ride or Ultimate Break Ride. When he is placed over a Grade 3 Ezel Vanguard and you have five damage then this unit gains +10000 power and your opponent cannot use Grade 1s or higher to guard. This is really a final push card but him being a Grade 3 himself will at least allow you to ride over him again and pull off the effect once more. If Ezel gets a bit more support in G-BT07 then this card may see a good place in current decks.
Secondly we have Excite Battle Sister, Gelato. When she is placed on the Vanguard circle you can Soul Blast 1 if you have a Battle Sister heart to look at the top cards of your deck equal to the amount of Battle Sisters you have on the field and choose one of the cards to put into your hand. Unfortunately Battle Sisters need a little bit more power before they can match the rest of Oracle Think Tank but that's not to say that this card is bad, they just need something else to help them, maybe a big Battle Sister finisher.
That's everything for this week. Join me again for next week for more spoilers on the latest sets, decks, and promos.
Cardfight Vanguard singles are available to purchase at Big Orbit Cards: Cardfight Vanguard